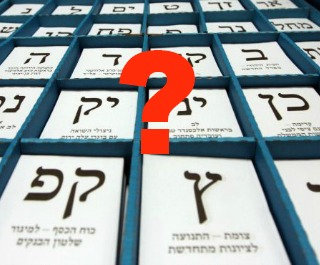 Sensation!

The results of the exit polls, published by Israeli TV channels as polling stations closed, are nothing short of a sensation.


It's a sensation not because Netanyahu was deposed as prime minister - nobody expected anyone else to be Israel's next prime minister - but because Netanyahu's maneuvering room for forming a stable coalition will be narrow.

Netanyahu, with only 31 Knesset seats according to the exit polls (Likud and Israel Beitenu, combined, have 42 seats in the outgoing Knesset), tonight called Yair Lapid, the new power broker of Israeli politics to congratulate Lapid and offer him "to do great things together."

Lapid, with 19 Knesset seats according to the exit polls (the second largest party in the incoming Knesset), will most likely be Netanyahu's chief coalition partner, and is likely to play a central role - if not more than that - in determining the makeup of Netanyahu's next coalition.

Netanyahu, according to the initial data as the polls close, is capable of forming a narrow right-wing coalition. But experience shows that Netanyahu tends to seek stability over ideological purity.

It is too early to speculate on how the election results would impact future Israeli-Palestinian diplomacy. But one thing is clear: The issue was not taken off the Israeli public agenda during the election campaign and will come back to challenge Israel's next prime minister and the Israeli public even before the next government is formed.

Israel's existential need for ending the occupation and for peace with its neighbors will be front and center in Israel's politics despite some politicians' efforts to marginalize it.

Prominent Israeli opinion leaders, including President Shimon Peres, have made sure, during the campaign, that this existential issue remains solidly on the agenda. As he approaches his role of authorizing the party leader who is most likely to form a coalition, Peres is likely to continue emphasizing the importance of diplomacy and peace.

Furthermore, according to the exit polls, the party that unabashedly champions peace with the Palestinians, Meretz, has more than doubled its power.

A day before the elections, renowned Israeli author David Grossman broke a long silence and spoke on the Israeli Channel Two's Uvda, the equivalent of Sixty Minutes, to refocus people's minds on the fateful decisions Israel must make and on the fateful decisions they must therefore make at the polls. "We need peace not because it's good for the Arabs but because it is so good for us," he said, "because it is the only thing that will give our life here the meaning and the existential security that no weapon, alone, could grant us." Grossman said, "If we continue to behave as we do now, we will become addicted to despair and passivity."

He continued, "it's very easy to give up. It's very easy to be a right-winger in Israel. You get absorbed into your sense of self-righteousness, into the evil and wrongdoing of the other side. We have a prime minister who is a wizard in confusing and conflating our real dangers with the echoes of our historic traumas to such an extent that you can't tell them apart. It is as if we are still today mired in the Holocaust. That isn't so. It's easy to let fear lead us, to determine our policies and our worldview. That's not where I want to be. Not just as an Israeli but as a human being, this is humiliating. It humiliates me that with all the potential we have, with all the potential this society has, (we are saying) 'there is nothing we can do.' That's it? There is nothing we can do? I don't accept it."

As I see it, today's elections indicate that many other Israelis do not accept the status-quo and expect better from their leaders. Let's hope that the leaders of Israel's next government coalition will deliver.