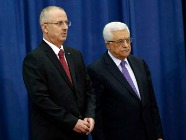 This week, Alpher discusses the resignation of the newly appointed Palestinian Authority prime minister after two weeks, the strategic ramifications of the Netanyahu government's decision that Israel will channel more of its new natural gas resources to domestic use and less to export, why President Peres' ninetieth birthday shebang caused such a controversy in Israel, and what ex-Mossad head Meir Dagan meant when he called last week for Israel to exploit the current "unique opportunity to seek different alliances" and "reassert our presence in the Middle East."
Q. The newly appointed Palestinian Authority prime minister resigned after two weeks. Crisis in Ramallah?

A. Three weeks ago, when the appointment of Rami Hamdallah as PA prime minister was announced, I noted in these virtual pages that the Nablus-based academic "does not have either the political independence or the experience necessary" to govern on his own as did his predecessor, Salam Fayyad, and that "his appointment constitutes a reassertion of control by Fateh." Indeed, it didn't take long for Hamdallah to realize that he was being outflanked by the two Fateh deputy premiers appointed alongside him by President Mahmoud Abbas: Muhammad Mustafa, an accomplished economist, and Ziad Abu Amr, a Gazan and close adviser to Abbas. Mustafa in particular was making financial decisions without bothering to consult Hamdallah.

When Hamdallah realized what everyone else evidently assumed he knew--that he was a figurehead--he upped and resigned. He did so very publicly, too, and without prior consultation with Abbas, who reportedly was furious because Hamdallah's abrupt action made the president look ridiculous.

Now Abbas must find a more permanent replacement. One possibility is appointing himself as prime minister and letting Mustafa and Abu Amr run the PA on a daily basis, which is apparently what he intended in the first place. Another is to appoint Mustafa.

Time is of the essence, because warning signs of a possibly violent crisis are proliferating. There appears to be little or no progress toward rejoining a viable peace process. In any case, a Palestinian decision to accept US Secretary of State John Kerry's offer and resume negotiations would be controversial in the eyes of many Palestinians unless Abbas could quickly register tangible achievements in the form of Israeli concessions and confidence-building measures. Meanwhile, Netanyahu refuses to offer CBMs up front as an incentive.

Then too, economic difficulties in the West Bank are growing. By way of painful illustration, here is the recent report of an Israeli from "Machsom Watch", the women who observe IDF-manned West Bank checkpoints to ensure fair treatment of Palestinians: "I asked G from the village of Azun if the entire village is still locked down. He said it was. When I asked why, he replied, 'a few kids from the village threw stones because they wanted to be jailed by the IDF so their family could receive a stipend every month from the PA.' Residents of the village have neither work nor income."

Apropos income, both Norway and Sweden have put the PA on notice that without a peace process they see no point in continuing to contribute to covering the Palestinian budget to the extent they have in recent years. In other words, donors are showing signs of frustration not just with Israel's stalling and settling, but with Abbas' approach as well.

Summing up the warning signs, head of IDF Central Command Major General Nitzan Alon noted last week that Kerry's efforts had temporarily calmed things down, but warned that if they fail the West Bank population could turn to violence.

Q. The Netanyahu government has decided that Israel will channel more of its new natural gas resources to domestic use and less to export. What are the strategic ramifications?

A. The decision is to devote 60 percent of Israel's known maritime natural gas discoveries to the local economy and 40 percent to export. This reverses an earlier special commission recommendation to devote 53 percent to export and only 47 percent to the Israeli economy. The guiding principle behind the new decision is to ensure expanded domestic use of cheap natural gas by Israel for at least 30 years. The decision means that gas will flow to Israel not only from the Tamar field, some 80 km. west of Haifa, but that a portion of the more distant Leviathan field will also be designated for Israeli use. Until now the Leviathan field, which is near Cyprus' Aphrodite field, had been destined strictly for export. The 60 percent decision, incidentally, includes a provision for exporting a portion of Israel's "local" gas allotment by land pipeline to Jordan and the Palestinian Authority if agreement with them is reached.

Advocates of increasing Israel's own share--some of whom think even 60 percent is not enough and have continued to demonstrate against the Netanyahu government--were motivated by both environmental concerns and resentment at the "tycoons" who stand to make more money from exports than from cheap local consumption. But the export of Israel's natural gas is of strategic importance, and 40 percent is probably as low as we can go while still encouraging foreign investment in the vast infrastructure required for producing the gas--unless, of course, commercial quantities are discovered at one or more of a dozen or so additional exploratory drilling sites in Israel's Mediterranean EEZ (exclusive economic zone).

The strategic value of exporting gas lies not only in enlarged financial dividends but in the commercial links that exports establish. Working with Cyprus, a European Union member, to liquefy gas and ship it by tanker to Europe or pipe it to Greece will cement closer Israeli-European ties. Sending the gas by deep sea pipeline from Leviathan to Turkey could contribute to the two countries' recent rapprochement. Shipping liquified gas by tanker to Asia--an Australian firm, Woodside, is poised to build a floating LNG (liquification) plant for this purpose--could further open up markets to the East. All this, not to speak of the immense benefit of devoting a portion of the 60 percent to Jordan and the PA--a smart move for Israel because it would help alleviate its neighbors' economic difficulties and enhance relations through shared infrastructure.

Q. President Peres' ninetieth birthday shebang caused quite a controversy in Israel. Why?

A. Clinton (Bill), Streisand, deNiro, heads of state, dozens of private jets at Ben Gurion, endless glitter and schmaltz, a huge bill footed by various tycoons at a time of painful budget cuts that deprive the common folk of basic services--it didn't sit well with many Israelis. Nachum Barnea of Yediot Aharonot, who is for my money Israel's best political columnist, termed the spectacle "wildly exaggerated" and labeled it "Kim il Peres", alluding to what we're used to seeing in Pyongyang, not Jerusalem.

Mazal Mualem, formerly Haaretz' chief political analyst, wrote in Al-Monitor (a relatively new and impressive daily survey of the Middle East that can be subscribed to free), "It is hard to recall any other event that was so out of touch with reality of the Israeli experience. . . . a tasteless megalomaniac spectacle. . . . This was a party for the president of the state of Israel, only it was without his fellow Israelis. . . . Even the learned explanations provided by Peres' associates and public relations people, who tell us . . . that we need to thank Peres for bringing the international pageant of celebrities at a time when nobody wants to hear about us . . . only sharpen the feeling of disconnection."

One key reason for the disconnection is that generally it is customary to recite a politician's achievements in superlatives and to ignore his failings only when he is dead--when eulogizing him at his funeral. But Israelis know Peres, who will apparently live forever, warts and all. They know that alongside his successes in shepherding Israel's nuclear project and the Oslo talks and taming 400 percent hyperinflation in the mid-1980s, he also sponsored the Gush Emunim settlers in the West Bank in 1976 while viciously undermining PM Yitzhak Rabin; that he managed Israel's misbegotten involvement in the disastrous Iran-contra affair in 1985-86; that he became so euphoric over peace in 1994 that he declared a "New Middle East" and proposed Israeli membership in the Arab League; that he could never win an election; and perhaps most poignantly, that the rhetorical flourishes about peace and nano-technology that so charm the international community sound to most Israelis like endlessly empty metaphors.

Barbara Streisand sang him "Avinu Malcheinu" (our father and king). Nothing could be further from Peres' image in Israel. Everyone wishes him many more productive and healthy years. But can you imagine David Ben Gurion celebrating his eightieth birthday this way?

Q. What did ex-Mossad head Meir Dagan mean when he called last week for Israel to exploit the current "unique opportunity to seek different alliances" and "reassert our presence in the Middle East"?

A. Dagan, speaking at the President's Conference (not to be confused with the birthday), also called the restarting of peace negotiations with the Palestinians a "vital necessity". He appeared to be indicating that the dual threats posed by Iran on the one hand and extremist Sunni Islam on the other could bring together the more moderate actors in the region, including Israel. Kerry's current effort to revive the Arab Peace Initiative in the Israeli-Palestinian context could be understood in this context.

The problem--for Dagan, for Kerry, for the rest of us--is that from the Arab standpoint any sort of Israeli alliance with any sort of Arab neighbor, with the possible temporary exception of Jordan due to its concerns over overflow from Syria, requires concrete progress toward a two-state solution.