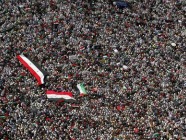 A headline in yesterday's Yediot Ahronot reads: "Senior IDF officer: 3rd intifada has begun." Behind this breathless headline are quotes from the senior Israeli army commander for the area around Bethlehem. He states, among other things, that,

"the process lead by Abu Mazen is over, replaced by the attitude promoted by Hamas. Abu Mazen [Abbas] is trying to survive the Arab Spring and he understands that the path of negotiations with Israel is over. The question is - what will follow? We may see regional anarchy along a military campaign of our own."
Concerns about a third Intifada have increased after recent confrontations between IDF troops and Palestinians in the West Bank, including clashes last week in the town of Jenin. In what appears to be a classic chicken-egg question, some of these confrontations appear to be coming in the context of increasingly provocative actions by Israeli security forces in the West Bank - actions reportedly motivated by concerns about a third Intifada breaking out.

On December 25, 2012, a senior Hamas official called for the launching of a third Intifada against Israel. He tied his call explicitly to Israel settlement activities in Jerusalem and actions in the Old City, around the Temple Mount/Haram al Sharif. A day later, Prime Minister Ehud Olmert warned:

"We are on the verge of a third Intifada. I don't know what will spark the great conflagration." Olmert noted that Palestinian security forces "are deeply frustrated and feel that their leaders, whom they feel are adopting policies of appeasement, will eventually forsake them. Their situation is unbearable."

text continues after embedded discussion




Nathan Thrall of the International Crisis Group, wrote in the New York Times back in June 2012:

"At a private meeting with the Israeli prime minister, Benjamin Netanyahu, and his security advisers, a group of Middle East experts and former intelligence officers warned that a third Palestinian intifada was imminent. The immediate catalyst, they said, could be another mosque vandalized by Jewish settlers, like the one burned on Tuesday, or the construction of new settlement housing. Whatever the fuse, the underlying source of ferment in the West Bank is a consensus that the Palestinian Authority president, Mahmoud Abbas, has reached a dead end."

And back in April 2012, Barak Ravid wrote in Haaretz that,

"[former Shin Bet chief Yuval] Diskin warned that a 'feeling of hopelessness' was developing among the Palestinians. He further stated that he was in contact with senior officials in the Palestinian Authority who tell him about 'the lack of faith that something will change, especially in the West Bank. In this kind of situation, when the concentration of gas fumes in the air is so high, the question is only when the spark will come to light it,' he said, adding: 'It won't happen tomorrow morning... but all the basic elements to allow it are there.'"

Reports of the imminent outbreak of a third Intifada are clearly not new. Indeed, almost exactly a year before the Hamas official called for a new Intifada over Jerusalem, respected Palestinian political commentator Daoud Kuttab published a compelling post entitled, Will Jerusalem Cause a Third Intifada?" And even before that, in September 2011, veteran Israeli journalists Amos Harel and Avi Issacharoff published an article entitled "Anticipating Intifada."

Such predictions/concerns have even greater salience today, in the wake of the Israeli and American reactions to the upgrading of the Palestinians' status at the UN, than in the recent past. Palestinians and non-Palestinians alike are increasingly convinced that, given Israeli political trends and the impotence/indifference of the international community, the "peace process" (in quotes because the term no longer carries any clear meaning) is unlikely to deliver Palestinians a state and independence for the foreseeable future, while settlements will continue to consume the land available for such a state. In this context, the Abbas-led Palestinian Authority, whose raison d'être is to negotiate a peace agreement with Israel, no longer has much credibility or even relevance, including in its position that non-violence and negotiations are the path to Palestinian independence. Likewise, it seems like it is only a matter of time before Israeli-Palestinian security cooperation will break down, as Palestinian security forces refuse to act, in effect, as agents of Israeli occupation.

Back on December 26th, the Washington Jewish Week carried an editorial entitled, A third Intifada? It quoted Yediot Ahronot's military affairs reporter, Alex Fishman, noting, "In the security establishment they don't ask any more if another uprising will break out, rather under what circumstances and when."