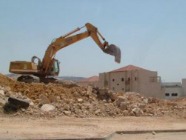 Washington, DC - Americans for Peace Now (APN) joins its Israeli sister organization, Shalom Achshav (Peace Now) in condemning a new Israeli government initiative to construct almost 1,300 homes for Israelis in East Jerusalem and in the West Bank settlement of Ariel.
APN's President and CEO Debra DeLee said: "This opening of the floodgates of settlement construction in East Jerusalem and the West Bank is part of a pattern under this Israeli government of paying lip service to the two-state solution, while acting resolutely to undermine it.  Yesterday's announcement comes only days after Palestinian President Mahmoud Abbas courageously articulated his unequivocal commitment to a negotiated two-state solution to the Israeli-Palestinian conflict, based on parameters that are widely recognized by Israelis, Americans, and the international community as the only possible foundation for any viable peace agreement. Yesterday's announcement of massive new settlement construction sends a clear message to Palestinian moderates like Abbas and to the world that the current Israeli government's rhetorical commitment to peace is hollow. It sends a message that the Israeli government's determination to expand settlements and foreclose the two-state solution trumps all other concerns, including the interest of preserving Israel as a democracy and a Jewish state." 
The tenders published yesterday by Israel's Ministry of Housing pave the way for construction of 1,213 housing units in the East Jerusalem settlement neighborhoods of Pisgat Ze'ev and Ramot, and 72 housing units in the settlement of Ariel, located deep inside the northern West Bank.
News of the new tenders comes on the heels of news about two new illegal outposts - settlements established in contravention of Israeli law - that were recently established in the West Bank, with what appears to be de facto support of Israeli authorities. It also comes shortly after the Israel Land Authority last month announced plans to start constructing the first 108 of 180 new settlement units in East Talpiot in East Jerusalem, and after the publication of settlement construction initiatives in two other sites in East Jerusalem: the expansion of Gilo (near Bethlehem) and the construction of a new IDF college on the Mount of Olives.