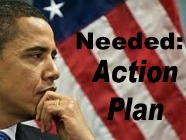 The urgency of the Israeli-Palestinian situation today cannot be overstated. Current peace efforts have lost all credibility. Settlement construction in the West Bank and East Jerusalem continues, undermining the viability of the two-state solution. Moderate Palestinian leaders, unable to deliver progress to their people through negotiations, are under increasing pressure to pursue alternative strategies. Violence and tensions on the ground are rising.
Recent developments - including a bomb attack in West Jerusalem, the murder of a settler family in the West Bank, and the growing Israel-Gaza cross-border violence - are only the most recent evidence of the potential for the situation on the ground to escalate into far more intense and deadly conflict, with dire implications not only for the safety and security of civilians on both sides but for United States. The status quo is unsustainable and is set to be fundamentally challenged in five months, when the United Nations is poised to act to recognize the state of Palestine, and the Administration's September deadline for a framework agreement runs out.
Unfortunately, since late 2010 the Obama Administration appears to have shifted from trying to resolve the conflict to trying to "manage" it - a shift that seems only to have been reinforced by the events sweeping the region since the start of 2011. This is a mistake. There is no "managing" this conflict. Each new development on the ground has the potential to escalate the situation into much greater conflict, inflaming and destabilizing the situation in Israel, the West Bank and Gaza, and having destabilizing affects throughout the region and beyond. This threat is even more acute now than in the past, given the upheaval in the region. Left unaddressed, the Israeli-Palestinian conflict will eventually complicate every aspect of President Obama's Middle East efforts, undermining his credibility and leadership and adding another destabilizing element to an already volatile situation.
Conversely, a resolute U.S. peace effort, led personally by President Obama, can have profoundly positive benefits for a wide range of U.S. interests - above and beyond the benefit of achieving peace and security for Israelis and Palestinians. It would strengthen the U.S. as it navigates this challenging period in regional politics and could lay the groundwork for healthier future relations between Israel and its Arab neighbors, based on shared democratic values. It could help reverse the deteriorating popular support in Jordan and Egypt for their peace treaties with Israel. Perhaps most important for the long-term, ending this conflict would provide an immense contribution to the future of the Middle East. There are sharp limits to what the U.S. can do to influence the outcome of the political upheaval that is sweeping the region; one thing - indeed, perhaps the most important thing - the U.S. can contribute is a determined push to end the Israeli-Palestinian conflict. Addressing the issues of the security and the dignity of the Palestinian people can only help - and significantly strengthen - democracy advocates in the Arab world.
With this backdrop of turmoil in the region, escalating Israeli-Palestinian violence, and the two-state solution itself in jeopardy, decisive action by President Obama can no longer be postponed. With every moment that passes, developments on the ground make things worse and lead toward a crisis that is as preventable as it will be devastating.
The release of the Israeli Peace Initiative is a timely reminder that there is a significant and influential constituency in Israel that is committed to peace and the two state solution on the basis of a realistic agreement that addresses the core concerns of both sides. Likewise, a large constituency exists in the U.S. that supports peace and wants to see determined U.S. leadership to achieve it. APN will work to help mobilize this constituency and to persuade the American Jewish community that peace is essential to Israel's survival--we are not leaving it to President Obama alone to take this on.
APN Recommendations to President Obama

There is already a longstanding and broadly-based international consensus on most of the elements of a permanent status agreement. What has been lacking until now is the leadership and political will in the White House - under successive administrations - to bring the sides together and get them to stop playing games and wasting time, and at long last resolve remaining differences and come to an agreement. It is precisely that kind of leadership and political will that must be demonstrated now by President Obama. This requires the President to do the following:
1. Take ownership of Israeli-Palestinian peacemaking
. President Obama must make clear that he is still personally invested in Israeli-Palestinian peace. He must explain to the American people and the world why a resolution of this conflict is vital to U.S. interests. This should include an articulation of the U.S. commitment to and vision for Israel's security - as a state living inside secure, recognized borders with peace agreements with its neighbors - alongside an articulation of the well-understood negative effects this continuing conflict has on U.S. interests in the region and beyond.
2. Lay out his vision for Israeli-Palestinian peace.
President Obama must take the dramatic step of laying out his own vision for Israeli-Palestinian peace, and in sufficient detail that it cannot be ignored or dismissed by either of the parties, the international community, or domestic detractors. This should start with the articulation of permanent status parameters, consistent with longstanding U.S. policy that is well-known but has never been officially endorsed by any U.S. administration. These parameters must not be watered down in an effort to please either party; the time for constructive ambiguity - which has never proven constructive - has long passed. What are required today are positions that represent definitive markers for both Israelis and Palestinians. They must include:
• An explicit recognition of the June 4, 1967 border as the starting point for negotiations.
• An unequivocal embrace of equal (one-to-one) land swaps as the basis for an agreement regarding borders and settlements.
• An unambiguous declaration of the U.S. vision for West Jerusalem and East Jerusalem, respectively, as the capitals of Israel and Palestine, with the delineation of these capitals determined through negotiations.
• A clear articulation of the view that the implementation of the "right of return" of Palestinian refugees into sovereign Israel must be limited by Israel's right to determine its character, and that an international mechanism to provide compensation for refugees will be established.
• A reiteration of the position that a negotiated agreement must address both Israeli and Palestinian security requirements, and U.S. support for a robust international role in guaranteeing mutually agreed-on security arrangements.
• A forthright definition of the end game: an agreement that definitively ends all claims and results in two politically and economically viable sovereign states, Israel and Palestine, living side-by-side in peace within recognized borders, with security and contiguity, with their capitals in their respective parts of Jerusalem and with the character of each state determined by its citizens.
3. Explain how he plans to move forward.
Laying down parameters is not enough; President Obama must make clear that he will remain engaged and is determined to see progress in the near term. This should include the announcement of a firm date for a presidential trip to the region as well as: plans for an international summit of heads of state, including leaders from the Arab and Muslim worlds, to be held by a specific date; plans to invite Israeli and Palestinian leaders to the White House; or some other initiative led personally by the President, not by a presidential envoy.
4. Get the international community on board.
President Obama must make clear from the get-go that he views the international community as partners with a real role in implementing his vision of Israeli-Palestinian peace. Together, the U.S. and such partners can offer a powerful united front, making clear to Israeli and Palestinian leaders that this effort is serious.
5. Engage Israelis and Palestinians directly.
President Obama must take ownership of the peace effort personally, making the dramatic gesture of addressing the Israeli and Palestinian peoples in the context of visits to Jerusalem and Ramallah. He must lay out for them the imperative of peace, the sacrifices necessary to achieve it, the immense benefits that will flow to both peoples from an historic settlement and the essential parameters for achieving an enduring settlement.
6. Refuse to be deterred by bogus domestic U.S. "political" considerations.
The most pro-Israel U.S. President in history will not be the one who provides the most weapons to Israel or vetoes the most resolutions at the UN Security Council. It will be the President under whose leadership the Israeli-Palestinian conflict is resolved, allowing Israel to finally live within secure, internationally-recognized borders with its capital in Jewish Jerusalem recognized by the world. It will be the President who - by helping Israel make peace with the Palestinians - will pave the way for Israel to achieve peace and normal relations with the entire Arab world. President Obama must recognize that he earns no credit with the tiny segment of American Jews who oppose any realistic peace agreement by backing off from peace efforts. Indeed, more than two years of choosing to refrain from any lasting or meaningful pressure on Israel, while providing the current Israeli government unprecedented military, financial, and diplomatic support, has earned President Obama only disdain and demonization from peace opponents. Worse still, President Obama risks U.S. national security interests - including security and stability in the Middle East - by compromising his sensible, principled Middle East policy in a doomed effort to co-opt opponents.
7. Refuse to be deterred by bogus Israel and Palestinian domestic "political" considerations.
US national security - in the Middle East and beyond - is linked to the credibility of U.S. efforts in the Israeli-Palestinian arena. Given this reality, President Obama cannot allow himself to be diverted by the internal politics of either side. If it seems sometimes that the U.S. wants peace more than the parties themselves, so be it. If the current Netanyahu coalition is unwilling to make peace on the basis of the parameters set out by President Obama, the Israeli people will be faced with real choice about what kind of government they want. If the Palestinian leadership cannot resolve the West Bank-Gaza schism, ways to work around that issue can be found. The Palestinian leadership has signaled that its drive for UN recognition can be postponed, if meaningful peace negotiations are underway.
8. Be resolute and remain personally engaged until an agreement is reached.
The success or failure of the next U.S. peace effort, like past efforts, will be a function of President Obama's readiness, in no small measure, to bring pressure to bear and hold the parties accountable, and to remain engaged and resolute, even if things get tough. Simply stated, no peace effort can succeed, regardless of its specifics, unless President Obama musters the political will to get the parties to take him seriously. This can only happen if the President makes clear that Israeli-Palestinian peace is a key U.S. national security interest and a foreign policy priority, and that obstructing U.S. peace efforts will have tangible costs.