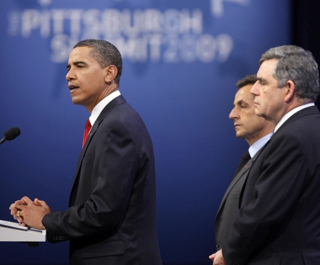 Washington,
D.C
- Americans for Peace Now (APN) praised President Obama's comments regarding Iran's construction of a covert uranium enrichment facility near the city of Qum.
APN's President and CEO Debra DeLee said: "President Obama did the right thing today when he sent a message to Iran -- and to the Iranian people - that Iran must live up to its international obligations, that the nuclear issue must be resolved, and that Iran's government has a very real opportunity to do so through negotiations. The president is not taking any options off the table, but by emphasizing the potential for engagement rather than for confrontation, he is adopting what APN has long argued is the most effective strategy for handling this threat."

DeLee added: "Today's revelations are worrying. They indicate that Iran's nuclear program is continuing apace, with all of the threats that program poses to U.S. national security interests and to Israel. President Obama's approach is not only the right one, it is a clear shift from the failed strategy consisting solely of threats, saber-rattling, and punitive measures."

To review APN's policy language on Iran and related material, click HERE .
Read Obama's Got it Right (on the breaking news about Iran) which includes his statement (along with President Sarkozy and Prime Minister Brown), preceded by comments from APN Policy & Government Relations Director Lara Friedman