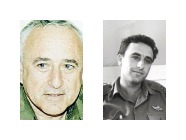 Americans for Peace Now mourns the death of Lt. General (Res.) Amnon Lipkin Shahak, Israeli military's former Chief of Staff, a man who devoted his life to Israel's security and peace.
As the IDF's Deputy Chief of Staff in the early 1990s, Lipkin-Shahak headed the Israeli negotiating team to the Taba Talks, negotiating the "Oslo B" agreement and its application in the West Bank and Gaza Strip. In the mid-1990s, as the Chief of Staff, he led the application of the interim arrangements and the security coordination with the Palestinian Authority.
When he retired from the IDF, Lipkin-Shahak became a harsh critic of then-Prime Minister Benjamin Netanyahu's hardline policies, ran for the Knesset in the Center Party that he co-founded, and served as a cabinet minister in Ehud Barak's government.
After leaving politics in 2001, Lipkin-Shahak joined the Geneva Initiative and was of Israel's most prominent signatories of the Geneva Agreement for Israeli-Palestinian peace.
Lipkin-Shahak succumbed to leukemia last night after a seventeen-year struggle with the disease.
APN mourns Lipkin-Shahak's death and salutes his memory.