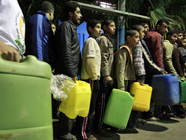 Americans for Peace Now welcomes the Israeli Cabinet's decision to ease the siege on the Gaza Strip as a positive step. What is now needed is devising a comprehensive regime that would provide security and international support for Israel, while allowing Gaza's civilian population greater normalcy.
FOR IMMEDIATE RELEASE - June 21, 2010
CONTACT: Ori Nir - (202) 408-9898; onir@peacenow.org

"Israel's decision to allow civilian goods into the Gaza Strip, if implemented in earnest, is a good first step - good for Israel and good for the Palestinians. But in order for it to have significant positive impact, it must be a component of a broader arrangement for Gaza, which Israel should devise in cooperation with the Palestinian Authority, with Egypt, Jordan, the US and other international allies. This arrangement should include solutions not just to the importation of goods but also for exporting goods, for the movement of people and for security arrangements along Gaza's land and sea borders," said Debra DeLee, APN's President and CEO.

DeLee added: "APN has for years contended that inflicting pain on the civilian population of the Gaza Strip is neither an effective nor an ethical tool for Israel to use in its conflict with Hamas. The Israeli government has now apparently come to realize that. Better late than never."

DeLee said: "It is a shame that it took a bloody incident with grave international repercussions to bring about this change." DeLee also noted that the new Gaza policy can only be seen as a temporary arrangement. "Only an Israeli-Palestinian Peace accord would provide Israel and its neighbors with long term security and stability," DeLee said.

APN is America's leading Jewish organization advocating for Israeli-Palestinian peace.