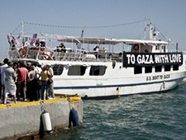 On May 31, 2010, Israel confronted an international flotilla seeking to challenge its blockade of Gaza, with tragic results. At that time American for Peace Now (APN) called on Israel to investigate the operation that led to these results and to reassess its Gaza policy. APN noted that the difficult situation presented to Israel by the flotilla underscored the extent to which the continued policy of blockading Gaza was untenable and increasingly indefensible.
Now Israel is facing another flotilla, and it appears that another potential debacle is in the making.
Let there be no doubt: the organizers of the flotilla are seeking to provoke a confrontation with Israel. In doing so they are playing a dangerous game. None of us knows what the consequences of their actions will be.
Israel has no control over the flotilla organizers and participants, but this does not mean that Israel is compelled to accept the role they have assigned to it in a choreographed confrontation. Rather, Israel can and should choose a different role - by making the long-overdue decision to end the blockade and allow the boats to pass. Such a policy shift would avert a pointless confrontation and remove the pretext for future similar provocations. APN renews its longstanding call on Washington to engage the Israeli government to achieve this.
In the event that a confrontation does occur, APN calls on both participants in the flotilla and Israeli forces to avoid violence and ensure that the tragedy of 2010 is not repeated.
The Gaza blockade is a failed policy. While Israel's closure of Gaza has been eased in the last year to allow the import of many goods and raw materials into the Gaza Strip, the blockade is still part of an overall closure that inflicts collective punishment on the population of Gaza. The blockade has been ineffective as a security measure, failing to block the flow of weapons into Gaza via other means, including through tunnels. It has failed as a tactic to weaken Hamas, and as leverage to free captured Israeli soldier Gilad Shalit. Years of the blockade have helped wipe out moderate opposition to Hamas in Gaza and have undermined the legitimacy of moderate leaders like Mahmoud Abbas and Salam Fayyad. Moreover, it has become a strategic liability for Israel: keeping the blockade in place harms Israel's relations with important allies, fuels international criticism, undermines Israel's legitimate claims to self-defense, and makes future confrontations - like the 2010 flotilla and the current one - likely.
We recognize Israel's right to stop and inspect ships it has genuine reason to believe are seeking to smuggle weapons into Gaza. However, a naval blockade of the Gaza Strip and continued closure of its borders cannot be defended. More effective and defensible measures to prevent arms smuggling into Gaza - both via land and via the sea - must be implemented, in cooperation with Egypt, the United States, and the international community.
Finally, while it is true that the flotilla participants are seeking to provoke Israel, and it is certainly possible that some organizers and participants are motivated by genuinely anti-Israel sentiments, Foreign Minister Avigdor Leiberman's characterization of them as "terror activists" is reprehensible. It is consistent with a worrying trend of conflating unarmed protest with violence and terrorism. This is evident in the use of terms like "popular terror" (to describe unarmed protest), "cultural terror" (to describe academic and cultural boycotts), "diplomatic terror" (to describe Palestinian efforts to muster international support and recognition), "economic terror" (to describe boycotts of Israeli settlements products), and "lawfare" (to describe legal challenges to Israeli policy and actions). Such language cheapens the debate, conflicts with Israel's democratic values, and undermines Israel's legitimate position when it acts in genuine self-defense.