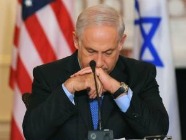 Responding to
news
that an Israeli Ministry of Interior committee - acting with the authorization of Prime Minister Benjamin Netanyahu - will today consider approving the construction of more than 1500 new settlement units in East Jerusalem, APN President and CEO Debra DeLee issued the following statement:
"By proceeding with settlement approvals in East Jerusalem today - precisely when Prime Minister Netanyahu is headed to Washington to meet with President Obama and address Congress, and when President Obama is about to make a major Middle East speech - Netanyahu is sending an unmistakable message: he values settlements more than peace.

"He is also telling the world, including Israelis, that he is content with a future in which Israel is an ever-more isolated garrison state, whose democracy and whose character as a Jewish state is eroded and eventually destroyed, by its preference for settlements over peace.

"Israelis and Americans alike who care about Israel's future should be outraged. "They should also be embarrassed to see an Israeli leader acting so cavalierly and disrespectfully toward any U.S. president. Despite the Netanyahu government's repeated actions to foil his efforts to promote Israeli-Palestinian peace, President Obama has been exceptionally supportive of Israel by every measure.

"Inexplicably, it seems that Netanyahu can't miss an opportunity to embarrass the president of the country that is Israel's best friend and closest ally. If this had only happened once, one could give Netanyahu the benefit of the doubt that it was not deliberate. But this has happened in the context of virtually every high-level U.S.-Israel meeting since Netanyahu took office.

"President Obama is about to deliver a major speech about the Middle East. Speculation is running high over what he will say about the Israel-Palestinian conflict. Now, as he puts the finishing touches on that speech, President Obama must bear in mind this latest provocation.

"Israel needs an American president who can be a true friend to Israel, not only defending its security but also leading, credibly and resolutely, for peace. With his action today, Netanyahu is directly challenging President Obama to show such leadership."