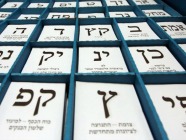 Americans for Peace Now (APN) released the following statement today from Debra DeLee, its President and CEO:
We congratulate the people of Israel for holding free and fair elections yesterday for the 19th Knesset. With these elections, and their myriad surprises, Israelis have reminded the world of Israel's deep culture as a pluralistic democracy and have clearly rejected the status quo policies of the past four years of government led by Benjamin Netanyahu.
We welcome the message that Israeli voters sent yesterday. As an organization and as individuals who care deeply about Israel, we watched these elections unfold with grave concern. We recognize the potential impact of their results on the future of peace and democracy for Israel. We also know that these elections occurred at a time of great cynicism in Israel about the chances for ever achieving Israeli-Palestinian peace. Like many others, we were deeply concerned over polling and reports purportedly showing a surge in support for Israeli politicians and parties that are openly anti-peace, pro-settlements, and anti-democratic. We were worried that these elections would usher into power a large number of Israeli politicians, and a new government, grounded firmly in the most right-wing, ideologically extremist forces in Israeli society.
The results of these elections tell a more optimistic story. They show an Israel whose voters came out with open minds and in high numbers - much higher than in previous years - to say "no" to the increasing extremism of the Likud-Beiteinu party. They exposed the narrow attraction of the hardcore avowedly pro-settlements, anti-Palestinian, anti-peace parties, with the party of Naftali Bennett winning far fewer seats than projected and the parties even further to the right winning none.
More than that, the elections revealed an Israeli electorate that, like its counterpart in the United States, voted in large numbers for progressive values, for change and for hope - as demonstrated by the strong showing of Yair Lapid's new party. The stronger than expected showing of Meretz and Tzipi Livni's party, both of which campaigned on unapologetically pro-peace platforms, sends a clear signal that a growing number of Israelis recognize that ending the occupation and achieving Israeli-Palestinian peace must be a top priority. Overall, Israel's next Knesset will look very different from the last, with a strong contingent of new members from various parties who hold pro-peace, progressive world views.
We and all those who care about Israel's future are now watching to see what will be the character of the next Israeli government and the next Israeli Knesset. We are waiting to see if they will demonstrate a commitment to democracy, or will continue to promote the anti-democratic trends of recent years. We are watching to see if they will prove to the world that Israel is a peace-seeking member of the community of nations, or will continue to show the world the ugly face of an Israel that prefers settlements and expanded borders to peace, and even to its own survival as a democracy and a Jewish state. In short, we are watching to see whether the next government and Knesset heed the Israeli electorate's call for change.
The fate of Israel - its security, its standing in the community of nations, its character as a democracy, and its very viability as a Jewish state - hangs in the balance.
As an organization and as individuals who care about Israel's future, we urge President Obama to seize the opening these election results represent for new and redoubled U.S. leadership - leadership that can and must re-accredit peace efforts and save the two-state solution. These elections offer an historic opportunity for President Obama, at the outset of his second term, to pursue a U.S. policy that is clear-eyed and resolute in its determination to resolve the Israeli-Palestinian conflict. Now is the time for President Obama to directly engage the people of Israel and the Palestinians. It is the time for him to make clear, by word and deed, that he is serious about peace and will not countenance any leader or group, Israeli or Palestinian, undertaking actions that inflame the region or seek to foreclose the two-state solution.
Finally, yesterday's elections underscore the importance of Israel's peace movement, Shalom Achshav (Peace Now). For the past four years, with Knesset opposition muted and Netanyahu enjoying unchecked power, Peace Now's role as the standard bearer of Israel's extra-parliamentary peace movement has been more crucial than ever. In the run-up to yesterday's election, Peace Now played a vital role in getting out the vote, with a bold campaign highlighting the historically high voter turn-out rates in settlements compared to relatively low turnout rates in places like Tel Aviv. They exhorted Israelis to not let settlers determine their future - and Israelis listened. Now, with the potential for a shift in power dynamics in the government and Knesset, Peace Now will continue the fight for a secure, prosperous, democratic Israel living in peace with its neighbors.
Americans for Peace Now, supporting its sister organization Shalom Achshav in Israel, will continue that same fight here in the United States. We will do so with the support of the huge number of American Jews and non-Jews who are committed to Israel's future as a democratic, secure homeland for the Jewish people, free from occupying another people. We will not give up on the dream of an Israel characterized by the kind of progressive, Jewish values shared by the overwhelming majority of Americans - the same values that inspired Israel's founders.
To read APN's letter to President Obama, congratulating him on his inauguration and calling on him to take action to preserve and promote a two-state solution, click here.