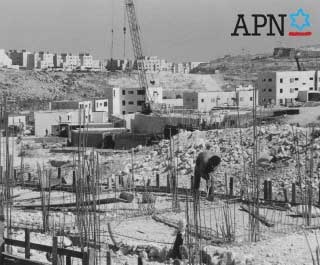 Washington, DC -- Americans for Peace Now (APN) today welcomed the Israeli government's announcement of a moratorium on most settlement construction and joined the Obama Administration in hoping that this Israeli decision, backed by good faith, will be sufficient to catalyze new Israeli-Palestinian peace negotiations. Such negotiations are the only real path for resolving the Israeli-Palestinian conflict.
As noted by U.S. Special Envoy George Mitchell, the Israeli decision does not meet all of America's expectations. The United States continues to oppose all settlement construction.
The Israeli decision also falls short of Israel's own interests, which are best served by a complete freeze. Expanding settlements creates new points of friction between Israelis and Palestinians. It burdens Israel's security services. It drains Israel's financial resources. It increases the barriers to the creation of a viable Palestinian state and thus creates a false impression that Israelis are not interested in a two-state solution.
This announcement is a clear demonstration of the impact that President Barack Obama's disciplined diplomacy can have. But this is no time for Senator Mitchell and his team to rest on their laurels. This moment must be leveraged for progress towards a negotiated two-state solution.
Implemented properly, this moratorium could serve the cause of peace. At the same time, the moratorium alone is not an alternative to negotiations. All parties have a responsibility to push for real talks that can handle the core issues of the Israeli-Palestinian conflict, including the fate of the settlements and conflicting claims to Jerusalem.
Israel must now match the drama of this announcement with good faith. Provocative acts that violate the spirit of the moratorium, like proceeding with construction in East Jerusalem, must be avoided. An effort must also be made to stop settler law-breakers from spoiling this moment of opportunity for progress towards peace.
In the wake of this announcement, APN and our sister movement in Israel, Shalom Achshav, will closely monitor events in the West Bank and East Jerusalem, bearing in mind that actions speak louder than words.
APN is America's leading organization advocating for peace for Israel.