ARTICLES from Ha'aretz, Jerusalem Post, AP, and Ynet appear below viedoes
VIDEOS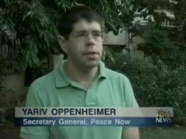 Two videos embedded from Israel News (in English) about settlement construction, featuring Peace Now's Yariv Oppenheimer (pictured left), and Idan Goldberger.
Articles come below the videos...
Israel News (in English) about settlement construction, featuring Peace Now's Yariv Oppenheimer
Israel News (in English) featuring an extended interview with Peace Now's Idan Goldberger
http://www.haaretz.com/hasen/spages/1109434.html
Ha'aretz: "Peace Now: 600 new buildings went up in West Bank in first half of 2009"
By Chaim Levinson

Construction of 600 new buildings in West Bank settlements was begun in the first half of 2009 alone, with 96 new buildings constructed in the illegal outposts, a new Peace Now report on settlement growth suggests.

A significant portion of the construction has been carried out according to old plans.

There are currently 40,000 new buildings authorized for construction according to the plans, the vast majority in settlement blocs like Gush Etzion and Ma'aleh Adumim.

Thirty-five percent of the buildings are constructed on the eastern side of the separation fence. Construction of permanent homes has risen by 8 percent since last year, while placement of trailer homes dropped by 43 percent.

Of the 96 buildings constructed in illegal outposts, 73 were prefab structures, 19 were permanent structures and four were agricultural structures, nearly all to the east of the separation fence.

Construction was underway in 10 out of 23 outposts which Defense Minister Ehud Barak had committed to evicting, with three new trailer homes added to Avigail, five new trailer homes added to Bnei Adam, six to Havat Gilad, and two new buildings and two trailer homes in Mitzpeh Lachish, among others.
----------------------
Jerusalem Post: "Peace Now: Settlement construction down 15%"
Aug. 23, 2009
Tovah Lazaroff , THE JERUSALEM POST
Construction in the Jewish areas of the West Bank dropped 15 percent in the first half of 2009, compared to the second half of 2008, according to a report by Peace Now issued Saturday night.
Peace Now's use of the term "structures" in its report differs from that of the government, which counts only legal housing units in permanent structures, not modular homes or construction in outposts.
Thus, according to the Central Bureau of Statistics, there was a 39% percent drop in the number of new housing starts in Judea and Samaria in the first quarter of 2009, the latest government statistic available, compared to the first quarter of 2008.
In the first quarter of 2009, work was begun on 342 new apartment units, compared to 560 in the same period last year, the CBS reported.
Overall, the media has estimated that work is now under way on 2,500 legal new apartment units.
According to the Peace Now report, which defines "construction" more broadly, settlers erected 596 new structures in the West Bank in the first half of 2009, compared with 705 in the second half of 2008.
Out of those, there were 372 new permanent structures and 204 modular homes in the first half of 2009, compared with 344 permanent homes and 361 modular homes in the second half of 2008.
Overall 35%, or 208 of the structures, were outside of the route of the security barrier, where as 65%, or 388 of the structures, were inside the security barrier.
Out of the 596 new structures, 500 were in settlements and industrial areas and 96 were in outposts.
In the settlements, work was begun on 351 permanent structures, and 131 modular homes were completed. Work was also begun on 10 industrial buildings.
In the outposts, 73 of the new structures were modular homes, 19 were permanent structures and four were industrial and or agricultural structures.
The number includes new structures placed in 10 of the 26 outposts built after March 2001, which Israel has promised the United States it would remove. Included in that are new homes in the Migron outpost, which the Council of Jewish Communities of Judea, Samaria and the Gaza Strip has made a deal with the government to remove.
Outside of construction work that is under way in the settlements of Ma'aleh Adumim, Betar Illit, Modi'in Illit and Givat Ze'ev, which are all close to the Green Line, there are also additional projects in Kochav Hashahar, Matityahu, Ma'aleh Michmash, Tekoa, Elkana, Na'aleh, Kfar Etzion, Barkan, Yitzhar, Beit Aryeh, Kfar Adumim, Revava and Nokdim.
Peace Now took issue in its report with complaints by settlers and right-wing politicians against a de-facto freeze on new permits for construction projects.
It argued that settlers can still build based on old permits, some of which go back to the 1980s.
It charged that according to a 2004 Defense Ministry report done by Baruch Spiegel, some 40,000 apartment units in West Bank settlements could still be built from old permits.
The Council of Jewish Communities dismissed this claim, saying that new Jewish construction has effectively been frozen in the West Bank.
It added that Vice Premier Moshe Ya'alon was correct last week when he characterized Peace Now as a virus.
The settlement of Yitzhar added in a statement that Peace Now was worse than a virus, because while a virus is indiscriminate, Peace Now attacks Israel and supports its enemies.
This article can also be read at http://www.jpost.com/servlet/Satellite?cid=1249418671218&pagename=JPArticle%2FShowFull
----------------------------
http://www.google.com/hostednews/ap/article/ALeqM5ioi_0jtO9RjMwPNRoXNCndRPRq3gD9A8GAOG0

AP: "Report: No sign of West Bank settlement slowdown"

By MATTI FRIEDMAN (AP) - August 23, 2009

JERUSALEM -- There is no sign of a slowdown in the construction of homes for Jewish settlers in the West Bank despite Israel's announcement that it has stopped approving new building, the Israeli settlement watchdog Peace Now said in a report issued Sunday.

Under U.S. pressure to freeze settlements, Israel indicated last week it had stopped green-lighting new construction projects, part of an attempt to bridge the gap between the two allies. The efforts to achieve an elusive agreement on settlements will continue this week at a London meeting between Prime Minister Benjamin Netanyahu and U.S. Mideast envoy George Mitchell.

But while Peace Now confirms the freeze on approval for new projects, the group's report says settlement construction is continuing and that settlers can easily build thousands of housing units based on old plans that have already been approved.

There is existing permission for the construction of up to 40,000 housing units, the report said. Construction has begun on around 600 new housing units in 2009, it said.

"There is no settlement freeze," Peace Now leader Yariv Oppenheimer said.

The number of Israeli settlers in the West Bank, home to some 2.5 million Palestinians, has more than doubled since the mid-1990s and now stands at around 300,000.

President Barack Obama's administration has led a new push to get Israel to stop building settlements in the West Bank, where Palestinians hope to establish a future state.

Israel has rebuffed calls for a full halt, saying some construction must continue to allow for the growth of the settler population.

The settlement issue will be raised this week during Netanyahu's trip to Europe. In addition to his meeting with Mitchell, the Israeli leader is scheduled to hold talks with British Prime Minister Gordon Brown and German Chancellor Angela Merkel.
-------------------
http://www.ynetnews.com/articles/0,7340,L-3765481,00.html

Ynet: "Report: Jewish stronghold to be built in Arab neighborhood"

Peace Now says settlers using old blueprints to build new structures in West Bank, accuses government of turning blind eye to settlement expansion. According to report, 596 new structures built in settlements since January. Ir Amim association says Jerusalem Municipality has approved 104 housing units for Jews in heart Ras al-Amud

Efrat Weiss
Published: 08.23.09

Israeli construction in the West Bank under the auspices of the government is ongoing despite official reports of a settlement freeze, Peace Now claimed in a report published Sunday morning.

In its bi-annual report the group said that settlers are using various measures to bypass attempts to halt construction, and that construction in outposts slated for evacuation by the Defense Ministry also continues.

According to Peace Now, part of the construction in recent months, mostly in isolated settlements, has been carried out based on old blueprints that have been approved years ago, in order to avoid the need to get new plans approved by the defense minister.

Construction on 596 new buildings began in the first half of 2009, including 96 structures in outposts, the report said. About 35% of the structures were built east of the separation fence route and some 65% west of it.

The report further stated an increase in the number of permanent structures under construction (8% up) has been recorded, as well as a drop in the number of caravans (43% decrease).

Not one real outpost was evacuated in the first six months of 2009, claimed Peace Now, whereas 96 new structures have been built and construction has been noted in 10 of the 23 outposts slated for immediate evacuation.

'Turning a blind eye'
According to the group, "It is in the power of the government to prevent construction that has been green-lighted in the past, but politically it finds it easier to allow the construction by turning a blind eye and providing direct or indirect incentives, while at the same time continuing to maintain that it is pushing for a 'settlement freeze'."

Since over 40,000 housing units in the West Bank have already been approved in the past, it would theoretically be possible to double the number of residents in settlements without bringing even one new plan for approval, said the report.

Therefore, added the organization, settlement freeze must apply not only to planning procedures but also to the implementation of the plans and construction on the ground.

The report further stated that in some cases construction is done illegally based on old plans that have not been approved or even without any plans at all.

Peace Now Secretary-General Yariv Oppenheimer said, "In the last six months settlers had no reason to complain. By using old blueprints they continue to expand settlements throughout the West Bank without the government's intervention, even when this is done illegally.

"The number of new structures and caravans speaks for itself. Despite of the attempts to slander us, Peace Now will continue to fight in order to preserve the possibility to separate from the Palestinians and implement the two-state solution."

'Group of viruses'
In response to the report the Yesha Council said, "Peace Now is making every effort to prove Vice Premier Moshe Ya'alon's correct observation. Peace Now is knowingly sabotaging the State of Israel's most vital interests and is sponsored by governments that are hostile to Israel.

"Ever since the government's inception not one construction project in Judea and Samaria has been approved. In plain Hebrew this is defined as 'total settlement freeze'."

The Binyamin Settlers Council offered the following statement, "It turns out that the people of Peace Now are indeed a group of viruses that seek to suck the blood of the Jewish settlement project and render Judea and Samaria Judenrein."

The Samaria Settlers Council said: "This bunch of snitches has made a career out of hating the Jewish settlements. The working procedures will apparently continue to be as follows: he Jewish settlers will continue to build the Land of Israel and the snitches of Peace Now ill continue to issue reports."

104 housing units in Ras al-Amud?
Meanwhile, the Ir Amim association claims that the Jerusalem Municipality has approved the construction of 104 housing units for Jews in the eastern neighborhood of Ras al-Amud. The association's director, Yehudit Oppenheimer, referred to this plan as "dangerous".

"We are talking about a massive expansion of an existing settlement in the Ras al-Amud neighborhood, into a settlement of more than 1,000 in the heart of a crowded Palestinian neighborhood in the eastern part of the city. This is a very sensitive place, and this settlement is a continuation of the 'Hebronization' process in Jerusalem, which damages the chances for a future agreement. This is a blatant provocation against Israel's relations with the Palestinians, and has a very dangerous potential."

According to sources in the Jerusalem Municipality, a discussion on the project has scheduled at the municipality's local committee, but was postponed for technical reasons.

The municipality said in a statement that "the plan was discussed by the municipality's professional teams, and has not been approved for advancing planning as it does not match the urban planning policy in this area." But Yakir Segev, who is in charge of the east Jerusalem portfolio at the municipality, says construction in this area is essential.

"It's important to build for Jews anywhere in Jerusalem," Segev told Ynet. "The building itself was used in the past as the Judea and Samaria Division's headquarters, and there is no reason why the Israeli presence there should not continue.

"This is one of the most strategic spots in Jerusalem. It overlooks the Temple Mount and the Mount of Olives' cemetery, and is a direct continuation of the Ma'aleh Hazietim neighborhood and the tourism sites on the Mount of Olives."

Ronen Medzini contributed to this report