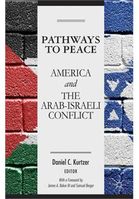 This is the fourth in a series of reviews of new books on Middle Eastern affairs. We asked Dr. Gail Weigl, an APN volunteer and a professor of art history, to review Dan Kurtzer's new book about America's role in advancing Israeli-Palestinian peace.
Daniel C. Kurtzer (Editor), Pathways to Peace: America and the Arab-Israeli Conflict (New York: Palgrave, 2012) 231 pages. $30.00
The timely essays in this book do not provide a "road-map" to end the present Israeli-Palestinian impasse. Rather, they offer sophisticated and subtle arguments and observations focused on US policies in the region, and on the urgent need for America to enter forcefully into negotiations with both sides in the conflict. Whatever the sympathies or expertise of individual authors, the underlying message throughout is the urgent need to promote a two-state solution, in the interests of all parties concerned. Perhaps the most fruitful approach to reviewing Pathways to Peace is to consider several leitmotifs, including the increasingly narrowing window for negotiating a two-state solution; policy prescriptions for the US role in the region; the appeal to US and Israeli self-interest; and the enduring crucial role of conflicting Israeli and Palestinian historical narratives.
Each and every author who contributed to the book agrees that time for a negotiated two-state solution is running out. Former U.S. ambassador to Israel and Egypt and Princeton professor Daniel C. Kurtzer warns, "The idea of a two-state solution--the cornerstone of American policy in the region--is now on life support...." (194). Like the majority of his fellow authors--whether concerned with the credibility of American policy in the region, or with Israel's survival as a democratic and Jewish state--Kurtzer presents both reasons for and possible solutions to the stalemate.
Frustration and anger among Palestinians over Israeli government support for settlement infrastructure looms largest among the causes cited for failed negotiations thus far. Former Palestinian minister and co-founder of the internet magazine bitterlemons.org , Ghassan Khatib, speaks for many when he warns that it is a recipe for disaster to leave Palestinians and their land to the mercy of the Israeli government, army, and settlers (81). He and others emphasize that without credible US investment in the peace process, that is, without a realistic assessment of the causes of the impasse and an even-handed approach to all parties concerned, the two-state solution is doomed to be replaced by considerably less attractive alternatives, including one state for the two peoples, and/or international recognition of a Palestinian state by fiat.
Solutions offered for re-starting American investment in peace negotiations and for maximizing the options for success do not result in consensus on a strategy. Some analysts, notably former Mossad analyst and co-founder of the bitterlemon.net family of Internet publications Yossi Alpher, as well as security strategists Colonel (ret.) P.J. Dermer and Stephen White, advocate an incremental process that builds upon trust and cooperation.
Most authors, however, favor an immediate return to end-stage negotiations, arguing that despite the internal and external challenges facing the resolution of final-status issues, confrontation will not be softened by waiting, which only allows the settlement enterprise to grow. Author and settlements expert Gershom Gorenberg makes a strong case (105).
Moreover, Robert M. Danin, Senior Fellow for Middle East and African Studies at the Council for Foreign Relations and formerly a senior US State Department official focusing on Israeli-Palestinian affairs, concludes that while previous inattention to developments outside the negotiating room merely compromised the peace process, today "inattention to the political track threatens to undermine the dramatic on-the-ground improvements of the last few years ...."(168). Yet, he notes, whatever the prescriptions for achieving peace, two strategic steps must be implemented: an end to illegal Israeli settlement activity, and greater parity between America's support for Palestinian and Israeli positions. Without these preconditions, negotiations toward a Middle East settlement cannot succeed. Aaron David Miller, former US State Department analyst and currently a scholar with the Woodrow Wilson Center states it best: "The idea that the United States has been a consistently honest broker adopting positions that are balanced equally between the two sides has always been an illusion...."(146). At a minimum, he writes, the United States must be willing to withdraw its unilateral support for Israel should settlement activity persist.
None of the contributors to Pathways to Peace is a Panglossian optimist. Each stresses the urgent need for a peace plan spearheaded by the United States, and offers a variety of policy options to maximize the chances for success. Former Jordanian foreign minister and ambassador to Israel and the United States, Marwan Muasher, proposes starting with the Clinton Parameters, previous negotiations, and the Arab Peace Initiative (28); Alpher, Danin, Dermer and White, Kurtzer, and Miller outline specific steps that can be taken to maximize the probability of success, appealing to American, Israeli and Palestinian self-interests.
These authors recognize that without strong US leadership, the prospects for peace increasingly will decline and US influence, already dangerously compromised, will continue to wane, forcing a void potentially filled by regional actors with a stake in continuing conflict. Every author offers pragmatic solutions; all agree that without an American commitment to re-starting the peace process, no progress can or will be made. In the service of re-starting negotiations, America must consider all options: the status of Jerusalem and Palestinian calls for a "right of return" of refugees in the face of Israeli insistence on Palestinian recognition of Israel as a Jewish state; the threat of Iranian nuclear capability and how it might be diffused by the resolution of the Israeli-Palestinian conflict; the continued volatility of a region undergoing drastic political changes; and last but not least, the need to consider the role of public opinion in order to insure internal political support for any negotiated settlement.
Danin and the Israeli journalist and author Gershom Gorenberg emphasize, however, that negotiating successfully requires more than a US commitment to the peace process. It requires that Israelis and Palestinians believe negotiations are desirable, and can and should succeed, provided leaders at the negotiating table are empowered by political support (Danin, 158).
Alpher appropriately mentions the cultural context when he argues that the Oslo formula failed, to some degree, because it did not sufficiently respect the differences between Israeli and Palestinian pre-1967 historical narratives (64). For Danin, core issues dividing Israelis and Palestinians can only be resolved if each is prepared to challenge respective core narratives, self-identities and collective myths and histories (158). Dermer and White apply the conundrums of opposing narratives to the specific realm of security, contrasting the Israeli perspective of external threats with Palestinian fears of internal ones (174-177). In short, the psychological dimension often elude political analysis (Miller, 116).
Pathways to Peace is usefully organized into sections that consider the regional and Israeli-Palestinian dimensions, and the role of the United States in the peace process. An Appendix helps to inform the non-specialist by presenting possible terms for renewed Israeli-Palestinian negotiations, the 2002 Arab Peace Initiative, and the 2003 Roadmap to a permanent two-state solution. Short biographies also help the reader to assess the arguments and analyses presented by each contributor to this invaluable book.