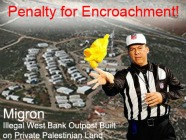 This was a winning week for Israel's true patriots, Peace Now's dedicated staff and activists.
Earlier this week, Hagit Ofran, the director of Peace Now's Settlement Watch project, won an esteemed prize, named after her grandfather, iconic philosopher and anti-occupation activist Professor Yeshayahu Leibowitz.
Peace Now's campaign to educate the Israeli public about illegal outposts has been extremely successful. As the March 31st court-ordered deadline for the removal of Migron, the mother of all outposts, draws near, Peace Now is making a huge effort to explain to Israelis why settlements and outposts are bad for Israel and bad for peace. More than 7,600 people have so far viewed its video on Migron. Hundreds of thousands viewed a Channel 2 television segment that Peace Now helped produce, which introduced the Israeli public to the Palestinian legal owners of the stolen land that Migron was built on. Many thousands saw Peace Now's new posters featuring the banner: "Don't Let the State of the Settlers Take Over the State of Israel," and dozens of activists attended a teach-in at a Jerusalem bar on the illegal outposts.
The Israeli and international media quoted Peace Now's Yariv Oppenheimer and Hagit Ofran numerous times this week on current developments related to West Bank settlements and outposts.
Why am I calling Yariv, Hagit and their colleagues patriots? I call them giants as well. These people lead the only viable, consistent, unyielding Zionist Israeli organization that continues to fight for peace, even when faced with death threats, hostile Knesset legislation and an antagonistic government.
Whether you're rooting for the Giants or for the Patriots on Sunday, please don't forget Israel's true patriots - and giants - my heroes at Peace Now.
Enjoy the game!

Debra DeLee
President and CEO,
Americans for Peace Now
P.S. Help us score a two-state solution by donating to Americans for Peace Now