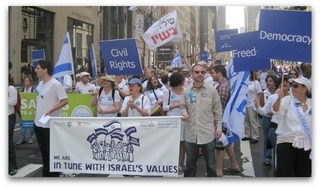 March with us and our coalition of progressive, pro-Israel organizations at the 2012 Celebrate Israel Parade under the banner

"Roots of Justice, Branches of Peace"

Sunday, June 3rd, New York City
10:00 am - 1:00 pm



To RSVP, receive meeting place information, and a list of what to bring, contact APN's Rabbi Alana Suskin at
asuskin@peacenow.org
.
---------------------------------------
APN will be marching together with a cluster of progressive, pro-Israel organizations committed to Israel's core values, as laid out in its Declaration of Independence 64 years ago.
Under the banner of "Roots of Justice, Branches of Peace", we will proclaim our support for the ideals of democracy, freedom, justice, peace and civil rights.
Come show that we support justice, peace - and love for Israel.
Don't miss this opportunity to show the world that there is a loud progressive voice supporting Israel - strengthening its roots of justice and branches of peace.
Please let us know if you will be joining Americans for Peace Now so that we can bring signs, t-shirts and other fun give-aways for our supporters!
To RSVP, receive meeting place information, and a list of what to bring, contact APN's Rabbi Alana Suskin at
asuskin@peacenow.org
.