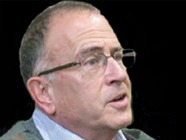 Q. ...how can Netanyahu emerge from this showdown with the United States and his own security establishment (on his approach to Iran) without losing face?

Q. Does last week's appointment of ex-Shin Bet head Avi Dichter to civil defense minister help Netanyahu's cause with the Israeli public regarding Iran?
Q. What do you make of the announcement...that Egypt is considering introducing changes in the military annex of the Egyptian-Israeli peace treaty...?



-------------------------------

Q. Unlike Ehud Barak with his analytical approach to Iran, Binyamin Netanyahu appears to have committed his leadership emotionally and ideologically to combating what he perceives to be an existential, Holocaust-like threat. Assuming he backs off temporarily and Israel does not soon attack Iran unilaterally, and bearing in mind the tough US stance expressed last week by General Martin Dempsey, how can Netanyahu emerge from this showdown with the United States and his own security establishment without losing face?

A. One fairly obvious possibility is that President Barack Obama issues a statement committing the United States to dealing militarily with Iran's nuclear project, if all else fails, by a date certain in early 2013. This option was mentioned in these virtual pages last week. A similar idea was also floated last week by a Likud intimate, former deputy chief of staff of the IDF and national security adviser Uzi Dayan, after extensive conversations with PM Netanyahu and Defense Minister Barak. Dayan's remarks were relayed by the New York Times and fairly obviously constituted an attempt by Netanyahu to signal a way out.

In parallel, Dennis Ross, who is known for his close ties in both Washington and Jerusalem, proposed (also in the New York Times) a slightly "softer" formula for the administration to "extend the clock from an Israeli standpoint" by offering Netanyahu additional military aid and initiating discussions regarding a "day after" strategy among the six countries (P5 + 1) currently negotiating with Iran. Rather than committing the US to attack, Ross would ostensibly make it possible for Israel to postpone its own attack by enabling it militarily to delay encountering a "zone of immunity" (Barak's term to designate the point at which Iran's nuclear project is so far advanced that it could no longer be destroyed by Israel with its relatively limited resources).

Either of these options would allow Netanyahu to "declare victory" and at least temporarily stand down.

Another possibility is that Iran backs down and accepts a deal offered by the P5 + 1. Even if Netanyahu continues to insist on more stringent conditions (e.g., that Iran abandon enrichment altogether rather than confine it to a low grade, which the international community could accept), he might still declare that the new arrangement keeps Israel's window of opportunity open by delaying Iran's entry into the "zone of immunity".

A final possibility, one Israelis are distressingly familiar with, is that the rapid pace of events in the Middle East places so many other heavy issues on the agenda that Netanyahu, with the help of his spin-masters, simply changes Israel's order of business and ceases his incessant warnings regarding Iran. Assuming Netanyahu's pollsters are already telling him that his go-it-alone-can't-trust-the-US position regarding the Iran security issue is not particularly popular with the Israeli public (President Shimon Peres' recent call for Israel to act only in close coordination with Washington certainly doesn't strengthen Netanyahu's case), he could already be looking for a suitable distraction. A huge refugee crisis on the border with Syria, a new intifada in the West Bank, a revolution in Jordan, or some critical domestic issue could all constitute viable rationales for postponing a showdown over Iran.

With new national elections a year or less away and the economy in the doldrums, one of Netanyahu's challenges in this respect is that, according to conventional political wisdom, if he can't boast of guiding Israel's economy successfully, and having badly mismanaged the compulsory national service affair, he will need to hoist the flag of a security issue to buoy his electoral prospects.


Q. Does last week's appointment of ex-Shin Bet head Avi Dichter to civil defense minister help Netanyahu's cause with the Israeli public regarding Iran?

A. Hardly. Before Dichter accepted the appointment, the ministry portfolio was rejected by Uzi Dayan (see above: his discussion of the offer with Netanyahu and Barak did lead to a strategic leak to the press regarding Iran) and at least two other former senior security officials. Dichter appears to have accepted the portfolio as a way of distancing himself from the sinking ship of Shaul Mofaz's Kadima party--Kadima is predicted by one recent poll to garner only four mandates were elections held now--and moving into Netanyahu's key decision-making circle: formerly "the eight", now "the nine". It is not clear whether, in order to get the appointment, he pledged to Netanyahu to vote in favor of an attack on Iran--a position he appeared to oppose until recently.

If so many serious Israeli candidates treat the civil defense portfolio like the plague, it is because civil defense is considered a thankless task regarding which the Israeli public can't easily be fooled. Israelis have only to look around them to recognize that fully half their number do not have quick access to shelters and do not possess chemical protective equipment, and that some key infrastructure installations--the most famous example is a huge ammonia tank in Haifa bay whose destruction by a Hezbollah rocket could conceivably poison thousands--remain unprotected from attack.

Dichter, and certainly the more informed sector of the public, also know that the Civil Defense Ministry is virtually devoid of both budgets and authority, which remain the monopoly of the IDF. In short, it is not the Civil Defense Ministry that defends the Israeli civilian rear. The ministry was established five years ago, in the aftermath of the Second Lebanon War when the northern third of Israel was exposed to weeks of heavy rocket fire from Lebanon. Dichter's predecessor, Matan Vilnai, who resigned to take up the post of ambassador to Beijing, takes credit for having organized rear-guard civilians at the municipality level to provide vital services at times of emergency and for having persuaded the Ministry of Defense to better protect at least some of the rear infrastructure.

But when confronted with the relative dearth of shelters for civilians, Vilnai recently reminded Israelis that in 1991, in dealing with Saddam Hussein's scud missiles (41 of which fell on Israel), they sheltered in rooms sealed simply with nylon sheeting and tape. They should prepare to do so again, he suggested, falling back on the by-now familiar refrain of a security establishment that prides itself on deterrence and offense as the best forms of defense: "We won't shelter ourselves to death."

On Sunday, in handing the keys to the office to Dichter, Vilnai--who coined the term "civilian front"--declared, "The IDF's massive defensive and offensive capabilities are designed to ensure that the Israeli rear won't become a front."

So who needs civil defense? Dichter, who presumably did not take the toothless civil defense job in order eventually to be blamed for civilian deaths and injuries at a time of war, has to hope Vilnai's bluster is justified.


Q. What do you make of the announcement last week by Egyptian President Morsi's legal adviser, Mohamed Gadallah, that Egypt is considering introducing changes in the military annex of the Egyptian-Israeli peace treaty regarding the deployment of Egyptian forces in Sinai?

A. Morsi also promised to "restore all of Sinai to Egypt's full sovereignty". He and Gadallah were presumably referring to their dissatisfaction with heavy restrictions on Egyptian military deployment in the Sinai Peninsula in accordance with the Egypt-Israel peace treaty.

Here, two background factors are important to keep in mind. First, no part of the two countries' peace treaty can be altered without the concurrence of both, together with the United States, which commands the 1,600-strong Multilateral Force & Observers mission that has overseen Sinai limitation of forces provisions since 1982. And second, as far back as the Mubarak regime, i.e., about a year and a half ago, Egypt's troubles with jihadis and rebellious Bedouin in Sinai led it to request, and Israel to permit, reinforcement of Egypt's forces there. The move was labeled an agreed temporary exception to the treaty provisions.

Until recently, to Israel's distress, Cairo did not take full advantage of Jerusalem's agreement to allow this short-term force augmentation in Sinai, and violence proliferated there. Now, following the recent jihadi attack on Sinai-based Egyptian border guards, killing 16, Morsi has not only begun exercising his authority over the Egyptian army but has sent large numbers of reinforcements into Sinai.

Even in Mubarak's day, Israel agreed to the idea of temporary reinforcements because it refused to renegotiate any part of the actual treaty lest this open a Pandora's box of Egyptian complaints regarding the infringement of sovereignty imposed by the force restriction annex to the treaty. (Israel could of course respond by demanding Egyptian compliance with a host of treaty obligations in the economic, consular and cultural fields that even Mubarak ignored. But this would hardly improve relations or secure the treaty against unwanted changes.)

Considering the Muslim Brotherhood's anti-Israel ideological baggage that Morsi brings to the presidency and lately to the command of the Egyptian army, Israel is clearly not going to agree to reopen the treaty; the United States is virtually certain to back Jerusalem. A large and threatening Egyptian deployment in Sinai triggered two major wars in the past, in 1956 and 1967. In Israeli eyes, the Sinai demilitarization agreement is a success and a major foundation of bilateral peace and stability.

Israeli security sources are concerned that, if and when the Egyptian army restores real peace and order in Sinai, Morsi is likely to seize on the Sinai sovereignty issue as a potentially popular bone of contention with Israel and demand a free hand in deploying the Egyptian armed forces there. Assuming Egypt's economic situation continues to deteriorate, Morsi may seek a convenient Zionist scapegoat. He could conceivably begin by simply refusing to remove the recently-deployed Egyptian reinforcements, thereby flouting the two countries' formal and informal agreements and generating a crisis that Washington won't be able to stay out of.