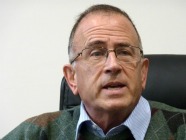 Alpher discusses how Israelis and Arabs received the Obama victory last week and how the Obama victory will affect the administration's treatment of the Iran-nuclear and Israeli-Palestinian issues and how the Obama victory will affect the administration's treatment of the Iran-nuclear and Israeli-Palestinian issues
.
Q. How did Israelis receive the Obama victory last week?
A. Aside from Pakistan (!!), Israel was apparently the only country where a majority of those polled--around two-thirds of Israelis in general and an even higher percentage of Israeli Jews--expressed support for a Romney victory prior to the US elections. This preference apparently reflected two Israeli public perceptions that were actively encouraged by the Netanyahu government.
First, Netanyahu's entourage encouraged the perception that the outgoing Obama administration was hostile toward Israel, weak on Iran and weak on Arab Islamism. And second, Israelis were signaled that they need not be concerned with any consequent threat to the Israeli-American relationship because Netanyahu had outfoxed, outmaneuvered and even humiliated Obama with impunity (the famous Oval Office scene) due to a combination of Obama's weakness and Netanyahu's clout in Congress and among the US public. At some level, the Israeli public was also apparently reassured by the perception that both Netanyahu and Romney could rely on the deep pockets of wealthy American Jewish backers like Sheldon Adelson.
That Netanyahu preferred a Romney victory is a given. Nevertheless, the prime minister reacted graciously to the Obama win, publicly and privately congratulating the president and expressing confidence that they would continue to work together. The prime minister's office even made a pathetic effort to argue that Netanyahu had never intervened in the American election or even expressed a preference.
Netanyahu now faces the challenge, at election time in Israel, of persuading the public that he is still the best man to lead Israel into four more years of Obama's global and Middle East leadership. And he has to counter the undeniable electoral facts: the usual 70 percent or so of American Jews voted for Obama despite Netanyahu's obvious hostility; most American Jews do not rank Israel's well being high on their list of voting priorities; and J-Street could cite its success in assisting the election of nearly every pro-two-state solution candidate it endorsed.
That the Netanyahu team was not totally detached from reality and was at least contemplating a possible Obama victory was reflected in a hint dropped to me a day before the US election by a senior official in the Prime Minister's Office, to the effect that after winning reelection Netanyahu would consider making some sort of Israeli gesture toward accommodating the Arab Peace Initiative. This sort of remark might be one way Netanyahu hopes to allay attempts by Obama's supporters in the US and Netanyahu's detractors in Israel to signal to Israelis prior to January 22 that reelecting Netanyahu means four years of Israeli-American friction.
At the time of writing, it was unclear whether the Obama victory would spark Ehud Olmert and/or Tzipi Livni to emerge from political retirement, campaign against Netanyahu on precisely this issue, and argue that their more tempered approach to Iran and more forthcoming attitude toward the Palestinian case for a state would better suit Israel's interests. With every passing day during the past week, one could not avoid the conclusion that neither they nor, for that matter, President Shimon Peres (see last week's edition) were prepared to make this electoral gamble. Meanwhile, the other leading candidates from the center-left, Shelly Yacimovich of Labor and Yair Lapid of Yesh Atid, are assiduously avoiding the question of relations with the United States in the context of the Palestinian and Iran issues in the hope of attracting right-leaning voters.
Netanyahu, incidentally, received another piece of bad news on the night of November 6, when Nafali Bennett was chosen to head HaBait HaYehudi party (formerly National Religious Party). Bennett, a gifted high-tech millionaire, was once Netanyahu's chief of staff; he allegedly resigned and moved to the religious right in protest at the notorious meddling in the prime minister's public affairs on the part of Netanyahu's wife, Sarah.
Netanyahu does not welcome Bennett's emergence as a right-wing political leader because Bennett aspires to radically enlarge his party's Knesset contingent and coalition clout. Bennett seeks to reach out toward other right-wing parties like the National Union as well as secular Israelis seeking pseudo-religious "values". Luckily for Netanyahu, the National Union, whose anti-Arab policies are somewhere between openly and covertly racist, is splitting into three factions; Israel's Zionist far right is traditionally even more fractious than its Zionist left.
Just to keep things in perspective, the Obama victory was greeted far less diplomatically by Danny Dayan, head of the Yesha Council (Council of Settlers), as "a disaster for the state of Israel". "We will not bend our knee" to the United States, Dayan added. After Knesset Speaker Reuven Rivlin, a Likudnik, added that the US election result was "bad for Israel", Netanyahu asked his own Likud ministers to avoid further comment that might worsen his relationship with Obama.
Q. And the Arab reaction?
A. As for the Arab response, extremist quarters such as the Assad regime and Hamas expressed relief that Obama won. They had made the mistake of taking Romney at his word with his uninformed threats and bluster and not realizing he would probably have ended up behaving toward them like Obama. The Palestinian Authority leadership also welcomed Obama's victory, on the assumption (some would say wishful thinking) that a second-term Obama will be more forthcoming toward the Palestinian cause and tougher on Netanyahu.
This did not stop Palestinian Authority President Mahmoud Abbas (Abu Mazen) from declaring on Sunday that he was determined to submit a bid for state recognition to the United Nations General Assembly by the end of this month. Abbas stated that he had rejected entreaties from the Obama administration to hold off, allow the president to organize his second administration and even wait until after Israel's January 22 elections. "Next they'll ask me to wait for elections in Congo," Abu Mazen added.
That deprecating quip appeared to reflect not only the PLO leader's by-now notoriously poor reading of American politics; it also reminds us that he is feeling outflanked: Gazan-based Hamas is one-upping him by escalating attacks on Israel, while West Bank polls show a drop in Palestinian support for the PA accompanied by approval of the problematic UN bid. In effect, Abbas has given the administration until November 29 (the anniversary of the UN partition resolution of 1947, when he threatens to deliver his recognition request) to come up with an offer so attractive that he can back off without losing face. That is not likely to happen.
Q. Well, what will happen? How do you assess the Obama victory will affect the administration's treatment of the Iran-nuclear and Israeli-Palestinian issues?
A. My inbox has been deluged over the past week with learned predictions and prescriptions regarding what Obama should now do in the Middle East. Their authors are established experts and think tanks, some of which have close access to the current Middle East staff in the White House and State Department. I would take a more cautious approach, based on a few major near-term constraints and considerations.
For one, we can apparently look forward to new secretaries of state and defense and even, as of Saturday, a new CIA director, all in the weeks ahead. They, like the president himself, will need time to draft new policy initiatives, if any, regarding the Middle East. In other words, those initiatives may not yet even exist in any concrete form in administration thinking, and it may be early to solicit input.
Then too, the president's first policy priorities appear to be domestic, and particularly economic--and not diplomatic. Further, when it comes to the Middle East, the second Obama administration is almost certain to award priority to issues not directly related to Arab-Israel peace: the Iran-nuclear question, avoiding the pitfalls of the Syrian revolution, and strengthening and encouraging moderate tendencies in Muslim Brotherhood-led Egypt. In the greater Middle East, the Afghanistan-Pakistan complex will loom large in the next two years as the 2014 withdrawal deadline approaches. All this will probably take place against a backdrop of a generally declining American profile--certainly militarily, in some ways diplomatically too--in parts of the region. It is only beyond these formidable challenges that the question of renewing an Israeli-Palestinian two-state solution process could emerge.
Under what circumstances? One possibility would be linked to a breakthrough with Iran. The administration confronts a near-term window of opportunity to try to negotiate a deal that neutralizes the Iranian nuclear threat: Netanyahu has pushed the Israeli deadline to next summer, while Israeli elections also probably delay any Israeli initiative. Within months, Iran too will enter an election cycle. Many signs currently point to the prospect of a quick push by Obama to negotiate a package deal with Iran--one that almost certainly won't fully satisfy Netanyahu but that he won't easily be able to reject or ignore. And if the Iran threat is even temporarily off the agenda, not only will pressures mount in the revolutionary Arab world for the US to deal more forthrightly with the Palestinian issue, but one can assume that the Obama administration would gain confidence in its capacity to move in that direction.
Another possible reason for devoting more attention to the Israeli-Palestinian complex could be the emergence of a more moderate government in Israel after its January 22 elections. A government that cites the Palestinian demographic threat to Israel's status as a Jewish and democratic state as a rationale for moving toward a two-state solution, would undoubtedly seek active American sponsorship of renewed negotiations or even of an additional Israeli unilateral withdrawal from part of the West Bank. Unfortunately, as matters stand on the Israeli election scene, the advent of such a government is not probable.
At a more generalized level, the administration must prepare itself to deal quickly and forthrightly with the almost inevitable crisis that, at some point in the next year or two, will catapult the Israeli-Palestinian issue back to the forefront of Middle East and global attention. Likely possibilities include a new West Bank intifada that threatens to bring down the PA, a renewed Israel-Gaza war with an alarming Israel-Egypt escalatory dimension, an attempt by the Assad regime in Syria to expel hundreds of thousands of Palestinians into Jordan or even Israel, and the destabilization of the Hashemite Kingdom in Jordan, raising the specter of a Palestinian Islamist takeover there. Any of these tragic contingencies, or something similar, could not only oblige the Obama administration to demand urgent progress toward a two-state solution but would in some ways render it easier for it to pursue such a course.
Finally, while I'm not one of those who expect Obama to "wreak vengeance" on Netanyahu--that scenario hardly describes the American president's character and behavior--there is a growing school of thought among American security veterans that argues that the festering, unsolved Arab-Israel conflict is a genuine liability for American security interests in the Middle East. Obama is said to pay close attention to the advice of his security community. Conceivably, then, if and as the Arab revolutionary wave settles down and American interests in the Middle East become increasingly entangled with and dependent on Arab and Turkish political Islam, the security rationale for upping the profile and the urgency of the Israeli-Palestinian conflict in administration eyes will become more prominent.