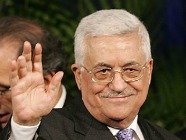 Alpher talks about Mahmoud Abbas' surprising remarks to Israel TV channel 2 regarding the right of return, borders and violence, the smaller and newer lists worth following in the upcoming Israeli elections and the "phantom" parties that may or may not coalesce.
Q. What do you make of Abu Mazen's surprising remarks to Israel TV channel 2 regarding the right of return, borders and violence?

A. In his interview last Friday night, Abu Mazen (Palestinian Authority President and PLO Chairman Mahmoud Abbas) firmly recognized Israel within the 1967 lines, stated that a Palestinian state will encompass only the West Bank, Gaza and East Jerusalem and indicated that he personally understood he would only return to his native Safed as a visitor because it is part of Israel. "I believe that the West Bank and Gaza are Palestine, and the other parts are Israel," he said. He also reiterated his opposition, not for the first time, to a resort to violence on the part of Palestinians.
Abbas' personal renunciation of his specific "right of return" as a 1948 refugee was courageous. It produced immediate praise from Defense Minister Ehud Barak and President Shimon Peres, but merely a shrug from Prime Minister Binyamin Netanyahu, who responded that there is no connection between Abbas' "statements and his actual actions"--an apparent reference to the upcoming Palestinian appeal for UN provisional statehood recognition. Abbas' statement regarding return was also roundly condemned by the Hamas leadership in Gaza, by the small left-wing Popular Front for the Liberation of Palestine, and even by some Fateh activists in the West Bank.
True, Abbas quickly issued a clarification that he had not forsaken the right of return and that it and the refugee issue would be a matter for future negotiation. Further, in his channel 2 interview Abbas once again avoided dealing with a question about his famous assertion, in May 2009 after confronting Ehud Olmert's far-reaching peace proposal of September 2008, that "the gaps were too wide." Still, his metaphorical renunciation of the right of return is an important statement. He is leading by example.
But how do we explain the timing of Abbas' remarks, when in fact there is no active peace process and the current Palestinian UN gambit is condemned not only by Netanyahu but by the Obama administration as well? The most obvious explanation is Israel's elections: Abbas wants to provide electoral ammunition for the parties of the left and center. Those parties, whose positions are backed vocally by President Shimon Peres, argue that a peace process with the Palestinians is urgent and feasible and Abbas is an ideal negotiating partner.
A secondary explanation could conceivably be the imminent American presidential elections: here Abbas' statements could be understood to strengthen the case for reelection of President Barack Obama, who is generally considered more evenhanded on--and involved in--the Israeli-Palestinian issues than Mitt Romney. Finally, it's conceivable that Abbas believes his conciliatory interview will help persuade wavering United Nations General Assembly members to vote for provisional Palestinian state recognition on the assumption that this will improve Palestinian negotiating flexibility and moderation.
But is anybody listening? Abbas offered moderate statements prior to the last Israeli elections in early 2009, without any noticeable effect on the outcome. Then, the Palestinian issue was at least on Israel's election agenda. Now it is nearly absent, not only in Israel but (see last week's Q & A) in the American elections as well. This reflects not just Netanyahu's success in making the two-state issue disappear, but Obama's difficulties in dealing with the issue as well as the widespread perception that Abbas has essentially lost hope in the negotiating track.
The Palestinian leadership has never been particularly adept at understanding and exploiting either Israeli or American politics. For Abbas to have some influence on the Israeli public with a moderate and flexible approach, he would need to persist, expand the envelope of moderation over a longer time-span, and avoid the appearance of flip-flopping. His "personal" concession regarding the right of return is a dramatic step in the right direction. Ideally, the Israeli public also needs to hear from him--not once but repeatedly--a more realistic attitude toward Israeli rights in the Jerusalem holy basin (the Old City, Temple Mount, City of David and Mount of Olives), assuming Israel agrees to a Palestinian capital in East Jerusalem. It is the perception of Palestinians' intransigence on these two "narrative" or "existential" issues--the right of return and the Temple Mount--that has until now aroused suspicions in some Israeli circles regarding the Palestinian leadership's ultimate goal and fueled the demand that it recognize "Israel as a Jewish state".
Q. Speaking of the Israeli electoral scene, it appears to be particularly frenzied with regard to the emergence of smaller and "phantom" parties that you haven't discussed in depth thus far. What are the more significant of the smaller and newer lists whose fortunes are worth following in the coming three months?
A. Let's begin with Meretz on the Zionist left, which is the only party with a firm peace process agenda as well as a traditional social justice agenda. Because Labor is largely avoiding the Palestinian issue, and in view of widespread discussion of possible party mergers around the political center, Meretz increasingly stands out. Polls give it as many as six members of Knesset (it currently has three). Interestingly, also taking a strong stand in favor of negotiating a two-state solution is Ehud Barak's "Atzmaut", but in contrast to Meretz it is struggling to cross the electoral threshold and return Barak to the next Knesset.
Hadash, the mainly Arab list that comprises the Israeli communist party, will also attract some Jewish votes thanks to the star image of its single Jewish MK, Dov Khenin, who has proven an outstanding legislator on social and economic issues and previously put up a strong showing in the race for mayor of Tel Aviv.
Another small party that merits our attention is a new one, "Am Shalem", led by Rabbi Haim Amsalem, a former MK for Shas who has emerged as a bitter critic of that party and of Haredi (ultra-orthodox) rabbinic leaders in general. Amsalem wants Haredi children to learn a secular as well as religious curriculum; he wants Haredi men to serve in the army and Haredi rabbis and scholars to work for their living rather than taking handouts from the state. He wants Haredi politicians to be Zionists. He portrays Shas--a detailed insider's view--as corrupt, dictatorial, ignoring the real welfare of Sephardic Jews and subservient to Ashkenazic "Litvak" Haredi rabbis. He has recruited Elazar Shtern, an orthodox former IDF major general who also bucks the establishment, as second on his list. So unique and refreshing is Amsalem that his list could be the "boutique" favorite of these elections among some streams of Israelis who are looking to cast a protest vote--reminiscent of the "Gil" retirees list that two elections ago came out of nowhere to win six mandates.
(Yes, there is a retirees' list again this time, but it is unlikely to breach the two mandate threshold.)
Q. That takes care of the smaller parties. What are the "phantoms?"
A. There are no fewer than four "phantom" parties or lists that do not yet exist, or are disappearing, or may never emerge, but are generating major controversy and polling interest. One such party appears to have died on Saturday, when Moshe Kahlon, the highly successful and charismatic minister of communications in the outgoing government, decided not to establish a party of his own that would compete with the Likud. Kahlon had earlier opted not to run on the Likud list, apparently due to dissatisfaction with Netanyahu's merger with the Russian-dominated Yisrael Beitenu list. Kahlon is also reportedly unhappy with the prime minister's treatment of candidates like himself who represent a Sephardic working class community whose allegiance the Likud has cultivated for decades.
Kahlon's supporters sought to persuade him to form a breakaway party by brandishing a survey that purported to show it winning 20 mandates. Within days, the Kahlon balloon was deflated by additional surveys that showed him dropping to 10 and below. Kahlon, a smart political operative, read the writing on the wall and announced that he's departing for a semester or two at Harvard in order to broaden his horizons. He still has a bright political future.
Kadima is the second "phantom" party. According to the latest polls, so poor are its fortunes that it has dropped off the list of parties that would cross the electoral threshold and enter the next Knesset. Many of its 28 MKs are fleeing to the Likud, Labor and even the retirees' party. Its leader, Shaul Mofaz, has proven incapable of reviving its fortunes.
This brings us to the third "phantom": a new center party. Here the rumor mill is rife. Former Kadima leaders Ehud Olmert and Tzipi Livni are said to be consulting; they have reportedly decided to wait for the results of the US elections. An Obama victory would presumably be understood as a signal that energizes moderate centrist forces in Israel and hurts the chances of Netanyahu, who is thought liable to face heavy American pressure under a second Obama administration.
But what about Yair Lapid's popular "Yesh Atid"? And Labor, which under Shelly Yacimovich positioned itself so successfully at the political center by downplaying the Palestinian issue and focusing on social and economic causes that prior to the Netanyahu-Lieberman merger it was threatening to outpoll the Likud? Will all these parties compete against one another on the center-left of the spectrum and fragment the vote, thereby ceding the next coalition to Netanyahu? (Labor, incidentally, continues to attract popular security and social protest candidates, while Yesh Atid is witnessing it first defections).
Here we encounter the most imaginative and doubtful phantom scenario of all: it proposes that President Shimon Peres resign the presidency--an office that has minimal political clout--and undertake to head up a new center-left party that absorbs everyone. Olmert, Livni, Lapid, Yacimovich, and Mofaz will salute and fall into line. Who knows, perhaps even Meretz as well. Speeches are being made and opeds written by "influentials" to persuade Peres and everyone else that only the 89-year old president of the country can save Israel from the likes of Netanyahu and Lieberman.
I doubt very much this will happen, not least because of Peres' age and physical condition, because he is a legendary electoral "loser", and because he does not project the authority toward an Olmert or a Yacimovich that some attribute to him. Still, the coming week could be critical with regard to the number, variety and success of the electoral lists the left and center present to the Israeli voter.