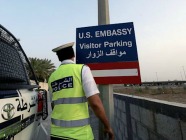 This week, Alpher discusses what was significant from an Israeli standpoint in last week's US terror alert and embassy closings, the mutual accusations of sabotaging negotiations before they begin Wednesday, an overview of the Arab revolutionary wave: where is it coming from and where is it heading, and how this is related to the fortunes of the outside powers as they intervene, not to mention what all this means for Israel.
Q. What was significant from an Israeli standpoint in last week's US terror alert and embassy closings?

A. The alert dealt with al-Qaeda's broad Middle East deployment, including in the Sinai Peninsula. Judging from the spectacular coordinated raids on jails in Pakistan, Libya and Iraq that freed hundreds of Qaeda prisoners and that preceded the alert, it had to be taken seriously. Israel and Egypt ended up cooperating at least twice last week in dealing with specific terrorist threats from Sinai that were probably related to the US warning.

In one case, Eilat airport was closed for several hours after Egyptian intelligence warned of a possible attack from Sinai. In a more spectacular instance on Friday, a Salafi unit en route to fire rockets deep into Israel from the Egyptian side of the Sinai-Gaza Strip border was eliminated by a drone attack. Both official and media reports were conflicting regarding the origins of the drone strike, but it appears that an Israeli drone fired rockets into Sinai from the Gaza side of the border, based on Egyptian intelligence. If this is indeed the case--neither side will confirm--it points to a quiet but unprecedented upgrading of Egyptian-Israeli cooperation against the increasingly threatening Salafi presence in Sinai since the army took power in Egypt on July 3.

Q. American-sponsored Israeli-Palestinian final status talks are scheduled to begin on Wednesday as both sides trade accusations of sabotaging negotiations before they begin. Any comment?

A. The "sabotage" is par for the course. Israeli PM Binyamin Netanyahu is calming his right-wing coalition prior to commencement of the talks by publicizing settlement-construction plans--some seemingly new, others recycled from previous planning permissions. The Palestinians complained to US Secretary of State John Kerry. Palestinian leader Mahmoud Abbas declared last week that there would be "not a single Israeli inside the Palestinian state". Netanyahu complained to Kerry that this and aspects of the Palestinian education system constitute "incitement". Meanwhile, Israel is moving ahead with plans to free an initial group of 26 veteran Palestinian prisoners.

Neither side dares incur Kerry's condemnation by backing down from its commitments. Even the "outrage" of each side at the provocations of the other seems fairly carefully choreographed. In this regard, it is hard to take seriously Palestinian threats not to show up for the talks in protest at settlement construction.

The 1,200 settlement dwellings in question are all within East Jerusalem and the settlement bloc. The entire dynamic is painfully familiar. It was not invented by Netanyahu and was evident over the past 20 years with dovish prime ministers as well. The settlers and their supporters have to be appeased or bought off in order for the government to enter negotiations with the Palestinians--not to mention freeing prisoners--without being destabilized.

Building settlements while discussing territorial arrangements that concern the land in question is not just counterproductive to peace; it's downright Orwellian. That Netanyahu apparently persuaded Kerry and, through him, Abbas, to tolerate this ritual once again reflects poorly on the credibility of this renewed peace process.

US facilitator Martin Indyk arrived in Israel on Sunday. This first round of talks is scheduled to take place at Jerusalem's King David hotel. We should almost certainly prepare for an extended period of negotiations during which little of the content will be made public--at least not at the official level--while the provocations and mutual sniping go on.

Q. Not only can we expect little immediate news of the peace process, but during the August "salad season" news is slow in general. Perhaps now is a good time to give us your overview of where we stand with the Arab revolutionary wave: where is it coming from and where is it heading?

A. It's much easier to discuss where it is coming from. Nobody knows where it is going.

With hindsight of some 30 months, it is clear that the first revolutionary wave, centered in Tunisia and Egypt, began with secular protests led by youth who focused on social and economic issues as well as political freedoms, and who used the new social media as a catalyst for mass mobilization. The next stage in these countries was military intervention, followed by elections in which Islamists won majorities and set out to write new constitutions.

Egypt has since witnessed a second military takeover, sparked by popular reaction against attempts to Islamize society; Tunisia may be moving in a similar direction. In both countries, militant Salafists have exploited the weakening of central rule to lead territorial revolts against the government and army (in Egypt, in Sinai; in Tunisia, near the border with Algeria). But in general the political Islamist wave appears at this point in time to have suffered a setback in relation to its electoral gains. Where matters move from here in these two countries is impossible to predict.

Developments elsewhere in the Middle East clearly reflect the diversity of Arab states and their populations. Thus the revolution in Syria has taken a radically different and violent direction, pitting a host of ethnic, secular and militant groups against one another and against the Assad regime. The latter has fought back with surprising vigor and barbarity. In Syria, more than anywhere else, strong external actors have become involved: Saudi Arabia, Qatar, Turkey, and to a lesser extent the West on the side of diverse rebel groups; Iran, Hezbollah, Iraqi Shiites and Russia on the side of the regime.

The revolutionary events in Libya and Yemen also reflecte acute tribal/territorial division. Bahrain, with Saudi backing, has suppressed majority Shiite demands for greater democracy. Jordan and particularly Morocco have thus far successfully instituted sufficient constitutional reforms to maintain relative quiet.

All told, the Arab revolutions bespeak a weakening of the Arab state system that should have been evident in the years preceding 2011.

Q. Can you relate to the fortunes of the outside powers as they intervene?

A. At this point in time, Saudi Arabia is a clear "winner". It has maintained or otherwise "delivered" a degree of order on all of its borders: Yemen, Bahrain and Jordan. It supports the military's second intervention in Egypt, where it is highly suspicious of Muslim Brotherhood motives. In Egypt and within the Syrian opposition it has dislodged Qatar as a prime mover. Lately it has even felt emboldened to try to pry Russia away from the Assad regime with economic and strategic inducements.

To the extent that in recent weeks the Assad regime in Syria has survived and even retaken lost land and positions from the rebels, Russia and Iran have scored gains through their Syrian ally. Less so Hezbollah, which has suffered considerable losses fighting on Assad's side and is under heavy criticism within Lebanon for helping "import" the regional Sunni-Shiite clash to Lebanese soil.

Turkey has also not fared well. It is hard put to deal with the overflow of Kurdish autonomy from northern Syria, while its "model" and influence are not wanted in Egypt. Essentially, it today faces an Iran-Iraq-Syria axis to its east and south, with the Kurdish resurgence sandwiched in between.

If Russia's active support for Assad with his Shiite allies has caused it to lose influence in the Sunni Arab world, Europe and particularly the United States are also heavily criticized in the Middle East for not intervening forcefully enough on the side of the rebels. In the American case, a hands-off approach to Syria appears to be part and parcel of a drawdown of US assets and interest in the Arab/Muslim world in general that is linked to fatigue from Afghanistan and Iraq as well as American energy independence.

Finally, and ominously, the global jihadist movement is finding a new home in Syria, where Israeli intelligence estimates that at least 25,000 Islamist extremists are already located, some close to the Golan border.

Q. What does all this mean for Israel?

A. There is growing concern in Israel over a jihadist threat on more than one border: Sinai, the Golan and of course Hezbollah in Lebanon. Regarding Sinai, the latest Egyptian military coup is good news for Israel insofar as it bespeaks greater anti-Salafi cooperation (see above). Clearly, however, this is not the case regarding the Golan, where there is no one for Israel to cooperate with. In parallel, Syria is becoming a focus for new US-Russian tensions, thereby posing yet another problematic strategic challenge for Israel.

In Gaza, Hamas has been weakened by the toppling of Egypt's Muslim Brotherhood. It is looking to renew ties with the "axis of resistance"--Iran, Hezbollah, the Assads in Syria--which it had abandoned in favor of the Egyptian Brethren, its fellow Sunni Islamists. Meanwhile, Hamas' setback in Gaza has made life easier for the PLO in the West Bank and for Jordan, and has helped enable Palestinian agreement to a renewed peace process.

Netanyahu seems to have agreed to that process more to please Washington than to make the painful concessions necessary to stop Israel's slide toward apartheid. From his standpoint, the revolutions and anarchy surrounding Israel put the Palestinian issue into a new regional perspective wherein its centrality is called into question. No longer is the West Bank situation a potential catalyst for regional war, destabilization or unrest: these exist regardless of the Palestinians. Now the Palestinian issue is almost entirely Israel's problem, and it is questionable whether any of the current principals is up to the task of solving it.