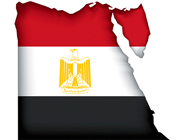 Q. Was last Wednesday's violent suppression of Egyptian Muslim Brotherhood demonstrations by the army a strategic turning point for the revolution in Egypt? What does this mean for Israel?
Q. Israeli-PLO final status negotiations resumed last week, also on Wednesday. How does the Israeli negotiating team of Livni and Molcho shape up?
-----------------------------------
Q. Was last Wednesday's violent suppression of Egyptian Muslim Brotherhood demonstrations by the army a strategic turning point for the revolution in Egypt?
A. First, it behooves us to keep in mind that what happened last week was but one more critical event in a revolutionary continuum that began in Egypt some two and a half years ago and is likely to continue for some time to come.
That said, and of course without the benefit of historical distance, it appears that this may indeed have been a seminal event for the Egyptian Muslim Brotherhood. The Brotherhood have, in recent weeks, witnessed their democratically elected president--having lost much of the public's support--brutally forced from power, then refused to compromise with the military and abandon mass encampments in the heart of Cairo, then suffered thousands of casualties (dead and wounded) on Wednesday and the ensuing days. They have responded by launching their own attacks on army, police, government and Christian targets. Given this current narrative, it's very difficult at this point to imagine the Brotherhood knuckling under to the army, abandoning their opposition and agreeing to play the minor role in governance that the army apparently would offer them.
Rather, the Brotherhood faces more extreme options: backing off passively while its leadership is jailed and its ranks decimated; regrouping politically--possibly under a different and more acceptable name--and waiting for new elections; and/or tacitly supporting violent urban guerilla attacks by its more extreme members, who will now argue that Egyptian democracy does not work. In the days following the crackdown, this latter option appeared to be the Islamists' preferred path, as casualties have mounted on both sides, in some cases from wanton mass executions.
The army, too, may now be at a strategic juncture. It has imposed emergency measures, including a curfew, for the next month. It seemingly enjoys the support of that half of the Egyptian population generally defined as "liberal" and "secular" and that now (unlike a year ago) appears to prefer military rule to an Islamist government. It appears to be leaning toward banning the Brotherhood as a terrorist organization. And it is apparently poised to free former president Hosni Mubarak, whose removal from power was the first act in the Egyptian revolutionary dynamic.
While the international community condemns the army's bloody crackdown, Washington has for now stopped short of defining the situation in Egypt in language that requires a cessation of military aid and other punitive measures. True, it has cancelled a joint military exercise planned for next month. But the Egyptian army is in any case currently otherwise deployed, and the US armed forces have a highly developed strategic relationship with Egypt that they would be loath to dismantle. A failed US effort to mediate between the Egyptian army and the Brotherhood before last Wednesday did not appreciably tilt Washington's policies against the army. Among other considerations, the US is aware that the Saudis and other wealthy Arab oil exporters in the Persian Gulf--all close American allies--are solidly behind the Egyptian army and against the Muslim Brotherhood.
The army now faces a serious Salafi insurrection in Sinai and Islamist violence in the heart of Egypt. It also now "owns" Egypt's immense economic crisis, one that feeds on political instability. Only one office-holder in the army's provisional government, Vice President Mohamed al-Baradei, has resigned in protest, and he has few political "divisions" with which to threaten the army's decisions; indeed, he has left the country. The temptation faced by General Abd al-Fattah al-Sissi, Egypt's de facto ruler, to turn himself into a de jure ruler--the next Egyptian "pharaoh"--must be powerful.
Thus Sissi's options, too, are far-reaching. He could presumably try to "legalize" military rule for a prolonged period of time. He could announce new elections for the presidency, present his own candidacy, and make sure he is elected in the way Hosni Mubarak used to do--in effect, evoking the tools of Mubarak's "deep state" that appears to be returning in Egypt under army influence while obliterating the Brotherhood's "parallel state". Certainly it is hard to imagine that Sissi, having deposed an elected president and pursued the Muslim Brothers as criminals, will now simply restore full democracy and allow the Brotherhood once again to contest elections that they could conceivably win. On the other hand, in this day and age it is also hard to imagine strictly military rule prevailing in Egypt for long.
Q. What does this mean for Israel?
A. Israel was very concerned during the year of Muslim Brotherhood rule that Egypt would become an Islamist state and adopt extremely hostile attitudes toward it: breaking relations, cancelling the peace agreement, etc. The Morsi presidency never went that far, and in some ways it allowed the army to work more closely with Israel than did Mubarak. But this was apparently only because the army's influence balanced out that of extreme senior Brotherhood leaders who constantly advocated moving against Israel.
The past month and a half of military rule have witnessed an unprecedented level of Israeli-Egyptian military cooperation regarding the Sinai insurrection. Israel is permitting ever-growing Egyptian army reinforcements to enter Sinai as the Salafi insurrection there, fueled by Morsi's removal, grows and threatens to expand across the Suez Canal into the rest of Egypt. Israelis are openly relieved that the Brotherhood has been removed from power, despite the blow to Egyptian democracy. Israel is even, here and there, and quietly, pleading the case of Cairo's new military rulers for smoothing relations with the US and Europe. One of Jerusalem's talking points is undoubtedly that the repression of Islamists in Egypt serves the peace process with the PLO by "demoting" Islamists in Gaza, i.e., Hamas.
Still, despite the army takeover the Israeli embassy in Cairo has not yet been reopened, and Egypt has not had an ambassador in Tel Aviv since last November. The army may not be in any hurry to restore these more visible symbols of good relations. Israelis should have few illusions that, beyond working together against a common Salafi enemy, General Sissi will be any friendlier than was Mubarak. If Sissi is at some point overwhelmed by Egypt's domestic strife he may at least temporarily abandon the struggle in Sinai, thereby exposing Israel to more Salafi attacks. Moreover, if the US does eventually close down its security cooperation with Egypt because of Sissi's brutal crackdown, the Egyptian army will have even less incentive to work with Israel.
Q. Israeli-PLO final status negotiations resumed last week, also on Wednesday. How does the Israeli negotiating team of Livni and Molcho shape up?
A. The two make an interesting study in contrasts. About the only thing they have in common is that they are both lawyers. The ideological and political gaps dividing them may become significant and affect the course of negotiations if indeed the process takes root and proceeds as planned.
Molcho began his negotiating career on behalf of PM Netanyahu back in the 1990s, when he was Netanyahu's personal lawyer. He is not the only lawyer to be recruited for diplomatic negotiating duties by a prime minister whom he worked for privately; Ariel Sharon did this very successfully with Dov Weisglass. It seems an Israeli prime minister who is naturally suspicious of everyone's loyalty feels most comfortable working with a lawyer who has already proved his fealty within the framework of lawyer-client privilege.
Molcho's negotiating duties on Netanyahu's behalf have always been a part-time affair, and he has been known to delay diplomatic meetings due to personal business commitments. In the present context, he has reportedly rejected the idea of establishing a "peace directorate" or "peace team" to provide logistics, research and back-up for negotiations, and insists that he and Livni work virtually without staff.
Molcho is clearly Netanyahu's man, and will represent the prime minister's ideological positions and political constraints faithfully. When confronted with complaints about his style, he has allegedly argued that he is the only one who has signed agreements with the Palestinians since the mid-1990s: the Hebron and Wye agreements.
Livni, in contrast, represents a negotiating ideology considerably to the left of Netanyahu--which explains why she left the Likud in 2005 along with Ariel Sharon and Ehud Olmert. She believes it is possible to reach an end-of-claims-end-of-conflict agreement; all she needs is time and authority. Here she seeks to replicate the negotiating positions and well-staffed mechanisms she created during the 2008 Annapolis talks she held with the PLO's Abu Alaa--in parallel to the better known Olmert-Abu Mazen talks, which incidentally were also Spartan in their organizational style.
Molcho is not a politician, was never elected, and has no problem returning to his law offices when he is not negotiating. Livni, in contrast, has staked her political career on advocacy of an active peace process with the Palestinians. Her condition for joining Netanyahu's government was a leading role in the negotiations. Still, she had to accept Netanyahu's "minder". If she fails, or breaks with Netanyahu and Molcho over negotiating substance or tactics, her political career may suffer yet another setback, following on her disappointing performance in January's elections. In fact, her only hope for a political future in the near term may be either in succeeding on Netanyahu's behalf, or sticking with Netanyahu if he--like Sharon before him--breaks with the Likud over peace-process-related issues. Those are not good odds.
Interestingly the Palestinians, confronting the Livni-Molcho duo, have countered by placing long-time Fateh loyalist Mohamed Shtayeh alongside veteran negotiator Saeb Erekat. But there is no real parallel here: Erekat is a wily and experienced negotiator; Shtayeh is neither.
Even if, as many predict, the new negotiations do not succeed, the inter-action between Livni and Molcho/Netanyahu could provide a fascinating side-show.