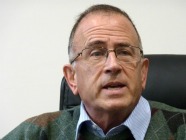 Alpher discusses the issues confronting the political principals of the recent Israeli elections as they move into coalition negotiations, who are the candidates for minister of defense, whether Israel can draw any lessons from the massive terrorist attack on a remote desert gas field in Algeria and the ensuing drama.
Q. Less than a week has passed since Israel's elections, with their surprising outcome in terms of a weaker right and a stronger center. What are the issues confronting the political principals as they move into coalition negotiations?

A. It's clear that only PM Binyamin Netanyahu can form a government, as the right-religious half of the political spectrum ended up with 61 members of Knesset--a blocking majority. It's also clear that Netanyahu's priority is to form a broad-based coalition built around a core consisting of Likud Beitenu with 31 MKs and Yair Lapid's Yesh Atid with 19 MKs. An alternative right-religious coalition of 61 would be highly vulnerable to political blackmail by one or two MKs, would blatantly not reflect the voter trend reflected in this election, and would leave Israel badly isolated regionally and internationally. In view of growing security concerns in the north, but also for his own political purposes, Netanyahu has expressed a desire for a broad coalition.

Here the picture becomes intriguing. Netanyahu is a master manipulator; Lapid, like nearly his entire party list, is a political novice. The two have already met and coalition negotiations should begin later this week.

Netanyahu, like many politicians, seeks above all to ensure his political survival. And he's very good at doing that. Lapid, on the other hand, has a highly idealistic mandate from one-sixth of the voters who expect him to reform the governance and education systems, institute equal national service for all, and redistribute the nation's assets to the benefit of the productive middle class at the expense of the entitlements of the non-working ultra-orthodox and a variety of additional parties with vested interests. Lapid's party also insists on a small, 18-minister cabinet and a genuine peace process with the Palestinians.

Netanyahu undoubtedly realizes that if he forms a right-center coalition in which his Likud party constitutes the far right and all other members are, like Lapid, centrists--meaning Tzipi Livni's HaTnua (7), Shaul Mofaz's Kadima (2) and possibly Labor (15, though Labor leader Shelly Yacimovich insists she will lead the Knesset opposition)--his political maneuverability will be limited, even as Lapid is enabled to move toward his reform objectives. Moreover, ultra-orthodox Shas (11) and Yahadut HaTorah (7) and national religious HaBait HeYehudi (12) are Likud's traditional political allies and are generally more in tune with Netanyahu's own ideological inclinations. And let's not forget that the Likud itself has become so pro-settler far-right wing that Netanyahu looks almost moderate in contrast to his rank-and-file.

So the challenge facing Netanyahu is to persuade Lapid to compromise on his political platform in concert with one or more parties to the right of Likud Beitenu. Shas--the more flexible of the two ultra-orthodox parties--is the obvious candidate. Netanyahu presumably prefers Shas to HaBait HaYehudi even though the latter could more readily accommodate most of Lapid's demands, with the exception of a peace process. HaBait HaYehudi is less welcome because of enmity between Netanyahu's influential wife Sarah and HaBait HaYehudi leader Naftali Bennet, and because Bennet's demands regarding the West Bank (annexing 60 percent) are incompatible with Lapid's call for a real peace process and would embarrass Netanyahu internationally.

But are Lapid and Shas capable of bending and compromising on the demand for equal national service? Can either party justify this to its vastly different constituency? The most likely political dynamic we will witness in Israel in the coming weeks is an effort by Netanyahu to bring both Shas and Yesh Atid into a coalition with Likud Beitenu, thereby positioning Netanyahu in the center of his own government, only after which he would seek to expand the coalition in the direction of the left, right, or both.

A second issue regarding negotiations between Netanyahu and Lapid concerns ministries. Logically, Lapid should be demanding the education, justice and internal affairs ministries, the latter two for dealing with constitutional reform and issues of religion and state, respectively. These are the areas where his party, which is largely composed of political novices, can display expertise and deliver on its election promises. Yet in terms of the size of his party, Lapid can demand one of the three major ministries--defense, foreign affairs or finance. Speculation is rife that he would shun finance, a post that rarely if ever rewards its holder electorally--particularly when the first order of business is cutting NIS40 billion from the budget due to gross overspending during the past year. Lapid is more likely to be tempted by foreign affairs, where he could enjoy photo-ops with the high and mighty of the world.

But Lapid has no experience in foreign affairs. Nor is this an area where his party has demanded reforms. Israeli political lore is rich with examples of politicians elected on a domestic platform who yield to temptation, grab the foreign affairs portfolio for its prestige, then pay a heavy political price domestically. David Levy is a good example; so is Avigdor Lieberman.

Q. Who are the candidates for minister of defense--perhaps the most important ministry in view of the security challenges awaiting Israel from the direction of Iran and Syria?

A. Those challenges were spotlighted over the past week as Israel upgraded its defense posture in the north. Intelligence data reportedly indicated that the Assad regime in Syria could soon lose control over some of its strategic weaponry. In parallel, Tehran warned that any attack on Syria would be viewed as an attack on Iran.

Against this backdrop, four candidates for defense minister are generally mentioned, and each tells a story about the current state of party politics. First, Moshe (Bogie) Yaalon of the Likud, a former IDF chief of staff and lately minister of strategic affairs in the outgoing government, is the man Netanyahu allegedly promised the post to once Ehud Barak leaves. But Yaalon, despite his hawkishness on many issues, may be too cautious regarding Iran for Netanyahu's taste. Then too, promoting him could cast him as a possible challenger to Netanyahu for leadership of the Likud.

Second, with Avigdor Lieberman forced by his legal situation to leave the Foreign Ministry, Netanyahu owes a senior ministry to someone else in Lieberman's Yisrael Beitenu party. Thus Yair Shamir, former senior Israel Air Force officer and defense industrialist (and son of the later prime minister, Yitzhak Shamir), could end up as minister of defense. If he is anything like his ultra-cautious late father, Shamir as defense minister would try to avoid far-reaching military initiatives.

Third, if Lieberman fulfills his campaign promise to pull Yisrael Beitenu out of the joint electoral list it formed with the Likud while keeping it in the coalition, this will leave Likud with only 20 mandates--just one more than Yesh Atid--and leave Netanyahu desperate to find a political gimmick for enlarging his party. Here, surprisingly, Shaul Mofaz reenters the picture. Having mismanaged Kadima to a point where the party barely squeezed by the two-mandate threshold, and being a former Likudnik himself, Mofaz could conceivably bring Kadima back into the Likud fold in return for the defense ministry, a post the former IDF chief of staff filled without serious mishap under PM Ariel Sharon some ten years ago.

Finally, if none of these options satisfies Netanyahu's political needs, he can always fall back on Ehud Barak, who left politics a few months ago and did not participate in these elections but remains the outgoing defense minister, and who succeeded in collaborating smoothly with Netanyahu over the past four years. The security situation in the north and growing unrest in Egypt would be cited as justification for "continuity". One advantage of naming Barak as a non-political minister could be ensuring a high level of continued manageable relations on security issues with the second Obama administration.

Q. On a totally different security issue, can Israel draw any lessons from the massive terrorist attack some ten days ago on a remote desert gas field in Algeria and the ensuing drama that cost so many innocent lives?

A. Definitely. First, this incident demonstrated that the jihadi takeover of northern Mali, which is now being combated actively by the French, cannot be isolated from events in the rest of North Africa and the Sahel. The recent developments in both Mali and Algeria were generated by the revolution and international intervention that began in Libya in 2011. The Libya events ended up freeing huge quantities of weapons and legions of jihadis and disgruntled mercenaries that dispersed and infiltrated in all directions, including Egyptian Sinai and Gaza. In this sense, the Algerian gas field attack and the Gaza-Sinai complex are two geographic bookends, west and east, of the same North African Islamist spectrum--currently al-Qaeda's most extensive base anywhere in the Muslim world.

Secondly, and of more specific relevance to Israel, a massive terrorist takeover of a remote desert gas complex may not be all that different from an attempt by terrorists to attack an Israeli gas exploration or production installation in the Mediterranean. As Israel's energy discoveries increase and prosper, those installations are proliferating. Israeli security authorities--the Israel Navy, the Shin Bet internal security service, and the security teams on and around every naval platform--are well aware of this. Gaza (Hamas), Sinai (Sunni jihadis and Salafists), and southern Lebanon (Hezbollah) are within striking distance.

Hamas and Hezbollah might conceivably hesitate to attack Israeli gas platforms, as each now has important domestic political and economic considerations to factor in. But the Sinai-based Salafists would have no compunctions about attacking Israeli naval energy installations, as they would assess they have nothing to lose but their lives, through martyrdom.

Finally, would the Israel Defense Forces have retaken the Algerian gas field with fewer non-combatant losses than those generated by the Algerian army operation? Here it is not even worth second-guessing the Algerians. Their armed forces have a lot of experience in dealing with Islamist terrorism. And Israel, too, has not always resolved a large-scale terrorist incident without heavy losses: remember Maalot in 1974, when 22 schoolchildren died when the IDF stormed a school that had been taken over by Palestinian terrorists coming from Lebanon?

The more relevant issue is the need for better security to protect large and sensitive energy installations. Here the Algerian authorities and the international gas companies appear not to have taken the dangers seriously enough. Hopefully, Israel has.