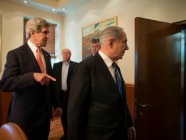 This week, Alpher discusses who is to blame for the failure, thus far, of Secretary of State John Kerry's Middle East peace mission, how the Israeli public will address this breakthrough should Kerry succeed in compelling Netanyahu and Abbas to enter negotiations, how significant Netanyahu's apparent growing isolation within his own Likud party is, and whether, one year after a Muslim Brotherhood candidate was elected to the presidency of Egypt, the country is undergoing another revolution.
Q. Who is to blame for the failure, thus far, of Secretary of State John Kerry's Middle East peace mission?

A. First, let's note that Kerry himself has not given up. Upon departing the Middle East on Sunday after his fifth round of talks with Israeli and Palestinian leaders in three months, Kerry claimed "real progress" and opined that "with a little more work the start of final-status negotiations could be within reach." Empty spin? Judging (cautiously) from hints leaked by both sides, Kerry appears to have narrowed the gaps between Israeli PM Netanyahu and PLO Chairman Abbas regarding the scope of proposed confidence-building measures like prisoner release and a settlement-construction freeze as well as terms of reference such as the 1967 lines.

On the other hand, it is impossible to ignore the negative impact on Kerry's mission of the broader political and strategic atmosphere. Neither Israelis nor Palestinians are particularly inclined to embark on a new negotiating adventure involving concessions on both sides when, nearby, Egypt, Syria and Lebanon are in turmoil and when both Netanyahu and Abbas confront serious domestic political constraints. Then too, Kerry's political leverage over both these leaders is not enhanced by President Barack Obama's studied lack of involvement since his March visit, where he placed the onus of peace-making squarely on the shoulders of the Israeli public.

So who is to blame thus far? First and foremost, the local leaders. Neither Netanyahu nor Abbas seems prepared to take serious political risks even to enter negotiations, much less to pursue a successful outcome. Ideologically, neither appears to be capable of making the necessary concessions for negotiations to succeed.

Second, Kerry himself. Surely he is aware of the constraints and overall ideological limitations on both Abbas and Netanyahu. And of course he is aware of the chaos visiting large portions of the rest of the Middle East. Based on past years' experience, it would seem that for Kerry to succeed under these circumstances requires that two missing ingredients be added urgently to the mix.

First, Kerry should demonstrate, even flaunt, massive support on the part of President Obama, translated at critical moments into a capacity to get the president on the phone in the midst of negotiations in order to reinforce an American point. To the best of my knowledge, this is not presently the case.

And second, Kerry and his team must demonstrate that they have analyzed the successes and mainly the failures of the Oslo process over the past 20 years and are proposing new ideas and mechanisms that seek to correct course by means of some sort of post-Oslo paradigm. The only area where Kerry appears to have done this is his proposal, harking back to an Obama speech at the State Department a couple of years ago, that the parties begin by discussing borders and security--two issue areas that appear more resolvable than the heavier "narrative" final status issues of right of return, holy places and Jewish state.

Yet even here, Kerry does not appear to have persuaded--or compelled--the two sides to stop talking about and "linking" the remaining narrative issues: witness, for example, Netanyahu's continued insistence on putting the Jewish state issue up front. No one seems to be challenging the toxic "nothing is agreed until everything is agreed" mantra that has held the borders and security issue hostage to the narrative issues for 20 years. Moreover, the timing of Kerry's proposal to channel $4 billion in investments to the West Bank as an economic incentive for peace-making appears to ignore a major lesson of the past 46--not just 20--years: this is a political conflict with a political solution that cannot be altered appreciably by economic "solutions".

Kerry has undertaken a noble task. He deserves the support of anyone interested in peace and in a Jewish and democratic Israel. As long as he persists in his mission--whatever the faults seemingly inherent in that mission as currently defined--it cannot be definitively declared a failure. Let's set aside for the moment all three sides' incessant spin and leaks regarding "progress" or lack thereof, e.g., Americans comparing Kerry's "shuttle" to those of Henry Kissinger after the Yom Kippur War and Israelis and Palestinians blaming each other and touting their own moderation. The overall picture is still not promising, but not (yet?) desperate.

Q. Suppose Kerry, with backing from Obama and the international community, does succeed in compelling Netanyahu and Abbas to enter negotiations. How will the Israeli public address this breakthrough.

A. Obviously, that portion of the Israeli public that favors invoking any means possible to end the occupation and thereby maintain Israel's Zionist character will applaud. But by and large, that is not Netanyahu's constituency.

On Sunday night, former Shin Bet chief Ami Ayalon said something rather profound about this issue. He was speaking in part five of an extended TV version of Dror Moreh's The Gatekeepers, the award-winning documentary that portrays all six living former heads of Shin Bet as security doves who have repeatedly told Israeli prime ministers to end the occupation in order to save Israel.

Ayalon remarked--apropos Israel's 2005 withdrawal from Gaza--that a political move vis-a-vis the Palestinians carried out by a reluctant Israeli prime minister ostensibly in order to satisfy or rebuff American pressures does not convince the settlers and the Israeli right. They will only be persuaded to comply with withdrawal from territory and settlements if they perceive the prime minister as taking the step truly for the sake of Israel, not the Americans.

One can argue with this assertion. After all, Yitzhak Rabin was plainly acting on behalf of Israel's greater interests as he understood them and was murdered by an agent of the ideological right. Moreover, Ariel Sharon in his day and even Netanyahu recently pointed to the demographic threat and recognized the need for a two-state solution. But there is food for thought in Ayalon's claim. Certainly Netanyahu, if he is indeed seriously motivated by concern for Israel's future as a Jewish state, would be well advised to make this point more frequently and more persuasively in the hope of bringing at least part of the political right with him.

Q. How significant in this context is Netanyahu's apparent growing isolation within his own Likud party?

A. It is no secret that a majority of Netanyahu's coalition and Likud party are declaratively against the two-state solution that the prime minister claims he supports. Now, as of Sunday, Netanyahu has ostensibly lost ideological control over the Likud as well, with the election of young reactionaries to two key party positions. Danny Danon, deputy minister of defense, was elected chairman of the Likud convention presidency and chairman of the Likud Central Committee. And Deputy Foreign Minister Zeev Elkin was elected to head a key Likud ideological body. Both Danon and Elkin are among the young Likud leaders who like to proclaim--along with Jewish Home leader Naftali Bennet--that the two-state solution is a disaster and that the majority of the current coalition agrees with them.

It is of course intriguing to wonder what John Kerry makes of this situation, and how Netanyahu explains it to him. On the face of it, any serious progress toward peace would leave Netanyahu without a party and without a coalition. Under similar circumstances in 2005, Ariel Sharon formed a new party and a new coalition that supported his initiative to withdraw unilaterally from the Gaza Strip and northern West Bank. But Sharon was not an ideological figure; ultimately, he was a pragmatist.

In contrast, Danon and Elkin clearly represent at least one aspect of Netanyahu's belief system. After all, he has promoted them and their ilk to increasingly senior posts and has done little or nothing to block their takeover of the Likud's rank and file institutions. Nor is it at all clear that Netanyahu has the decision-making courage of a Sharon. On Sunday, he sufficed with suggesting that "any peace agreement with the Palestinians will be brought to a national referendum." At least in theory, that is one way of bypassing a Likud veto without openly dismantling or abandoning the party, which in any case would be decimated by public approval of a two-state solution.

At the end of the day, if the peace process is not renewed, or if it is renewed but quickly collapses, Netanyahu will not have to confront his party's increasingly powerful hardliners over an ideological issue. Rather, he can outmaneuver them over procedural and tactical issues at which he is a master and where they are still wet behind the ears.

Here, then, is yet another reason to cheer for Kerry. Success could mean, in one form or another, unraveling the pro-settler, post-Zionist Israeli political right.

Q. One year after a Muslim Brotherhood candidate was elected to the presidency of Egypt, is the country undergoing another revolution?

A. No. It is still undergoing its original revolution, the one that began in January 2011 and that quickly led to President Hosni Mubarak's ouster and a military takeover. What we have been witnessing ever since is an ongoing "revolutionary situation" in which four clearly defined actors and one amorphous one continue to struggle for power.

The four are the army, which ruled for a while before turning power over to a democratically-elected president; the Muslim Brotherhood, which controls the presidency and the constitution-drafting process; the more extreme Salafists, who are well represented in parliament; and the judiciary, which periodically strikes down some decision of President Morsy. The amorphous actor is the non-Islamist population, which is split among a number of factions and which has initiated the current confrontation at Tahrir Square. It is backed by a petition that purports to indicate that a majority of Egypt's voters reject the current rule of President Morsy and the Brotherhood because they are imposing Islamist values and demands and have lost control over the economy and the domestic security situation.

Morsy was democratically elected--an accomplishment that should be respected by the opposition. On the other hand, the Muslim Brothers appear to be systematically abusing their majority by interpreting it as a mandate to impose Islamist values on all of society--a dynamic that it is legitimate to oppose. Nor is it a criminal act to demonstrate vehemently against Morsy. At any given point in the near future, the army or the judiciary could intervene again. The Egyptian revolution is not over.