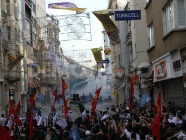 Alpher discusses Rami Hamdallah's appointment as prime minister of the Palestinian Authority and what this tells us about Palestinian intentions, whether last week's series of Syrian threats against Israel and reports of Russian supplies of weapons means we are edging toward an Israeli-Syrian war, if the violent events in Turkey constitute a "Turkish spring" and whether this is a positive development from Israel's standpoint, and why the IDF does not conscript Arabs, observant Jewish women and, until now, ultra-orthodox yeshiva students, but throw in jail a conscientious objector like Natan Blanc.
Q. Rami Hamdallah has been appointed prime minister of the Palestinian Authority, replacing Salam Fayyad. What does this tell us about Palestinian intentions regarding Hamas and Israel?

A. Hamdallah is a high-level academic who has filled public offices such as overseeing elections but has virtually no experience as an administrator outside of Nablus-based an-Najah University. He is not a member of Fateh. He is a moderate who is free of any suspicion of corruption. He has already pledged to follow the lead of President Mahmoud Abbas, who appointed him, regarding peace talks. Hamdallah is eminently acceptable to the donor community and to Israel, thereby ensuring that funding will continue to flow. Unlike Fayyad, who publicly criticized the Palestinian appeals to the United Nations for recognition, Hamdallah will go along with any peace initiative that Abbas proposes.

At the formal level, Abbas has reaffirmed his commitment to set up a technocratic government of national unity with Gaza-based Hamas within three months. But practically speaking that agreement is another in a long series of Fateh-Hamas dead letters; indeed, Hamdallah reportedly will make few changes in the cabinet he inherits from outgoing Prime Minister Fayyad, who resigned over his differences with Abbas.

Fayyad almost single-handedly reformed the West Bank economy and rebuilt its governing infrastructure and security structure, while constantly fighting off political sniping from Fateh activists angry over losing their entitlements. Hamdallah certainly does not have either the political independence or the experience necessary to act in this mode. More likely, his appointment constitutes a reassertion of control by Fateh, meaning that Abbas will now be very much in control at the level of daily governance.

Unlike Fayyad, Hamdallah is neither an economist nor a politician. And he has no Gaza connections. Accordingly, he will reportedly be backed up by two deputy premiers: Muhammad Mustafa, an accomplished economist, and Ziad Abu Amr, a Gazan and close adviser to Abbas.

This, then, is a typical Abbas solution: gaining a few months of stability until the next crisis--which is likely to involve Hamas, the peace process, or demands made upon Hamdallah by Fateh stalwarts.

Q. Last week witnessed a series of Syrian threats against Israel, backed up by reports of Russian supply of sophisticated surface-to-air missiles and combat aircraft. Are we edging toward an Israeli-Syrian war?

A. I doubt it. If you read Bashar Assad's recent statements carefully, it emerges that he never threatened that Syria itself would attack and never claimed that Russian S-300 missiles had already arrived. Nor have they; and even when they do, it is reasonable to assume that the Israel Air Force will know how to deal with them, having trained "against" them in joint maneuvers with Greece, which acquired the S-300 system years ago.

What is certain is that Russia is supplying sophisticated weapons to Syria as part of its effort, which appears to have borne fruit in recent weeks, to bolster the Assad regime against the rebels and improve Syrian army self-confidence and performance in the field. Iranian personnel and Hezbollah and Iraqi Shiite units are further supporting the regime in the fighting.

Back in Israel, the outcry over the S-300 missiles and a dozen MiG-29s--all to be supplied within about a year--probably has more to do with the IDF's attempt to rebuff looming budget cuts than anything else. A conventional Arab-Israel state-to-state war is a very low probability.

Q. Do the violent events in Turkey constitute a "Turkish spring"? Is this a positive development from Israel's standpoint?

A. Obviously, it's gratifying for anyone offended by PM Erdogan's arrogance and intolerance and worried about his Islamist and neo-Ottoman policies to see secular Turks demonstrating in large numbers against him. The demonstrators began by protesting the conversion of a central Istanbul park into a mall and an Ottoman shrine. Over the past few days, the protest has expanded to target growing restrictions on the sale of alcohol, increasing attempts to Islamize public life, and worrisome restrictions on media freedom. The Turkish government's knee-jerk deployment of violent policemen against the demonstrators is disturbing. That Erdogan hastened to declare "I am not a dictator" means, in the mind of this analyst, that he takes seriously the accusations that he is becoming one.

But Turkey remains a democracy and no one appears to be advocating changing the government by force. This brings us to a significant wrinkle in the demonstrations that began in Taksim Square in Istanbul and have now spread throughout Turkey--one that may have regional ramifications. Erdogan accuses the secular Republican People's Party (CHP)--Ataturk's party, now in the opposition--of inciting the demonstrations. Certainly, most of the demonstrators are past and potential CHP voters.

Today, the CHP is led by Kemal Kilicdaroglu, an Alevi. The Alevis of southern Turkey, many of whom adhere to the CHP, constitute around 20 percent of the population. They are loyal Turks who are also generally secular and are ethnic "cousins" of Syria's ruling Alawites. In recent months they have sent two high-level delegations to meet with Syrian President Bashar Assad, ostensibly on "humanitarian" grounds. These meetings afforded Assad an opportunity to embrace the CHP and its friendly sentiments. Understandably, this infuriated Erdogan, who actively supports the Syrian Sunni opposition.

Thus, if the protest spreads, we may confront two interlocking and equally controversial issues on the Turkish scene: Islamist-secular friction, and tensions over the Erdogan government's militant opposition to the Assad regime in Syria.

Q. Why does the IDF not conscript Arabs, observant Jewish women and, until now, ultra-orthodox yeshiva students, but throw in jail a conscientious objector like Natan Blanc?

A. Blanc refused to serve in the IDF because he opposes the occupation. Most draft-age youth with the strength of his convictions either apply to a mental health officer in the draft bureau and, having been briefed what to say and what buttons to push, emerge with a deferment on psychological grounds or, alternatively, their family pulls strings to ensure they serve in units inside the green line. Blanc refused to avail himself of these escape hatches and created a problem for the IDF, which simply does not recognize the concept of conscientious objection to the occupation (it does recognize conscientious objectors who refuse to bear arms). Finally, after repeated terms totaling six months in a military jail that did not break Blanc's will, and in view of a gathering public protest, the IDF found a way to release him this Thursday June 6 on the grounds that he is "unsuitable" for service.

Personally, I would have preferred to see a person of Blanc's strength of character inside the IDF and not out. If everyone who opposes the occupation of the West Bank follows Blanc's example, we'll end up with a far more brutal IDF and a far worse occupation. The arena for opposing the occupation is Israeli politics. Indeed, if Blanc's position is accepted, then anyone who objects to any political aspect of Israel's policies at all could refuse to serve, theoretically rendering the IDF unmanageable.

Yet Arab citizens of Israel are excluded precisely because of their politics. And in the future, even if the reform of ultra-orthodox service is passed and implemented--still a tall order for the Israeli system--1,800 yeshiva "geniuses" will be excepted annually because studying torah for their entire lives, without taking three years to serve their country in the army, has been determined to be absolutely vital to the preservation of the Jewish people. And why do those few orthodox women who do volunteer to serve manage perfectly well to maintain their modesty and religious practices, yet the rest are excused? Not to speak of the able-bodied young men from certain national religious yeshivot who serve less than half the term that other men serve.

The system is still so convoluted and un-egalitarian that a better way can and should be found to deal with the Natan Blancs--a way that recognizes the significance of their value system for the future of Israel.