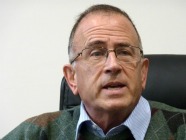 Alpher discusses what is his initial assessment of the emerging new Netanyahu government, and whether Netanyahu emerges a winner or a loser from these elections, how do you think Israelis will respond to President Obama's public speech before Israeli students on March 21 (rather than addressing the Knesset during his upcoming visit), and whether there is any strategic significance for the Israel-Syria situation in the brief abduction last week of Filipino UN troops by Syrian rebels.
Q. What's your initial assessment of the emerging new Netanyahu government?

A. In terms of relations with the Palestinians and human rights issues, the new government won't be as extreme as its predecessor, thanks to the presence of Yesh Atid, HaTnua and Kadima, all of which are essentially liberal parties with some sort of two-state agenda.

But genuine progress on the Palestinian issue is doubtful in view of the presence in the coalition of Jewish Home, which is essentially an extremist settler party, and around a dozen extremist Likud back-benchers who also represent the settlers. Jewish Home, in fact, is claiming the housing portfolio, which means it will have access to funds for building settlements. Since Moshe Yaalon of Likud, a hawk on the Palestinian issue, will be minister of defense, the new coalition is likely to continue rampant settlement construction in the West Bank and East Jerusalem.

Meanwhile, the extremist Likud back-benchers will join Jewish Home in opposing peace initiatives, if only because they resent being passed over for Likud portfolios in the new coalition. At the time of writing, the primary controversy preventing final formation of the new coalition was a clash between the effort by Yesh Atid head Yair Lapid to fulfill a campaign promise and reduce the number of ministers and PM Netanyahu's drive to expand the government in order to reward at least one or two of the Likud's younger generation.

Essentially, formation of the new government was made possible by two developments. First, Netanyahu finally accepted, after efforts extending over a month, that the only government he can form will have to be based on a partnership between a reduced Likud Beitenu contingent, Yesh Atid and Jewish Home--without Haredim (ultra-orthodox), who are rejected by Lapid and Jewish Home leader Naftali Bennet, and without Labor, which has resolutely refused to join a Likud-led government. And second, Lapid climbed down from his demand for the foreign affairs portfolio and agreed to head the Finance Ministry in keeping with his campaign slogan, "Where is the money"?

The government that will emerge in the coming days will be the product of these compromises and the contradictions they embody. It will pledge fealty to a two-state solution peace process but will almost certainly fail to make much progress. This, even assuming that Palestinian leader Mahmoud Abbas is accommodating and prepared to make historic compromises and that Washington is prepared to take the lead in exercising very dynamic international leadership on the issue--two completely untested assumptions.

Meanwhile, two additional and very large challenges will confront this coalition. One is economic. The outgoing Netanyahu government left a large deficit. Incoming Finance Minister Lapid, who got elected by arguing that the middle class had to stop supporting the Haredim and begin seeing a return for its tax shekel, has no experience in government and none in economic issues. At the last minute, he understood that his voters would not forgive him if he rejected the thankless Finance Ministry task in favor of the glitter of the Foreign Ministry--for which he also lacks formal qualifications.

Now Lapid has to learn on the job. And he has to decide how to reduce the deficit and deliver to the middle class in terms of housing and education, without raising taxes. He has to provide the financial formulae for imposing burden-sharing on the Haredim, while deciding where to generate new funds.

If Lapid takes funds from Haredi entitlements, Netanyahu will object insofar as he still considers the Haredim his natural political partners. (Indeed, at last report Netanyahu was fighting to keep the Ministry of Education in Likud rather than Yesh Atid hands, so he could prevent Lapid from imposing core secular education on the Haredim--a measure they deeply fear insofar as it would give their youth tools for earning a living and dealing with mainstream secular society.) If he takes from the settlements, Bennet, Lapid's coalition negotiating partner, will object, as will those Likud back-benchers. And if he takes from the security establishment, he will be reminded of the impending challenges from Iran and Syria and even, conceivably in a best-case scenario, the security costs of withdrawing from West Bank territory if there actually is progress with the Palestinians.

The second looming challenge will be the political opposition. Shas and Torah Judaism, finding themselves out of government for the first time in years, have already promised to take their revenge on Bennet by attacking the settlements' exaggerated entitlements over the years. Labor's Yacimovich will ally with the Haredim, most of whose constituents are in the lower-income brackets, in targeting Lapid's preference for the middle class and demanding restoration of the welfare state after years of Netanyahu's Thatcherism. Over the last four years, Netanyahu had a free ride from the opposition, which was led lackadaisically by Livni. Now Shas and Labor--an opposition with teeth--can calculate that the defection from this coalition of any medium-sized faction could bring it down.

Q. So at the end of the day, does Netanyahu emerge a winner or a loser from these elections?

A. Netanyahu lost at the polls. He and Lieberman saw their Knesset contingent drop from 42 to 31. He also lost the coalition he preferred, being obliged to work with Lapid and Bennet rather than the Haredim. And he was obliged to change his approach to the peace process: he apparently can no longer stall endlessly while building settlements.

But since he came to terms with these setbacks, Netanyahu's political skills have once again emerged. He retains control over the foreign and defense ministries. He has maneuvered Lapid into taking on the thankless task of finance, from which he almost certainly will emerge badly bruised politically. He is pushing for a large enough government to be able to repay his main political backers with ministries--some of them, despite Lapid's campaign promise to eliminate them, empty shells that simply devour budgets. He will seek to maintain a "peace process" on a low flame, and will rely on Livni--who has run out of alternative political options--as his international fig leaf.

Netanyahu's biggest problem will be containing Lapid's and Bennet's drive for genuine reform with regard to burden-sharing and ending Haredi entitlements while retaining his traditional political base. Meanwhile, the settlements will probably continue expanding and Jewish-Arab tensions across the Land of Israel and the State of Israel will almost certainly continue to grow.

Perhaps the most blatant expression of Netanyahu's struggle with the election results is his decision to replace Reuven Rivlin as speaker of the Knesset. Rivlin, whose politics can only be described as close to the "settler apartheid" camp, ran the Knesset in exemplary "sovereign" fashion throughout the past four years, bending over backwards to accommodate all points of view and resolutely opposing legislative initiatives by his fellow right-wingers that smelled of prejudice, jingoism and cheap patriotism. That appears to be precisely why Netanyahu wants to get rid of him and replace him with Yuli Edelstein, who as minister of information in recent years presented Israel's ugliest face to the world.

If I were inclined to offer predictions, I would venture that, due to its built-in contradictions, this government will not live out its statutory four-plus years. But I made that prediction about the outgoing government and was proven wrong.

Q. US President Obama plans a public speech before Israeli students on March 21 rather than addressing the Knesset during his upcoming visit. How do you think Israelis will respond?

A. The choice of venues clearly reflects Obama's style and his preference for engagement as a way of influencing public opinion. According to some of the organizers of his visit, it also apparently reflects concern lest right-wing extremist members of Knesset disrupt a presidential speech there.

But there is room for concern that some Israelis--from the left and center as well as the right--might take offense at the decision not to address the Knesset. Israel's parliament has in the past hosted highly critical world leaders like Sarkozy and Merkel and "behaved itself", while the public was exposed to those leaders' peace message delivered at the highest sovereign forum in the country. Nor should the visit organizers be so concerned over parliamentary heckling: if the rational two-state solution message we expect to hear is booed by a few back-benchers, this would only make Obama look good in the eyes of the Israeli mainstream.

Then too, the venue and the student audience selected for Obama's speech in Jerusalem will remind some observers of his 2009 Cairo speech. That address was intended to help usher in a new era in US-Arab relations and, as a corollary, in Arab political life. The outcome--the rise of political Islam and prolonged chaos in several Arab countries--is presumably not what Obama intended.

Finally, the very fact that the venue and audience are an issue reflects the tremendous importance that policy planners across the spectrum in Israel attach to this speech. The mere fact of Obama's visit has already affected PM Netanyahu's coalition considerations (bringing Livni in as chief negotiator). If the president of the United States has a meaningful and penetrating message for the Israeli public, he'll presumably succeed in communicating it at the Binyanei HaUma auditorium as well as in the Knesset. The content of Obama's address could indeed affect public opinion in Israel. And Netanyahu pays attention to public opinion.

Q. Is there any strategic significance for the Israel-Syria situation in the brief abduction last week of Filipino UN troops by Syrian rebels?

A. The incident may constitute a major step toward the unraveling of UNDOF and the removal of a United Nations peacekeeping presence from the Golan Heights. Even before the incident with the 21 Filipinos, Canada and Croatia had removed their contingencies from UNDOF, which has policed the Golan disengagement agreement on both sides of the Israel-Syria divide since 1974. That leaves contingents from only four countries: Philippines, Austria, Japan and India. Japan has been anxious to leave for some time now. Obviously, the atmosphere on the Syrian Golan is not conducive to maintaining any sort of Syrian-Israeli agreements, and peacekeepers have already been injured by crossfire between the regime and the rebels.

The abduction operation, carried out by a rebel unit with Islamist background but no organizational Islamist affiliation, was apparently intended to send a message that UNDOF is seen by the Syrian rebels as protecting the interests of the Assad regime through liaising with its army. That the Filipinos were freed by being turned over to the Jordanian authorities at the nearby Syria-Jordan border (Jordan sent them back to the Golan via Israel) can be seen as a gesture of rebel friendship toward Jordan, which shelters large numbers of refugees and is reportedly providing the rebels with both weaponry and training.

If UNDOF leaves or is neutralized, there is no independent actor capable of stopping heavy Syrian armament and large forces, whether deployed by the Assad regime or the opposition, from approaching the border with Israel. That could bring armed border clashes between Israel and Islamic extremist rebel units yet one step closer.