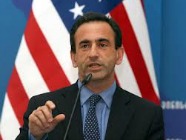 Alpher discusses whether Netanyahu will form a government by the new deadline of March 16th, what the appointment of Philip Gordon as White House coordinator for the Middle East might tell us about Obama's approach to the Israeli-Palestinian issue in his second term, and whether there is any hope at all for Turkish-Israeli rapprochement,
Q. Netanyahu has until March 16 to form a government. Will he meet the deadline?

A. Almost certainly, yes. On Saturday evening, Prime Minister Netanyahu was given a final two weeks to form a coalition by President Shimon Peres. By now, Netanyahu appears to understand that the only governing coalition he can form is one based on a near-equal partnership between Likud Beitenu's 31 members of Knesset and the 31 MKs of Yesh Atid and HaBait HaYehudi. All Netanyahu's efforts over the past month to split the united front formed by the leaders of these two parties, Yair Lapid and Naftali Bennet, have failed. Nor has he succeeded in weakening their joint insistence that no ultra-orthodox parties be in the coalition and that the next government dedicate itself to radical reform in the realm of "burden sharing".

Netanyahu has also failed to poach MKs from Labor or HaBait Hayehudi in order to form an alternative coalition. And Labor leader Shelly Yacimovich has rejected his generous offers for bringing her party into the coalition. So the coming ten days will apparently be devoted to negotiating with Lapid and Bennet.

The latter, despite being political novices, have thus far maintained an enviably solid front. Now, as they finally enter serious negotiations with a reluctant Netanyahu, they are declaring in advance that they will coordinate the distribution of portfolios between their parties so that Netanyahu cannot play one off against the other.

The prime minister is clearly unhappy with the prospect of a government without his traditional allies, the ultra-orthodox (Haredim). After all, the Haredim can generally be depended on to support the policies of whatever coalition they join as long as no one touches their unusual entitlements and privileged status regarding national service. Upon meeting with Peres on Saturday night and receiving the two week extension, Netanyahu rather incredibly accused Lapid and particularly Bennet of boycotting the Haredim and stated that such boycotts went against his values.

Wasn't it Netanyahu who once told a kabbalistic miracle-worker whose political support he needed that "leftists aren't real Jews"? Isn't it the Haredim who boycott women and the non-orthodox? Indeed, the Ashkenazic Haredi Torah Judaism party even boycotts the government itself, refusing to hold a ministerial portfolio in coalitions it "belongs to", lest it be considered Zionist.

One interesting coalition issue Netanyahu now faces is what to do with Tzipi Livni and her six HaTnua mandates. Bennet, whose party represents settler interests, rejects the single coalition agreement Netanyahu has registered thus far, that gives Livni responsibility for negotiations with the Palestinians. Bennet's platform advocates something approaching apartheid for the West Bank, and he apparently fears that Livni will actually reach a viable agreement with the Palestinians. Netanyahu, too, presumably does not want a real agreement with the concessions in Jerusalem and the West Bank that this implies. But he appears to anticipate genuine American pressures this time around, and unlike Bennet he has to welcome serious negotiations in order to accommodate those pressures.

Meanwhile the Israeli media is rife with speculation about Obama's coming demands: a total settlement construction freeze outside the blocs, a Palestinian state by 2014, etc. Not only is the presence in the coalition of Bennet's party, HaBait HaYehudi, incompatible with positions like these, but so is a large portion of the Likud Beitenu Knesset faction as well.

Q. President Obama last week appointed Philip Gordon as White House coordinator for the Middle East. What might this tell us about Obama's approach to the Israeli-Palestinian issue in his second term?

A. Gordon's area of expertise thus far has been European and Eurasian affairs. So we can only surmise that Obama has something different and innovative in mind and wants to start with a clean slate.

Q. Last week in Turkey, US Secretary of State John Kerry chastised Turkish Prime Minister Erdogan for terming Zionism a "crime against humanity". Is there any hope at all for Turkish-Israeli rapprochement?

A. Some modest hope, despite Erdogan's inflammatory rhetoric. There are a number of indications that once Netanyahu's new government is in place and concessions to Turkey can't be used as a domestic political football in Israel, the prime minister is planning finally to offer Ankara a long-delayed "apology" for Turkish loss of life in the May 2010 Mavi Marmara incident. In parallel, he'll have none other than the Muslim Brotherhood government in Egypt to vouch for a radical Israeli loosening of at least the land blockade on the Gaza Strip, thereby partially satisfying another Turkish demand.

From his standpoint, Netanyahu will be able to explain to the Israeli public the urgent need for even a modest rapprochement with Turkey with reference to the ongoing collapse of Syria. Both Turkey and Israel border on Syria, and it is likely that some sort of Turkish-Israeli coordination will be required to deal with emergencies like the need to secure "loose" Syrian strategic weaponry before it falls into the hands of irresponsible parties. Turkish-Israeli coordination regarding Iran is undoubtedly also an Israeli policy aspiration, as the international coalition's talks with Iran in Almaty last week claimed some modest progress on nuclear issues.

The growing chaos in Syria presumably explains at least in part the US role in mediating between Ankara and Jerusalem: Washington is actively planning for emergency contingencies in Syria. The Syria situation may also explain why, last week, Netanyahu reportedly met for the second time in recent months with Jordan's King Abdullah II: some measure of Jordanian-Israeli coordination regarding Syria may also soon become necessary, and Netanyahu may ask Jordan again to host Israeli-Palestinian peace talks. Besides, Jordan's king was on his way to Turkey, where he could also conceivably put in a good word for Netanyahu in the Syrian context; on Syria, there is little distinction between the Israeli and Jordanian positions and concerns.

Recently, Israel reportedly yielded to pressure from the US and Boeing corporation to end a freeze on supplying advanced electronic warfare systems for the Turkish Air Force. From Israel's standpoint, it was obliged to honor a contractual obligation frozen after the Mavi Marmara crisis. But Israel obviously has reason to assume that it need not contemplate any sort of genuine military crisis with Turkey.

Erdogan, incidentally, is pressing on with an attempt to reach an historic agreement with the PKK, the militant Turkish Kurdish movement. In so doing, he hopes not only to end a decades-long armed revolt in eastern Turkey, but to ensure that strides toward autonomy among Syria's Kurds do not worsen the Turkish Kurdish situation. Erdogan's move toward a Kurdish agreement is not popular with many Turks. This may at least partly explain his reliance last week on incendiary rhetoric toward Israel: he needs to mollify his Islamist base in anticipation of unpopular concessions to the Kurds. On the other hand, to the extent Erdogan is a prisoner of his rhetoric, he may either reject rapprochement with Israel, or "pocket it" and maintain his cold and critical demeanor toward Jerusalem.