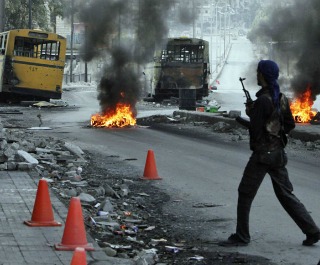 Alpher discusses what he thinks Secretary of State Kerry's peace plan might look like, whether either side, the Netanyahu government or the PLO, cold present a unified negotiating position, a possible "laundry list" of confidence building measures (CBMs) and gestures reportedly discussed or initiated by Kerry, whether Hezbollah's openly joining the fighting in Syria on the side of the Assad regime is a turning point, and if the Netanyahu government is making any significant progress on "burden sharing", meaning conscription of Haredi (ultra-orthodox) youth.
Q. Secretary of State Kerry just completed his fourth trip to Israel and Palestine since taking office and stated that the two sides now had to make decisions. Do you have any notion what his "plan" looks like?

A. Beyond reconvening negotiations "without preconditions", the precise nature of the behind-the-scenes understandings and confidence-building measures Kerry is pushing is not clear. Even Kerry's effective ultimatum to the parties to "decide" is not clear: Palestinian leader Mahmoud Abbas reportedly complained on Monday in Jordan that Kerry had still not presented him with a formula for renewing talks. And Abbas publicly rejected proposals for a partial withdrawal to temporary borders--apparently an indication that this was one of the proposals Kerry had made or relayed to him.

Kerry and his team have held multiple meetings with both sides in the past week. It is still not known whether talks will be renewed, and about what.

Q. Can either side, the Netanyahu government or the PLO, present a unified negotiating position?

A. Definitely not. Last week, Yesh Atid's Yair Lapid presented a hawkish position in a New York Times interview, practically putting him in the same camp with Jewish Homes' Naftali Bennet and the settlers. Chief negotiator Tzipi Livni, in testimony to the Knesset Foreign Affairs and Security Committee, acknowledged that there are sharp differences of opinion within the government, though she claims to have PM Netanyahu's backing. One fellow member of Knesset from the far right of the coalition reminded her (correctly) that "two states for two peoples is not the government's official position."

On the Palestinian side, Abbas faces a stalemate in reconciliation negotiations with Hamas. He has yet to replace the invaluable PM Salam Fayyad, whose resignation he forced. He faces hawkish opposition to any concessions within his own Fateh organization.

Q. Can you at least give us a "laundry list" of CBMs and gestures reportedly discussed or initiated by Kerry?

A. Kerry is apparently boosting a plan for extensive economic investment, to the tune of $4 billion, in the Palestinian Authority, including construction of industrial plants in Area C of the West Bank and drilling for gas off the coast of Gaza. Left unsaid is the fact that without Gaza-West Bank reunification, maritime gas exploration is a non-starter. Meanwhile, Israel has again extended from three to six kilometers the coastal waters where Gazans may fish, and has permitted Gazan families to visit prisoners held in Israel. The US and Israel have renewed the cash flow to the PA.

A number of Palestinian spokespersons have commented that Kerry will not succeed in inducing Abbas to make political concessions by means of economic incentives and payoffs. Indeed, by seemingly (in Palestinian eyes) adopting Netanyahu's "economic peace" proposals from five years ago, Kerry may have hurt his credibility in Ramallah.

Kerry can point to the readiness of the titular head of the Arab League, Qatar's Prime Minister and Foreign Minister Hamad Bin Jasim al-Thani, to "tweak" the Arab Peace Initiative so as to permit land swaps across the 1967 lines. But this concession, which could conceivably open up the API to additional changes and render it a more attractive negotiating framework from Israel's standpoint, was rejected by other League members who complained that only a League summit could make such changes.

In another move reflecting Kerry's efforts, while contemplating a decision regarding renewed negotiations Abbas has postponed any further Palestinian applications for membership as a state in international institutions--a tactic deemed provocative by both Israel and the US. Netanyahu, in return, appears to have lowered the profile of settlement construction. Some reports point to a US request that Israel freeze settlement construction outside the settlement blocs that abut the green line or, alternatively, beyond the West Bank security fence. Abbas has also repeatedly demanded the release by Israel of Palestinians incarcerated prior to the 1973 Oslo accords.

In other words, a few moves have already been made to improve the atmosphere. Others have apparently been broached by Kerry, who has recruited support from the international community in his effort to persuade Netanyahu and Abbas to sit down together. More gestures and CBMs could come.

But the big question--the agenda of renewed negotiations--remains unanswered. Netanyahu presumably still seeks American reassurances concerning his opening positions regarding security (demilitarization of Palestine), borders (definitely not 1967), Jerusalem (no Palestinian capital) and the right of return/Jewish state issue. Abbas, in contrast, wants American support for his demands for the 1967 lines and a capital in Jerusalem, as well as his rejection of the Jewish state demand. As far as we know, there is nothing new regarding these very substantive gaps.

Q. Hezbollah, an Iranian-backed Lebanese Shiite movement, has openly joined the fighting in Syria on the side of the Assad regime. Is this a turning point?

A. It certainly is a political turning point. We now have overtly-declared foreign involvement in the fighting inside Syria. Moreover, at least partially in response, clashes have proliferated within Lebanon between pro-Assad Shiites and Alawites on the one hand and militant Sunnis on the other. The Assad regime for its part has recently sponsored cross-border attacks into Turkey and Israel.

Taken together, these events effectively mark the regionalization or internationalization of the civil war in Syria. It seems only a matter of time before Iran ceases to conceal involvement of its personnel, and more and more Iraqi Shiites and Sunnis openly join the fighting.

Conceivably, the Hezbollah move will be seen in retrospect as not only a political turning point but a military one as well. Massive Hezbollah participation in the fighting has apparently enabled the Syrian army to recapture much of the key city of Qusayr, on the Homs-Damascus road. In the past two weeks, Assad's forces appear to be resurgent. Russian and particularly Iranian backing remains firm, along with tacit readiness on the part of Iraq's Shiite-dominated government to permit Iranian arms flights over Iraqi territory. The rebels are as disunited as ever.

Under these circumstances, if all parties agree to attend an American and Soviet-sponsored Syria peace conference in Geneva next month, the Assad regime will claim to be entering negotiations with the upper hand. From Israel's standpoint, it is extremely important that, whatever the outcome in Syria, Hezbollah not emerge politically or militarily stronger from the fighting, as this would inevitably escalate the Iran-Hezbollah threat to Israel across Israel's northern border.

Q. Is the Netanyahu government making any significant progress on "burden sharing", meaning conscription of Haredi (ultra-orthodox) youth?

A. As I write, the coalition is experiencing its first crisis over this issue, with Yair Lapid refusing to back down over a demand that Haredi youth who refuse conscription be subject to criminal penalties like secular youth. It's hard to escape the impression that Lapid is taking this stand at least partially to restore public faith in him in view of his performance as minister of finance, where he has backed away from most of his electoral commitments to his voters.

Beyond this sideshow, the government's plan for conscripting Haredi youth is still far from constituting egalitarian burden sharing. It conscripts them at age 21 and exempts no fewer than 1,800 "Torah geniuses". Left unsaid is the fact that many Haredi men are married by age 21 and could therefore be exempted by the army, while no one is even dreaming of conscripting Haredi women.

The proposal is already presenting a convenient target for a variety of right-wing ministers and politicians with a personal agenda. Naftali Bennet doesn't want orthodox yeshiva youth from "Hesder" yeshivot to serve more than the current 16 months. Avigdor Lieberman conditions his support for the Haredi draft measure on drafting Arab youth to some form of national service.

What can the majority of the country, whose sons serve three years from age 18 and most of whose daughters serve too, think of this proposal and the accompanying performance by eager politicians? That it's better than nothing? Or that it's pathetic? Here is a government that comprises no Haredi parties at all, and this is the best it can do! Even the (now out of government) Haredim are laughing.

The only benefit of the latest proposal that could be called both positive and consensual--assuming it remains more or less intact through the process of government approval and three Knesset votes--is that it frees Haredi men from a young age to join the workforce, meaning to join the Israeli mainstream (because they no longer have to remain in yeshivot, and impoverished, in order to avoid the draft). That's important. But truly egalitarian burden-sharing is still a far cry.