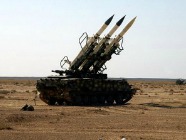 Alpher discusses the Israel Air Force attacks on shipments of Iranian missiles near Damascus, the significance of Qatari PM Hamad bin Jassim having declared that the Arab Peace Initiative could involve "comparable and mutual agreed minor swaps of land" along the 1967 lines between Israel and Palestine, and Google's announcement that it had decided to include "Palestine" in its list of options for national pages.
Q. Since Friday, the Israel Air Force has reportedly twice attacked shipments of Iranian missiles near Damascus. Why? Where could this lead?

A. Last January, Israeli warplanes intercepted a shipment of sophisticated Russian ground-to-air missiles that were being sent by the Assad regime in Syria to Hezbollah in Lebanon. Last week's attacks, targeting Iranian surface-to-surface missiles capable of hitting anywhere in Israel, were a follow-up. The common thread linking the attacks is Israel's repeated warnings that it would not tolerate attempts to transfer strategic weaponry from Syria, where civil war endangers the regime's control, to Hezbollah in southern Lebanon--a non-state terrorist actor that has vowed to destroy Israel. Last week it emerged that the Assad regime and its Iranian and Lebanese Shiite allies had not internalized the deterrent message of the earlier attack.

The recent attacks underline a number of emerging strategic dynamics in the chaotic Syrian context that concern Israel directly. One is the regional and even global nature of the proxy war being fought on Syrian soil. On one side is the Assad regime with its support among Syria's many ethnic minorities, backed by Iran, Hezbollah, and to some extent Russia, which fears the overflow of Islamist extremism onto its territory. The three attacks that Israel has launched thus far on Syrian soil involved all of these actors in one way or another. On the other side are the Sunni rebels, their Sunni backers--Turkey, Qatar, Saudi Arabia--as well as the West. Israel is concerned over the growing presence of extremist Sunni Salafists near the Golan border, but has thus far taken no military action against them. Paradoxically, if Israel's attacks are intended to keep Hezbollah from possessing strategic weapons, by the same token Israel has no interest in seeing these weapons fall into Sunni Salafist hands if and when the Assad regime falls.

The three IAF attacks are the exception that thus far proves the rule of Israeli avoidance of interference in the Syrian conflict. But IDF Chief of Staff Benny Gantz has coined an ominous term for what is happening in Syria: the "war between wars" ("mabam" in its Hebrew acronym). There is a broad sense of anticipation that something ultimately must escalate in Israel's direction.

Israel is witness to ever-growing coordination among Syrian-regime supporters: Iranian Revolutionary Guards forces and advisers stationed in Syria and Lebanon, Syrian pro-Assad forces (both the regular army and Alawite militias), and Lebanese Shiite Hezbollah. If this alliance fails to break the rebels' resistance, its fallback option appears to be to carve out a new state based on the Syrian coastal region, which is largely Alawite, together with southern Lebanon and the Lebanese Biqaa, which are Shiite, and a strip of southwest Syria and the northern Biqaa connecting the two areas via the vital Homs-Hama region. Israel can do little if anything to stop this from happening. Here, then, we could confront a second paradox: if this new entity emerges, Hezbollah and the Alawites will effectively merge politically and geographically under Iranian aegis and there will be far less significance to the question whether specific strategic weapons are in Assad's hands or those of the Lebanese Shiites.

Another dynamic related to the recent Israeli attacks concerns the Obama administration. President Barack Obama has been outspoken in supporting Israel's right to defend its vital interests against the Assad-Iran-Hezbollah alliance. But both the region and the international community cannot help but noticing that Israel appears to be responding forcefully when its "red lines" in Syria-Lebanon are crossed, whereas Washington has acted with far greater reserve in confronting the "game-changer" of chemical weapons-use by the Damascus regime. Will Israel's actions increase the pressure on the US to take action? Or, to the contrary, will they relieve some of the pressure?

Finally, and most obviously, the Israeli strikes pose a danger of escalation in the form of retaliatory attacks on Israel or even--by Hezbollah--on Israeli and Jewish targets worldwide. During the weekend, Israel took the precaution of closing the airspace over the north of the country and posting two Iron Dome anti-rocket batteries near Haifa and Safed. But Prime Minister Binyamin Netanyahu departed on Sunday as scheduled for an official visit to China, signaling that from Jerusalem's standpoint no escalation was intended or anticipated. Indeed, the level of empty bluster coming from Damascus and Tehran appeared to indicate that at least for the moment they did not intend to retaliate--a suicidal option from Assad's standpoint. But will they try to transfer more weaponry, and will Israel continue to respond with force?

An Iranian spokesman got the prize for most cynical statement of this round of tension: "The attack", he stated, ignoring more than two years of chaos in Syria, "endangers stability in the region".

Q. On April 29, Qatari PM Hamad bin Jassim, heading an Arab League delegation on a visit to Washington, declared that the Arab Peace Initiative could involve "comparable and mutual agreed minor swaps of land" along the 1967 lines between Israel and Palestine. How significant a concession is this?

A. It is not the major breakthrough trumpeted in some circles, but it certainly is a helpful gesture. The notion of land swaps has in any case been an integral part of Israeli-Palestinian negotiations for several years now. But it is not mentioned in the API, which focuses strictly on the 1967 lines. So the precedent of flexibility in interpreting the API is a welcome one.

But the only official high-level Israeli spokesperson to welcome this step forward was Justice Minister Tzipi Livni, who has been designated to lead Israeli peace negotiations. The Arab League gesture is, if anything, inconvenient for PM Netanyahu because he rejects the 1967 lines as even a basis for negotiations. This underlines the potential for dissent on the Israeli side, if and when actual two-state talks are rejoined.

Still, Livni's statement is interesting. In the past, she has rejected the API because, concerning the Palestinian refugee issue, it is based on United Nations General Assembly Resolution 194 of 1949. Livni argues that 194 is understood by the Arabs as a call for the right of return of 1948 Palestinian refugees--a position unacceptable to virtually anyone who supports Israel as a Jewish state. Of course, she could long ago have accepted the API and simply tacked on a note that Israel interprets 194 very differently. Hopefully, now she is moving in this direction.

From Washington's standpoint, the land-swap gesture could help Secretary of State John Kerry as he attempts to put together a negotiations-renewal package that uses the API as a regional framework. This in turn might be deemed useful by Netanyahu if the API could be integrated in such a way that it opens up possibilities of Israel-Arab security coordination against Iran. That might provide Netanyahu with a rationale for justifying Israeli confidence-building measures toward the Palestinians. But the Israeli prime minister is still very far away from the substance of the API's very reasonable and mainstream positions regarding the territory, capital and boundaries of a Palestinian state.

Q. The previous question mentioned "Israel and Palestine" rather than "Israel and a Palestinian state". You did not remark on this. Are you lining up with Google on this issue?

A. On May 1, Google announced that it had decided to include "Palestine" in its list of options for national pages. Previously, it had used the tagline "Palestinian territories". Israeli Deputy Foreign Minister Zeev Elkin officially protested that "Google is in essence recognizing the existence of a Palestinian state."

I don't see what the fuss is about. Had Google adopted the term "state of Palestine" this might have seemed more controversial, although even here it would be in conformity with United Nations General Assembly resolutions. But just plain "Palestine"? This is a term that designates a nation or, if you like, the idea of a nation. As such, it should not be objectionable to Israelis who call their neighbors "Palestinian" (if you're Palestinian, it follows that you're from Palestine) and certainly not to those Israelis who line up with the Netanyahu government's official policy of recognizing a two-state solution, which implies that there already is a nation of Palestine.

I began using the term "Palestine" in bitterlemons years ago. Google is merely closing the gap. It is a perfectly legitimate usage, particularly in the absence of a formally-recognized state of Palestine.