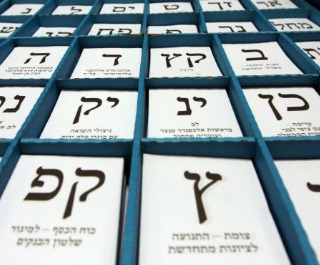 Alpher offers predictions regarding Israel-related strategic developments in 2013, and discusses why Israel just agreed to allow Hamas to import large quantities of building materials, whether the renewed readiness of Hamas and Fateh to discuss reconciliation reflect deference to Egypt's Islamist leadership, what has happened in the two weeks since he mentioned Palestinian President Abbas' offer to absorb Palestinian refugees fleeing the violence in Syria and suggested Israel and Jordan assist in this effort.


Q. A new year is upon us. Are you comfortable offering predictions regarding Israel-related strategic developments in 2013?

A. My inclination is to point to the choices that will almost certainly confront the key leaders this year regarding central strategic issues, but without suggesting that I know for certain what decisions will be made.

Starting with Israel internally: will Prime Minister Binyamin Netanyahu, assuming he is again charged with forming a government after January 22, opt for a right-religious coalition or a right-center coalition? The relevant variables that will shape this decision are in many cases not under Netanyahu's control. But he won't be able to ignore them.

One key variable concerns the international scene. Are the second Obama administration and the Europeans signaling that they intend to exercise heavy pressure for a peace process, thereby perhaps mandating a more moderate Israeli government? Or, to the contrary, can Netanyahu expect to encounter the frustrated neglect on their part that he prefers and cultivates, so he can form a right-religious government and keep expanding settlements?

Domestically, has the Israeli center--Yacimovich, Lapid and Livni--succeeded in creating some sort of "blocking majority" that obliges Netanyahu to work it into his coalition or that can combine with, say, Shas to challenge that coalition? Or is Netanyahu able to "poach" one of these three parties into a right-wing coalition as he did with Labor four years ago? That question may be decided in the coming days as the three centrist leaders discuss their options. Further, how far has Likud Beitenu shrunk as against its original size of 42 mandates? Will recent extreme criticism of Netanyahu by former Shin Bet head Yuval Diskin have any effect? Will recent polls that indicate that even a majority of Israeli right-wingers want a two-state solution?

And how big will Naftali Bennett's surprisingly dynamic far-right HaBait Hayehudi be after the elections? Will its size frighten Netanyahu into moving toward the center, and will his own Likud right-wingers allow this to happen? The answers to these questions will determine the face of Israel for at least the coming year. Yet, how accurate is all this speculation, given the inability of Israeli polls to reach a growing under-30 generation that communicates via cell phones and internet and doesn't use the land lines pollsters rely on?

Expanding our horizons a bit, three Israel-related strategic issues--Iran, Egypt and the Palestinians--draw our attention, though still in terms of strategic choices rather than predictions. First, Iran: will the US and its partners reach a satisfactory compromise with Iran regarding the latter's nuclear program, or will it or Israel launch an attack, with potentially highly destructive consequences for Israel and the region? Second, Egypt: will we witness Muslim moderation, Muslim extremism, or some unexpected new revolutionary development? The answer could affect developments in Gaza and Sinai that touch directly on Israel's security. And third, the Palestinians: a third intifada? A new peace process? Stability between Israel and the Gaza Strip? Or more fighting?

Only when it comes to Syria is it safe to make a concrete prediction: Syria will continue to sink into anarchy. Nothing could be more certain after hearing President Bashar Assad's speech on Sunday, which reflected a total misapprehension of where the country is headed. In one form or another, ethnic unrest will spread from Syria to its neighbors, beginning with Iraq and Lebanon. This development has the potential to unravel much of the near hundred-year-old post-Ottoman Levant state system, and could constitute a major source of international and regional tension in 2013--directly across Israel's northern border.

Q. You mentioned the Gaza Strip in both the Egyptian and the Palestinian contexts. Why did Israel just agree to allow Hamas to import large quantities of building materials?

A. Israel's permission for the Hamas government to import building materials from both Israel and Egypt is yet another expression of an ongoing effort to turn the outcome of November's Operation Pillar of Defense into a stable ceasefire. To this end, Israeli and Hamas officials continue to hold indirect talks in Cairo, mediated by the Egyptian Army. And Israel is ready to ignore the danger that Hamas will use the building materials to construct fortifications, in return for absolute quiet and Egyptian efforts to prevent arms smuggling into Gaza.

Perhaps the more relevant question should be: why is Israel talking to Gaza-based Hamas but not to the West Bank-based PLO, its formal peace partner?

I would offer three explanations. Most significantly, in making its calculations about events in the region, Israel cannot afford to ignore the rise of political Islam in both Egypt and Gaza. The November conflagration between Israel and Gaza was, we recall, in many ways more about Egypt's relationship with Israel and the Palestinians than about the Israel-Hamas balance of power. Discussions with Hamas about ways to stabilize a ceasefire by at least partially normalizing relations should have been enjoined by the Netanyahu government and its predecessor, the Olmert government, long ago. Unfortunately, like with so many aspects of Israel-Arab relations, we appear to need to suffer through war and revolution before we can do the obvious. Note how indifferent the Israeli public--left, right and center--is to its government talking to its arch enemy under Islamist auspices.

Secondly, in some ways the Netanyahu government appears to be more comfortable talking to Hamas than to the PLO. Hamas doesn't want a peace process and refuses to recognize Israel. There are no territorial disputes between Israel and Gaza. The PLO, on the other hand, is Israel's official partner for negotiations over Israeli territorial concessions in the West Bank and Jerusalem that Netanyahu has no intention of making.

Finally, just as Netanyahu picked the timing of Operation Pillar of Defense at least in part in order to get through elections peaceably--without rockets falling on Tel Aviv and while taking credit for having "delivered" on security--so he now has to make sure the ceasefire holds at least until January 23, the day after elections. To the extent this cynical assertion is accurate, then after the elections, and assuming Netanyahu remains at the helm, we may encounter a tougher Israeli negotiating position in the Cairo talks with Hamas.

(Note, by the way, that one of the American right-wing pro-Israel lobby's complaints about the candidacy of Chuck Hagel for the post of secretary of defense is his advocacy that the US talk to Hamas. Given what Israel is currently doing, this is hypocritical to say the least.)

Q. Does the renewed readiness of Hamas and Fateh to discuss reconciliation also reflect deference to Egypt's Islamist leadership?

A. More than likely. Hamas just allowed Fateh to hold a mass rally in Gaza to celebrate the forty-eighth anniversary of Fateh's founding--the first such rally permitted since the Hamas takeover of the Strip in 2007. Egyptian President Mohamed Morsi has invited Mahmoud Abbas, leader of Fateh and president of the Palestinian Authority (from herein: the State of Palestine), to Cairo to meet both him and Hamas leader Khaled Meshaal.

All these gestures don't necessarily mean that a new round of talks will succeed, however. Neither side wants to risk the territory it holds. In particular, Abbas knows that reconciliation means new national elections that Hamas is likely to win.

Q. Two weeks ago, you mentioned Palestinian President Abbas' offer to absorb Palestinian refugees fleeing the violence in Syria. You suggested Israel and Jordan assist in this effort. What has happened since then?

A. Here is one area where Hamas and the West Bank leadership appear to be on the same page, at least temporarily. Following the Abbas offer, UNRWA appealed to Hamas to absorb Palestinian refugees from Syria in Gaza. Gazan Prime Minister Ismail Haniyeh refused, citing the dangerous precedent this would create regarding the right of return of all 1948 refugees to Israel.

Meanwhile, UNRWA wasn't even able to finalize arrangements with the Palestinian government in Ramallah to begin absorbing refugees. Either the West Bank leadership got cold feet precisely because of the precedent involved and what Hamas would say, or it simply doesn't have the funds available to devote to this project. Israel has held up the transfer of taxes it collects for Palestine as "punishment" for the PLO's success at the United Nations in achieving observer-state status. And a host of Arab countries have not honored their financial pledges to support the newborn Palestinian state.

The Abbas offer two weeks ago was important because it seemed to signal a readiness on the part of the moderate West Bank-based leadership, following achievement of "statehood", to behave like a state and absorb Palestinian refugees itself rather than demanding this of Israel. Hamas' refusal was to be expected: Hamas insists that absorption by Israel of all five million refugees (and their children, grandchildren, etc.) is a condition for it to agree to a long-term ceasefire with Israel (not even peace!) within the 1967 green lines.

Meanwhile, Jordan has reluctantly agreed to absorb around 1,000 of the Palestinians fleeing Syria, but only if they are quarantined in a separate refugee camp. And Lebanon is demanding that Palestinians fleeing Syria, many with nothing but the clothes on their backs, pay a visa fee as a condition of entry for one week--unlike Syrians fleeing to Lebanon, who don't need a visa and can stay longer. Both Jordan and Lebanon fear lest an influx of Palestinian refugees upset their delicate internal demographic-political balance.

The drama over this issue is yet another reflection of the deplorable way Palestinian refugees have been treated for more than 60 years by their fellow Arabs. We saw it when they fled Kuwait after the Iraqi invasion in 1990 and when they fled Iraq after the US-led invasion in 2003. Now it's the turn of the Syria-based refugees to suffer indifference and ideologically-based rejection.

If it's not too late, every effort should be made by Washington to enable Abbas to absorb his fellow Palestinians who are fleeing Syria.