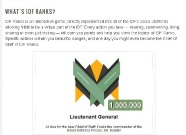 Over the course of the latest Gaza war, a lot of attention became focused on the IDF's new and aggressive online social media strategy, in which the IDF used social media - especially
Twitter
- and
online gaming tactics
to get its message out. The effort also included Instagram, as covered in
buzzfeed
and on
Slate
.
Major news outlets, like
The New York Times
,
the Washington Post
, and
the Christian Science Monitor
, have covered the controversy.
In a November 20th interview (
Inside The Israeli Military's Social Media Squad
), the head of the IDF's online effort explained the strategy:
We've been operating on a variety of platforms with a number of different Twitter accounts, on Facebook, on YouTube during the course of the operation. We opened up a Tumblr account, we have a Google+ account, Pinterest ... we're operating on almost every single account we can to make sure that we can get out our message as fast as possible to as many different audiences as possible. This is to both increase our legitimacy, to be transparent, and almost as importantly, to combat misinformation that's being flooded out from inside Gaza...

Other observers have seen things differently. In a November 15th post entitled "
Unbelievable! The IDF Has Gamified Its War Blog
," on the technology blog "readwrite," staff writer Jon Mitchell argued,
Israel is trying to enlist the people of the world in its campaign with military ranks, badges and points. Innocent people are dying on all sides, and the IDF wants to reward people for tweeting about it.

Commenting on the gamification of the IDF's blog
back in July
, I wrote:
...the IDF unveiled its newest weapon in the fight against Israel's enemies: an online game called "IDF Ranks," released under the headline: "Become The Ultimate Virtual Soldier!" ...The release of this new game begs the question: why do some people--in the United States and Israel--still believe that hasbara is the answer? The problem today isn't that people don't know the truth about the Israeli army. The problem is that some actions and policies of the Israeli government and the IDF are simply indefensible-- no amount of hasbara is going to change that...

A November 18th article in Haaretz was entitled "
Israel's online PR offensive sees blowback
" and highlighted harsh criticism of the IDF's online strategy from such diverse sources as
Wired
,
The Verge
,
ForeignPolicy.com
, and
Jeffery Goldberg
. Similarly, a November 16th post on Time's website was entitled "
The War Will Be Gamified: Israel, Hamas in Social Media Struggle
." It quoted Rafat Ali, founder of the digital media news site PaidContent, stating, "Twitter is being used as a propaganda machine, pure and simple."
You may have noticed a new feature over the past few days. We have begun hosting a new application (below) that encourages discussion and debate. We encourage you to vote, and even more, to discuss! Join the conversation!