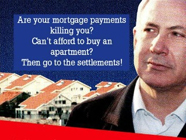 Thousands of Israelis are in the streets protesting high housing costs. It is an amazing, indeed, stunning development. Israelis from all walks of life are fed up with Israel's wealth gap as it continues to widen.
These protests are not about Netanyahu's policies regarding the Palestinians or the settlements. But let no one be confused:
these protests shine a bright spotlight on policies of the Netanyahu government regarding settlements.
Because ultimately, these protests are about priorities. They are about a government that favors the wealthiest over the neediest. A government that favors the interests of powerful and entrenched groups over the general population. A government that prefers to invest huge sums of money in maintaining and expanding settlements - and granting special benefits to settlers - while short-changing Israelis who live inside the Green Line.
Indeed, while many Israelis living inside the Green Line are protesting the painful costs of unrestrained free market capitalism that has left them behind, Israelis living in the West Bank are enjoying an economic model that resembles nothing so much as state-led socialism - a model that ensures that even the richest settler enjoys benefits that the poorest Israeli can only dream of. A model that has been put in place and paid for by Israeli tax-payers, for the sole purpose of promoting the reckless political program of the Israeli right.

Housing prices are, it turns out, perhaps the most glaring example of this phenomenon.
As Peace Now's latest
poster
says:
But it isn't just housing that's subsidized for settlers. It's other things, like transportation. Recently Peace Now conducted a
study
comparing the cost of public transportation for settlers (transportation running to and from settlements) and the cost of public transportation for Israelis living inside the Green Line. The results, as Peace Now, noted, were outrageous: "...while many people in Israel struggle to pay to the overblown prices of public transport - settlers beyond the Green Line have subsidized fares of up to a half of the price of regular costs." Israel's transportation Yisrael Katz subsequently
confirmed
Peace Now's findings,
And that, too, isn't the whole story. Recently attention focused on the passage of the so-called anti-boycott law - a law whose main purpose is to prevent protests against Israeli settlements. A major part of this law is the effort to insulate businesses operating out of settlements from the kind of protests that, in a democratic society, people are free to carry out (like the recent cottage cheese protests inside Israel). But as Peace Now's Hagit Ofran pointed out in a
recent article
, the Israeli government's special treatment of commercial enterprises in the settlements goes much further:
"Over the years, the Israeli government created numerous incentives for businesses and factories to be built in the Occupied Territories. Cheap (or some times free) lands, tax deductions and funding of salaries for new employees were only parts of those incentives. Another incentive, provided by the Israeli government, is compensation for settler exporters for loss of tax discounts in the EU, which does not recognize goods from the territories as goods from Israel under the free trade agreement. This spending accounts for NIS 11,160,000 of the Israeli budget in year 2011. These payments are a clear reason for businesses to move to the West Bank, or at least to stay there."

Overall, Peace Now found that the
2011-2012 Israeli budget
included "
at least 2 billion shekels dedicated to the settlements and the maintenance of the occupied territories
." And this is figure doesn't include other funding for settlements well hidden within the various budget items.
The
words we wrote
back in 2009, when the debate over the settlement freeze raged, remain true today:
"Settlers continue to enjoy preferential benefits from the government of Israel. Almost a decade ago, then-Minister of Finance, Binyamin Netanyahu, drastically cut subsidies for settlements (as well as for other purposes), due to economic considerations. However, this was less an end to such subsidies than a diminishing and re-categorization of subsidies. Today, it is correct to say that there are no special subsidies in place for settlements. However, there are incentives in place for communities that Israel defines as "preferred development areas" - and the various lists of these areas (different ministries use different lists) have included, at least up until this point, not only parts of the Galilee and the Negev, but many West Bank settlements as well. So a range of subsidies and incentives still exist, including:

• Housing: In qualifying settlements, settlers enjoy subsidized loans for the purchase of apartments ("location loans") and relaxed entitlement standards for additional housing loans (for example, exceptions to the minimum age criteria for receiving a loan). There are also subsidies in some settlements to cover 50% of residential development costs for contractors and entrepreneurs, and the Housing Ministry underwrites the construction and renovation of public buildings to a greater extent in preferred areas.

• Land: In qualifying settlements, the Israel Lands Authority provides settlers discounts on land price and exemptions from regular tender requirements (i.e. land can be purchased without being subject to the normal public tender process and with a 70% discount).

• Industry: In qualifying settlements, there are grants and tax benefits for industry, including: subsidies for salaries (to help an employer expand his/her workforce); aid for factories in crisis; and subsidies for development of industrial infrastructure. There are also special grants for industrial research and development and priority in funding technology incubators.

• Agriculture: In qualifying settlements, there are grants and tax benefits for agriculture and aid to rural settlement.

So yes, Israelis are in the streets today protesting housing prices inside Israel, not the Netanyahu government's support for settlements. But the two are inextricably linked, representing mirror images of this government's (and previous governments') misplaced priorities. As Israelis now finally begin waking up to the costs that such misplaced priorities impose on them, they may at last also begin waking up to the reality that their quality of life, not to mention their futures, are being sacrificed daily on the alter of the Greater Israel settlement enterprise.