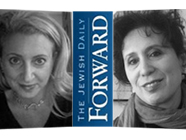 Congratulations to APN Board member Jo-Ann Mort and Lara Friedman, APN Policy and Government Relations Director, for their recognition by The Forward as, "9 Must-Read Female Pundits on the Middle East."
According to the Forward, "Like in much of the pundit world, those who opine on Israel and the Middle East tend to be disproportionately male....The OpEd Project also found that when it comes to international politics, women's opinions only account for 13% of commentaries.

"So, we created a list of nine women who we believe should be more regularly quoted, published and interviewed on Israel and the Middle East. Next time you are putting together a panel, looking for an oped or just some smart insight on all things Israel, we suggest you reach out to one of these women."