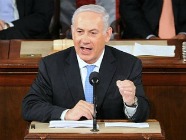 Washington, DC - Americans for Peace Now (APN) today expressed deep disappointment with Prime Minister Netanyahu's speech to Congress. APN's President and CEO Debra DeLee said:
"Prime Minister Netanyahu was today granted a podium that few world leaders receive. He had the chance to demonstrate to the world that, contrary to many people's expectations, he grasps the urgency of the moment. Unfortunately for Israel, he did not rise to the occasion.


"For weeks, Netanyahu's aides had promised that today's speech to Congress would include a formula for a breakthrough. Netanyahu failed to deliver. Netanyahu's speech instead represents a step backward, away from the peace that Israelis and Palestinians yearn for and deserve. It appears that Netanyahu is determined to never miss an opportunity to miss an opportunity.

"Israel desperately needs peace with the Palestinians - to secure Israel's future as a Jewish state and a democracy, to protect Israeli security, and to head off a confrontation at the United Nations in September. Unfortunately, rather than laying out his promised new vision of peace, Netanyahu stayed mainly on the well-worn path of grandstanding, blame-laying, and fear-mongering. Rather than embracing the opportunity offered by President Obama to work together to get peace efforts back on track, Netanyahu offered little more than disingenuous words of support for peace.

"Worse still, rather than committing to a return to negotiations without preconditions, as he demands from the Palestinians, Netanyahu introduced his own preconditions. Rather than extending his hand to the Palestinians to come back to the negotiating table, Netanyahu laid out unyielding positions which he knows cannot serve as the basis for, or be the realistic outcome of, negotiations.

"Such preconditions are a non-starter and such positions are anathema to reviving negotiations and to achieving real peace and security for Israel.

"President Obama must not allow Netanyahu's public display of intransigence to discourage him from continuing to work to break the logjam in Israeli-Palestinian peace efforts. Israeli-Arab peace is essential to Israel's security, well-being and viability as a Jewish state and a democracy. Sustained, credible U.S. efforts to achieve Israeli-Arab peace are an essential element of U.S. support for Israel."