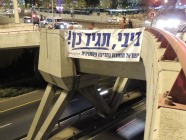 A new poll released today by APN's Israeli sister organization, Peace Now, shows that Israelis overwhelmingly reject the punitive measure that their foreign minister, Avigdor Lieberman, has advocated in response to the Palestinian bid for upgraded status in the UN's General Assembly. Lieberman has called for Israel to take action to cause the collapse of the Palestinian Authority as retaliation for the UN move.
The poll, conducted on Tuesday and Wednesday among a sample of 506 Israeli citizens, shows that more than two-thirds (67%) reject Lieberman's approach. Only a third (33%) said that Israel should cause the collapse of the UN.
Similarly, most of those polled (58%) said that in the light of the Palestinian UN bid, Israel ought to negotiate with the Palestinians (with the PLO, with Hamas, or with both).
APN has
called on the Obama Administration and governments
around the world to support the Palestinians' UN effort. In recent days, Peace Now in Israel launched a major campaign to harness the Palestinian move to its pro-two-state agenda. Peace Now activists posted large signs at major junctions near Tel Aviv and Jerusalem, saying: ""Bibi, Say Yes - Israel Supports a Palestinian State." In addition, as APN reported earlier,
Peace Now sent a memo
to Israel's foreign ministry and ministry of information containing talking points explaining why the Palestinian move is good for Israel. Peace Now suggested distributing the memo to Israeli diplomatic missions worldwide.