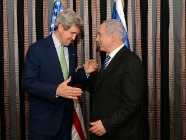 Yesterday, Secretary of State John Kerry wound up his fifth trip to Israel/Palestine. The following are some observations about the visit and the overall Kerry peace effort.
(1) Secretary of State Kerry asserted unambiguously that he made progress on this visit, defying those who want to suggest that his peace effort has failed. Kerry's assertion is important in itself, indicating that Kerry remains committed to the Israeli-Palestinian track and continues to believe that he can succeed. It's too early to know what Kerry actually accomplished on this visit, and it's unclear if or when more will be known. All along Kerry has largely been keeping his own counsel (save for a very small circle of staff) and - to his credit - he appears disinclined to test-market or seek validation for his efforts in the arena of public opinion.
(2) Skepticism about Kerry's effort is neither new nor news. Even before Kerry made his first trip to Israel/Palestine, some insisted that his efforts were doomed to fail. It was suggested that Kerry would fall into the same traps as his predecessors, or would naïvely try something new that had no chance of working. It was argued that his attention would inevitably be drawn away by other pressing issues, or that the White House wouldn't back him. Five trips on, there is still no indication that any of these arguments is in any way accurate. So far it seems that Kerry has significant additional energies to devote to Israeli-Palestinian peace efforts. Following this latest visit, he made clear that his efforts will continue, stating that he is not going to fall into the trap of artificial deadlines. And thus far, it appears that the White House is prepared to give him whatever room he wants in order to pursue his Israeli-Palestinian peace agenda.
(3) Neither Netanyahu nor Abbas wants to be blamed for killing Kerry's peace effort, so each is playing his cards carefully. At the end of this latest visit, Kerry publicly lauded both Netanyahu and Abbas for their "serious commitment to this task," further investing them both in his peace effort, and further implicating both in its success or failure. This is a reason for cautious optimism that real progress is possible - progress based on the fact that each side feels forced to play ball, while hoping the other will act as the spoiler. It also points to a quiet achievement of the Kerry effort thus far: preventing either side from taking specific actions that would certainly kill the hopes for a return to talks or any agreement - like a Palestinian decision to return to the UN for further recognition steps, or a decision by Israel to proceed on the most provocative settlement plans.
(4) Events on the ground - that is, settlement-related developments - continue their steady march, hanging like a sword of Damocles over Kerry's efforts. Just before this fifth Kerry visit, news broke of the issuance of permits for new construction in the East Jersalem settlement of Har Homa. This news, in its timing and substance, threatened to derail the visit before it even got started - even if it was not a deliberate effort to do so by Netanyahu. And just as Kerry left Israel, news broke that plans were moving forward for additional large-scale construction in Har Homa. In fact, this latter development is not "news" - tenders for this construction were published in April 2012 and July 2012 - but the story appears to have been released by parties within the Israeli government who want to embarrass Netanyahu and undermine Kerry's peace effort.
(5) The ongoing Kerry peace effort is continuing, and apparently achieving some progress, in spite of the extremely problematic settlement trends that have existed since the beginning of 2013. Such trends, and the cynical use of settlement developments by peace opponents within the Israeli bureaucracy, suggest that at some point there will be a real confrontation between Kerry and Netanyahu over this issue. Such a confrontation could be a decisive moment for the Kerry effort, as the White House may feel forced to make a calculation about how much political capital it is willing to invest in Kerry's efforts, potentially at a time when mid-term elections are looming.
(6) Netanyahu would likely prefer that things fall apart before a confrontation with Kerry over settlements, and thus allow the blame for the collapse to fall on the Palestinians. The Palestinians, so far, don't seem to be cooperating in making this happen, but the steady stream of settlement construction/approvals seems almost designed to push the Palestinians into even a more intransigent position on the now radioactive settlement freeze demand.
(7) Finally, Kerry and the parties are no doubt aware that the U.S. political clock is ticking. The mid-term elections season is nearly upon us. When it arrives in full force, it could make things much more complicated for any U.S.-backed peace efforts, especially if Netanyahu decides to try to "play" U.S. politics to his perceived advantage (something he has done in the past). This political clock lends extra urgency to the goal of accomplishing enough of a breakthrough in the near term to keep a political process alive through the mid-term elections and into the home stretch of Obama's final two years in office.