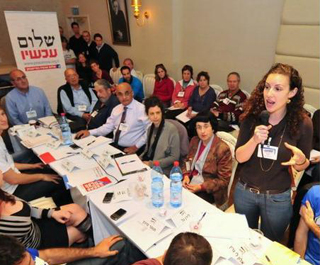 Over 700 people attended a first-of-its-kind peace camp conference
last Friday, which Israel's Peace Now movement hosted and organized.
The conference in Tel Aviv brought together progressive politicians and peace activists from across Israel. It was a vivid expression of the new energy among progressive Israelis, who are seeking ways to confront the anti-peace and anti-democratic policies of Binyamin Netanyahu's government and Knesset coalition. It also tried to harness that energy toward a sense of common purpose and united action.

This was the first time that Israel's major peace movements, organizations and pro-peace political parties gathered under one roof to discuss the future of the peace camp, its messaging and options for future political action.

Panels took the form of round table discussions to allow the speakers and the audience an eye-level discussion, which was both frank and constructive. Speakers did not shy away from a piercing discussion of the peace camp's shortcomings in recent years. The emphasis, however, was on seeking ways to move forward in unison.

Particularly encouraging was the robust presence of Labor Party Knesset members. Now free of Ehud Barak's split Atzma'ut faction, all Labor MKs but one showed up.

Although there was no formal agreement on a future course of action - that was not the intended objective of the conference - participants were all in agreement that the peace camp must work together to advance Israeli-Palestinian peace.

For more details on the issues discussed at the conference, check out Peace Now's web site and Facebook page.