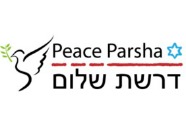 By Rabbi Joshua Levine Grater from the Pasadena Jewish Temple and Center in Pasadena, CA.


I had the honor of hearing Israeli President and elder statesman Shimon Peres last week in Los Angeles. Coming off a week where the tenor for war against Iran was being ramped by Prime Minister Netanyahu and in the halls of AIPAC, it was refreshing to hear President Peres say that diplomacy is always the preferred option, that Israel is a nation that values and cherishes peace, and that the morals of our people, based on the Torah, call us to a higher purpose in life than political expediency.
In thinking about these themes in relationship to the parsha this week, I was struck by some of the characteristics needed to create the mishkan, the sacred, holy space that our ancestors designed for God's presence to dwell.
In
parshat Va'yakel
, we read again about the details of the tabernacle and how all of the Israelites brought generously and donated even more than was needed for the project.
They were so inspired by the vision of Moses, as based on the experiences of Torah revelation, that they give in such abundance that Moses has to ask them to stop.
To create peace, like the
mishkan
, we need to be generous of spirit, to believe in the vision of
shalom
, not only as an end-game but as a structural and fundamental way of life.
President Peres worked with his beloved friend and partner, Prime Minister Yitzhak Rabin, for peace, winning the Nobel Prize, and he understood how deeply Rabin believed in the ways of peace after decades of war.
So much so that it became a living, breathing part of who he was.
Generosity of spirit is a necessary component to making peace and it is something that can be generated regardless of what others are doing.
In fact, generosity of spirit can be quite contagious.
Over and over in the
parsha
, we read about the Israelites as "
nadav libo
," as people whose "hearts were open, whose hearts were moved," a characteristic that we cultivate from within.
For
shalom
to be possible, we must all be "
nadav libo
," living and dreaming with open hearts, knowing that a better future for our children won't happen by accident.
President Peres, at age 89, talked about how dreams are so much more important than memories, that what we imagine to be possible must overcome what we fear cannot be made into reality.
This doesn't need to compromise our safety and security, to be sure, but without dreaming with open hearts, how will we ever know what is truly possible? The other place that we learn characteristics is in regard to Betzalel, the artisan, and his skills to help fashion the
mishkan
.The Torah says he has "
ruach elohim
, holy spirit," as well as "
chochmah
,
t'vunah
and
da'at
, wisdom, ability and knowledge."
Beautiful qualities, ones that we can all learn from as we seek peace.
Rashi, the great 11th century French commentator, defines "wisdom" as what a person learns from others, "ability" as the result of one's own insight and experience, and "knowledge" as divine inspiration, ideas that suddenly come to a person from an unknown source.
Just as an artist needs these attributes, so too does a peacemaker.
Visionary leaders need to have natural ability,
t'vunah
and a sense of divine inspiration, leading people to a place they may not believe is possible.
That is what God's role in the world is, as I see it: reminding us of what possible, not just what is reality.
That is what I heard in Shimon Peres.
And,
chochmah
, wisdom, to learn from others, to listen to advice, to not be stubborn, a willingness to be vulnerable enough to truly listen and learn.
If we think that we have all the answers, if we are afraid to admit we are wrong, if we are unable to learn from our mistakes, we will never make peace.
Building peace is like building the
mishkan
: the details and minutia shouldn't ever blind us to the bigger vision, the finished product we are seeking to create. As we read the
parsha
this week, a beautiful combination of individual skill and communal effort, of many sources of insight coming together to inspire the highest level of wisdom possible, of creating the holy space for the divine presence, let us all see
shalom
, what the Talmud calls the only vessel truly able to truly hold God's presence, as the
mishkan
we are seeking to build in our time.
Adonai oz l'amo yitain, adonai yi'varech et amo v'shalom
(Let God give strength unto God's people; Let God bless God's people with peace. Ps 29:11).
Rabbi Joshua Levine Grater is the spiritual leader of Pasadena Jewish Temple and Center in Pasadena, CA. He is a frequent contributor to the Huffington Post and the Los Angeles Jewish Journal. The views expressed in this piece are solely those of the author and don't represent those of his congregation or any other organizations he is affiliated with.