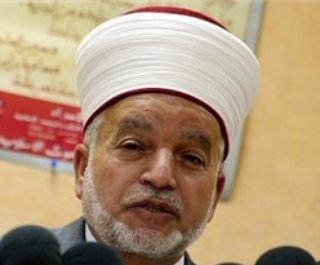 Washington, DC - Americans for Peace Now (APN) strongly condemns the belligerent anti-Jewish comments made by the Palestinian Authority's Mufti of Jerusalem at a public event in the West Bank earlier this month.
At the ceremony celebrating the 47th anniversary of the founding of the Palestinian Fatah movement, Mufti Muhammad Hussein cited a Muslim tradition, attributed to Prophet Muhammad, which says that the yearned-for "Day of Resurrection" would only come after Muslims kill all Jews.
"We are appalled by these comments, coming from the most senior Muslim cleric on the Palestinian Authority's payroll," said Debra DeLee, APN's President and CEO. DeLee added, "What we find particularly disturbing is that these vile comments were broadcast on the Palestinian Authority's official television channel, amplifying their inciting affect."
"People in positions of religious authority, on all sides, bear a heavy responsibility of avoiding incendiary rhetoric. The Israeli-Palestinian conflict is a dispute between two national movements with conflicting claims to the land between the Jordan River and the Mediterranean. Clerics on both sides must prevent this conflict from being perceived as a religious conflict and from becoming one."