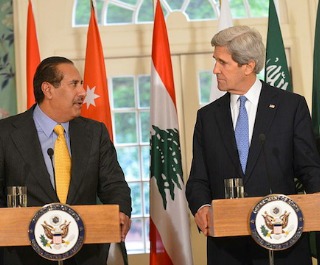 Washington, DC - Americans for Peace Now (APN) warmly welcomes the Arab League's decision to soften its peace initiative to accommodate future land-swaps between Israel and the Palestinians, as a part of an Israeli-Palestinian peace agreement. APN is gratified to see that this positive development does not go unnoticed by Israel's leaders.
APN believes that the Arab Peace Initiative (API) of 2002, which has been repeatedly reaffirmed by the League of Arab States for more than a decade, represents a real basis for negotiations that could deliver comprehensive regional peace.
While the original text of the API offered Israel peace and normal relations with the Arab and Muslim world in exchange for a "complete withdrawal" from territories captured in 1967, the League of Arab Nations on Monday made clear that it would not insist on full adherence to the 1967 lines. The Prime Minister of Qatar, Sheik Hamad Bin Jassem Al Thani, speaking on behalf of an Arab League delegation, talked about the possibility of "comparable," mutually-agreed and "minor" land swaps between the Israelis and the Palestinians, with the 1967 lines serving as a basis.
Israeli government officials reacted positively to the new language.
Commenting on the developments, APN's President and CEO Debra DeLee said:
"The Arab Peace Initiative could have and should have been used as a pivotal Middle East peacemaking tool when it was first introduced, eleven years ago. We have repeatedly called on all the parties involved to activate the initiative. We have also argued - contrary to the official line of successive Israeli governments - that the API is not a take-it-or-leave-it package and that it could become a basis for negotiations."
"Fortunately, it is not too late. It is neither too late for resuming meaningful Israeli-Palestinian negotiations, nor is it too late for the two-state solution and for the regional peace that could ensue once Israel and the Palestinians reach a peace accord. At this moment in time, under the leadership of President Obama and Secretary of State Kerry, any development that could advance the parties toward peace is very valuable."
"We will continue to urge the Obama administration to use all the tools at its disposal to advance diplomacy and broker peace. We will continue to urge the Israeli government to take the Arab Peace Initiative seriously and engage with it. And we will continue to urge members of the Arab League to go beyond reaffirming the API and 'market' it to the Israeli public."
* Click here for APN's resources on the API
* Click here for a report about a 2007 discussion APN had with the Saudi ambassador to Washington about the API
* Click here to read about a Peace Now campaign asserting to Arabic speakers its support of the API
* Click here for an audio interview with Marwan Muasher, who as Jordan's foreign minister was one of the architects of the API