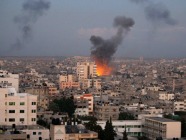 As the Israel-Hamas conflict continues, APN brings you news and analysis on the situation, including our own commentary. Visit our homepage frequently to follow the updates.
APN welcomes the announcement of a ceasefire agreement; thanks President Obama and Secretary Clinton for helping achieve it
(11/21/12)
APN Condemns Tel Aviv Bus Bombing, Calls Again for Ceasefire
(11/21/12)
APN on Gaza Crisis, Obama's Role, and a New Approach
(11/20/12)

We have collected several items for recommended reading to help you keep up to date.
Full text: Terms of Israel-Palestinian cease-fire
(Washington Post, 11/21/12)
America And This Ceasefire
(Ali Gharib at the Daily Beast, 11/21/12)
A Gaza cease-fire: historic or futile?
(Rami Khoury in the Daily Star, 11/21/12)
Arab, Muslim, Israeli -- and under fire
(Matti Friedman in the Times of Israel, 11/20/12)
How this could be the last Gaza war
(Khaled el Gindy at CNN, 11/20/12)
The Middle East Won't Be Ignored
(Akiva Eldar in the National Interest, 11/20/12)
Israel and Gaza Trapped in Tragic Tape Loop
(APN Board Member Leonard Fein in the Forward, 11/20/12)
How Israel Could Really Harm Hamas
(Peter Beinart at the Daily Beast, 11/20/12)
Gaza Without End
(Roger Cohen in the New York Times, 11/20/12)
Before the next baby dies
(Izzeldin Abu el-Aish in Ynet, 11/20/12)
Hamas's Illegitimacy
(New York Times editorial, 11/9/12)
The way out is the hardest
(Nahum Barnea in Ynet, 11/19/12)
Weaken Hamas through diplomacy
(Ami Ayalon in Haaretz, 11/19/12)
Gaza Expert Warns of Large Escalation
(Adam Chandler at Tablet, 11/14/12)
Operation Cast Lead 2.0
(Hussein Ibish at Foreign Policy, 11/14/12)