Details of APN's App and online mapping project spread across the globe during its first week of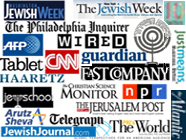 release. Media coverage included major news outlets like CNN, U.S. and international newspapers/blogs, technology, business, and activism magazines/blogs/websites, Jewish community newspapers and national blogs, and on Israel Radio and NPR.
See the links to these items, starting with the Video Screencast from Kung Fu Jew!