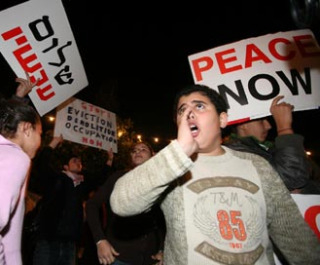 The settler take-over of a home in the midst of a Palestinian neighborhood of East Jerusalem on Tuesday did not go unanswered. Last night the Israeli Peace Now movement mobilized over a hundred demonstrators to protest at the site.
Peace Now is standing up for Israel's future. The implantation of settlers into Palestinian neighborhoods of East Jerusalem undermines the chances for peace. It complicates future negotiations over Jerusalem. It escalates tensions between Arabs and Jews in the city.
Here is a video from last night's demonstration:
Rising tensions in Jerusalem can be a matter of life and death. Past Israeli actions that were perceived as efforts to change the status quo in the Old City - such as the opening of the Hasmonean Tunnel in 1996 or the visit to the Temple Mount by Ariel Sharon in 2000 - triggered riots that caused many casualties.
Last night's demonstrations is one element in a continuing effort by Peace Now to stymie the efforts of extremists to abuse Jerusalem for their own purposes. Through demonstrations, educational campaigns, and legal advocacy, Peace Now is fighting for a better future for Israelis and Palestinians.
Here are some additional resources on the issue:
See pictures from last night's demonstration.

Flirting with the apocalypse, Haaretz op-ed by Daniel Seidemann and Lara Friedman.
Ynet story about Peace Now's demonstration.
/entries/wp263 (link has expired) Settlements in Focus: Abusing Jerusalem to Assail Peace, the Case of the Shepherd's Hotel.