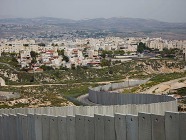 As anyone who pays attention to the news cannot help but be aware, in recent weeks the Netanyahu government has opened the settlement floodgates, approving massive settlement expansion, especially in and around East Jerusalem. The most recent of these approvals was announced this week - the approval of more than 1000 new units in a new settlement neighborhood known as Mordot Gilo. Also this week, in a step toward normalizing settlements as part of Israel, the Israeli government decided to formally recognize a college in the settlement of Ariel as a fully-accredited Israeli university.


The Israeli Peace Now movement (Shalom Achshav) has helpfully summarized the recent approvals (minus the most recent one) here.

Netanyahu and his fellow travelers initially framed the settlement surge as a measured punitive response to the vote to upgrade the status of the Palestinians at the United Nations. The magnitude of the approvals, however, suggested from the start that Netanyahu was seizing on the UN vote to launch a strategy intended to be a game-changer, or even game-ender, with respect to the viability of the two-state solution. With the subsequent announcement of every new settlement approval, such a strategy seems more self-evident.

Why is Netanyahu doing this now? Is the world finally seeing Bibi's true colors - an ideologue who in his heart believes in Greater Israel, always opposed the two-state solution and has been biding his time until he could find an opportunity to definitively kill it? Or is this all about domestic politics, with Netanyahu pandering to the settlers and their supporters in order to hold off the challenge from politicians of the far right like Moshe Feiglin and Naftali Bennett? Or could this be about Netanyahu's own delusions of grandeur and his eagerness to put President Obama and other European leaders in their place, by engaging in outrageously provocative actions and seemingly daring them to respond. Or perhaps it is a combination of all of the above. Continued below the interactive discussion



Regardless, the result is the same. The Netanyahu government is systematically destroying the very possibility of a negotiated, two-state solution to the Israeli-Palestinian conflict, and along the way, destroying the very possibility of Israel's viability as a democracy and a Jewish state. With the ongoing settlement surge, nobody - not even the most skilled, determined, ethically bankrupt pro-Netanyahu propagandist - can pretend otherwise. The question is, when will those who truly love Israel - not as an ideal set on a pedestal but as a living, breathing nation whose character as a progressive, tolerant, democratic nation is as important as its character as a homeland for the Jewish people - stand up and stop this madness.