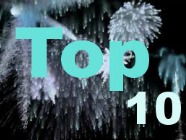 Today's top ten!
Have you ever wondered what Americans for Peace Now does? Today's top ten list explains what you support when you donate to APN. Every dollar you donate sustains essential work building peace for Israel and its neighbors.
Your support is imperative - both for APN in the U.S. and for Peace Now in Israel. So, on this last day of Chanukah please contribute $8 dollars. $8 can go a long way if enough people are pitching in (more goes even farther!).
Ten ways your support for APN supports Israel and peace:
1. It makes possible the work of Peace Now (Shalom Achshav), including its renowned Settlement Watch Project, led by Hagit Ofran, its efforts in Israeli courts to stop illegal outposts and illegal settlement expansion, and its fight against Jewish nationalist zealots' (and terrorist) efforts to curtail Israeli democracy.
2. It underwrites our use of cutting-edge technology, like APN's MapApp, which cuts through the propaganda to show why settlements are a huge obstacle to peace.
3. It supports the Washington presence and expertise that have for years made APN the #1 address for information and advocacy related to Congress, the Administration, and Israel.
4. It funds APN's systematic dismantling of the misleading and bogus arguments of the anti-peace camp.
5. It enables APN to bring pro-peace voices to an American audience, including policymakers, activists and legislators.
6. It pays for our free news report from Israel - News Nosh!
7. It enables APN to amplify the voices of Israeli peace activists in the US.
8. It brings the APN message of reason and moderation to the polarized conversation about Israel at US college campuses.
9. It empowers APN to proudly and unapologetically demand that American politicians reject ignorant, inflammatory discourse on Israel and peace, on behalf of the huge segment of America that agrees with us (Click here and here).
10. It enables APN to remain the leading, principled voice of America's progressive, pro-Israel, pro-peace, community.
Click
here
here
here
here
here
here

Where like-minded organizations may balk, APN consistently and without hesitation takes principled and often politically difficult positions, even on matters of great controversy within the American Jewish community. We don't take positions based on what is popular, or what is likely to help us raise money, or what a given Administration wants to hear, or what will make us friends within the organized Jewish community. We present decision-makers, opinion-shapers, activists, and the general public with well-reasoned, principled paths for thinking and acting on the issues, and rally them to action. We deal with the substance of every issue based on our core values and principles, consistent with our commitment to achieving an end to the occupation, and peace and security for Israel and the Palestinians.
Your support for APN sustains all of this, and much more, as we continue to fight for an end to the occupation and to achieve a peace agreement that will deliver peace, security, dignity, and self-determination to Israel and her neighbors.