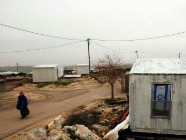 I have some great news to share: Peace Now - our sister organization in Israel - has succeeded in forcing the Israeli government to impose the rule of law and evacuate Migron, the largest illegal outpost in the West Bank. Yesterday, the Israeli High Court of Justice rejected the latest effort by settlers to prevent the outpost's evacuation, ruling that the outpost must be evacuated by next Tuesday, September 4th.
Peace Now's victory on Migron is a victory for all of Israel and for all those who care about the causes of peace, democracy, and security. Help APN make sure that Peace Now can continue the fight.
This Court decision is a triumph of the rule of law. It transforms Migron from a symbol of defiance and anarchy into a symbol of respect for the Court and the legal system. It proves that the settlers are not above the law.

With its legal action against settlements, Peace Now is keeping alive the hope for peace, for a two-state solution, and for Israeli democracy. Support APN and help Peace Now continue the fight!
Nobody should forget that as a reward for their years-long efforts in the service of Israel's rule of law with respect to illegal outposts, Peace Now leaders have faced an almost non-stop stream of threats and intimidation, including repeated death threats. These proud, patriotic Israelis have met such threats with courage and determination, refusing to back down.
Peace Now leaders stand steadfast in the face of threats and intimidation. You can stand shoulder-to-shoulder with them by supporting APN.
Peace Now's victory on Migron is momentous, but it is by no means the end of the story. The settlers continue to build illegally, and the Israeli government continues to let them. And Prime Minister Netanyahu has boasted that his government is the most pro-settlement government in Israel's history. Peace Now's fight against settlement expansion, whether illegal or sanctioned by the Israeli government, will continue - because Peace Now knows that the alternative is the loss of the very possibility of peace and a two-state solution.
Please support APN in its support of Peace Now. Together, we can stop settlements from destroying the possibility of peace.
p.s. Look for a briefing call notice early next week giving details of an upcoming call with Peace Now Secretary General Yariv Oppenheimer, who will talk about the implications of this legal victory. Also, for more background on Migron, check out this comprehensive joint APN-Peace Now publication: What's All the Fuss over Migron?