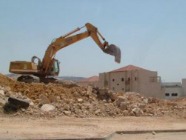 For years, APN and Peace Now have argued that our pro-peace, pro-two-state views are reflective of the majority of Israelis. Now, a new opinion poll officially released yesterday, by - of all sources - the "University" located in the West Bank settlement of Ariel - bolsters that argument. That poll, the fifth in a series conducted by the settler institution examining the attitudes of non-settler Israelis about settlements and the future of the West Bank, shows a sharp decline in Israeli public support for the settlement enterprise.
Some of the most dramatic changes were a more than doubling - from 10% to 23% - in the number of respondents who said they would support a large-scale withdrawal from the West Bank and a major decrease (from 46% to 24%) in the number who said they would oppose the demolition of any settlement. Likewise, according to the poll, a majority (53%) of respondents said that settlers were an obstacle to peace, an increase of 9% from the previous year.
Other significant findings included:
With respect to funding for settlements, the proportion of Israelis who agreed that the settlers "extort money" from the government increased from 13% to 25%.
Half of those polled agreed that, in light of national budget cuts, funds allotted to the settlements should be frozen.
Thirty-nine percent said the settlements are a waste of public funds, up 15 percentage points from the previous year's poll.
The percentage of Israelis who said they defined themselves as "right-wing" declined from 57% to 48%, accompanied by an increase in those who defined themselves as "centrist" or "left-wing."
APN President and CEO, Debra DeLee, commented:
"These poll results are encouraging, particularly coming from what would seem to be an unlikely, settlement-friendly source. This latest poll demonstrates that, despite the perception that the settler movement is ever-more mainstream and entrenched in Israeli society, and notwithstanding widespread Israeli skepticism and disillusionment about peace efforts, Israelis as a whole do not identify with the settlement enterprise and are not prepared to sacrifice their nation's future for the benefit of a 'Greater Israel' agenda."
APN welcomes these poll results. We are proud of our Israeli sister organization, Shalom Achshav (Peace Now), for their work to educate Israelis about the disastrous implications of the settlement enterprise, and praise them for their successes.