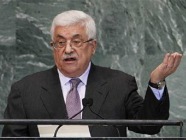 Jerusalem - Israelis woke up today to the realization of just how isolated their state is internationally. 138 members of the United Nations supported the Palestinian bid to upgrade the PLO's status in the UN, with only 9 opposed and 41 abstaining.
The Israeli government's failure to persuade its European allies to oppose the Palestinian move was depicted by the Israeli media as a "diplomatic meltdown," and as a "fiasco." Attempts by Deputy Foreign Minister Daniel Ayalon to put a positive spin on the UN General Assembly's vote were ridiculed by a Channel Two interviewer Thursday night.
When they realized their failure to stifle the world's overwhelming expression of support for Palestinian statehood, Israeli leaders changed tone, and stated that the UNGA vote is "meaningless" and that Israel will therefore react with restraint.
On Israel Radio Friday morning, as they woke up to the news of their government's failure, Israelis heard Palestinian leaders celebrating. Jibril Rajoub, a former commander of the Palestinian internal security forces who learned Hebrew during many years in Israeli prisons, scolded Israelis: "Your country is isolated, and now you must draw the conclusions." For the Palestinians, he said, "this is a historic achievement, upon which we will build our future."
In a subsequent interview, Yaakov Perry, the former head of the Israeli secret service, "Shin-Bet," said that Israel's isolation is self-made. "The chief reason for our isolation is our own failures," Perry said, adding that the only way to break the diplomatic siege is for the government of Israel to immediately re-launch direct negotiations with the Palestinians.
This sobering moment comes in the midst of a heated election campaign. But even in the hubbub of partisan rhetoric (former Foreign Minister Tzipi Livni, who is now heading a new party, called the dramatic development at the UN a self-inflicted "strategic terrorist attack," by the Netanyahu government Israelis seem to grasp that they are facing embarrassment and humiliation in the international arena.
The 29th of November, a day that evokes national pride among Israelis as they recall the UN vote to create a Jewish state in the Land of Israel, has now turned also into a day of national embarrassment.
In Tel Aviv, Peace Now activists took part in a rally of progressive Israeli organizations in support of the UN vote to upgrade the Palestinians' status, which brings Israelis and Palestinians closer to a two-state solution to their conflict. The rally, which was broadly covered by Israel's electronic media, underscored that Palestinian statehood is in the self-interest of Israel. A special guest at the rally was Sufian Abu-Zaida, a former minister in the Palestinian Authority Cabinet and currently a professor at Bir Zeit University near Ramallah. The UN vote is a "rare opportunity" for both Israelis and Palestinians, he said. "We all have an interest" in a two-state solution.
Abu-Zaida, who is scheduled to meet with an APN delegation in Ramallah next week, made clear that although Palestinians are satisfied with the step they have made toward independence, they are not euphoric. "I know full well that tomorrow I will wake up and still find the occupation intact," he said.