They Say, We Say: "What is the Left's obsession with bashing Israel?"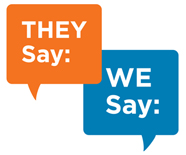 We know that pro-Israel does not mean blindly supporting policies that are irrational, reckless, and counter-productive. Pro-Israel means supporting policies that are consistent with Israel's interests and promote its survival as a Jewish, democratic state.
You've heard the arguments of the religious and political right-wing, and so have we. They've had their say. Now, we'll have ours.
Go HERE for all installments of APN's "They Say, We Say"
Is Peace Possible?
They Say:
The Left always wants to criticize Israel - over settlements, over statements, over everything. Why is there this obsession with bashing Israel?
We Say:
Americans for Peace Now is an American organization that has a clearly defined mission: working to advance American and Israeli policies that will lead to comprehensive, durable peace and security for Israel, consistent with U.S. national security interests. APN is also the sister organization of Shalom Achshav, Israel's peace movement. APN and Peace Now share the overarching objective of ensuring Israel's future, including its security and its viability as a tolerant, egalitarian democracy and as a Jewish state. When the Israeli government undertakes actions or policies that run counter to this goal, we and our colleagues in Israel say so. We strongly feel that it is imperative to do so publicly. Public discourse provides transparency and accountability.
We don't "bash" Israel. Our love for Israel is why we care so much about it and why we exist as an organization. What we do criticize - and we do it carefully and responsibly - are Israeli government policies that we know are destructive to Israel's own interests. We criticize violent and illegal conduct of Israeli settlers and their sympathizers, which we recognize as harmful to Israel. And we reject efforts to quash free speech and the right to protest, and to undermine the rule of law or the integrity and independence of Israel's courts, and all other efforts to threaten Israel's character as a democracy.