They Say/We Say: "There is nothing discriminatory about an effort to make the funding of NGOs completely transparent."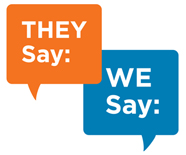 We know that pro-Israel does not mean blindly supporting policies that are irrational, reckless, and counter-productive. Pro-Israel means supporting policies that are consistent with Israel's interests and promote its survival as a Jewish, democratic state.
You've heard the arguments of the religious and political right-wing, and so have we. They've had their say. Now, we'll have ours.
Go HERE for all installments of APN's "They Say, We Say"
They Say, We Say: Why should we be worried about Israeli democracy?
They Say:
The government of Israel is right to do everything it can to highlight foreign funding of Israeli NGOs. There is nothing discriminatory about an effort to make the funding of such NGOs completely transparent.
We Say:
Israel's 2016 NGO "transparency" law is, in fact, explicitly discriminatory – by design and with intent. Its authors openly stated that they wished to target progressive groups that they dislike. By focusing solely on foreign government funding, and ignoring funding from foreign individuals, the law is structured to only affect progressive groups, since right-wing groups – whose agendas align comfortably with that of the right-wing government under which it was passed – do not receive funding from foreign governments. These same groups, however, receive large amounts of funding from foreign individuals and entities, including foundations and non-governmental foreign organizations.
And while funds coming from foreign governments are already public – subject to scrutiny and transparency both on the donor's end and on the recipient's end – private funds are not. Such funds could come from shady sources, from criminals, or, indeed, from individuals who seek to engage in "blatant interference … in Israel's domestic affairs by means of money." One such foreign donor who uses money to interfere in Israel's domestic affairs and advance a far-right agenda is US gambling mogul Sheldon Adelson. The Adelson-owned free daily paper, Israel Hayom, has earned the nickname "Bibi-ton" for its consistent parroting and promotion of Netanyahu's agenda; it is estimated that the publication loses roughly $3 million each month.
In the past (November 2011), when Knesset members submitted a bill that sought to limit foreign government funding for Israeli NGOs, the government's own legal advisor, Yehuda Weinstein, wrote that limiting the law to foreign government funding and excluding private foreign funding is discriminatory. It "raises concern of harming the equality principle," Weinstein wrote then to Prime Minister Netanyahu.