They Say, We Say: There is no refugee problem the problem is the UN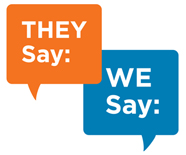 We know that pro-Israel does not mean blindly supporting policies that are irrational, reckless, and counter-productive. Pro-Israel means supporting policies that are consistent with Israel's interests and promote its survival as a Jewish, democratic state.
You've heard the arguments of the religious and political right-wing, and so have we. They've had their say. Now, we'll have ours.
Go HERE for all installments of APN's "They Say, We Say"
What about refugees? (Palestinian and Jewish)
They Say:
There is no refugee problem - the problem is the UN.
We Say:
Despite the fact that Israel has agreed that the Palestinian refugee problem is an issue to be resolved in final status negotiations, some people insist that the refugee problem simply doesn't exist. They argue that the real problem is the UN and that the refugee issue could be easily "resolved" by the UN ending its "special treatment" of Palestinians.
Some demand, for example, that the United Nations Relief and Works Agency (UNRWA) - the UN agency responsible for Palestinian refugees - be dissolved. Some insist that the term "refugee" be amended in the Palestinian context such that, by a stroke of a pen, most Palestinian refugees would be redefined out of existence. Such efforts are simplistic and misguided. After more than a half century of limbo, the Palestinian refugee situation remains an explosive political issue. Efforts to use technical or bureaucratic means to bypass a negotiated solution, as part of a comprehensive Israeli-Palestinian peace agreement, are doomed to fail, could exacerbate the conflict, and could ultimately make resolution of the issue more difficult.
Moreover, the continued effective operations of UNRWA, until such time as a permanent and mutually acceptable solution for the Palestinian refugees can be achieved, is thus vital to the welfare of the refugees and to both American and Israeli security interests. UNRWA plays a vital role as a source of stability and humanitarian assistance - food, medical care, education - to a population living under severe stress in the West Bank, Gaza, Syria, Jordan, and Lebanon. In the West Bank and Gaza, it is UNRWA that, in effect, absolves Israel of responsibility for the day-to-day humanitarian needs of this population.